Student Loan Forgiveness: What Is the Income-Driven Repayment Account Adjustment and How Can You Apply?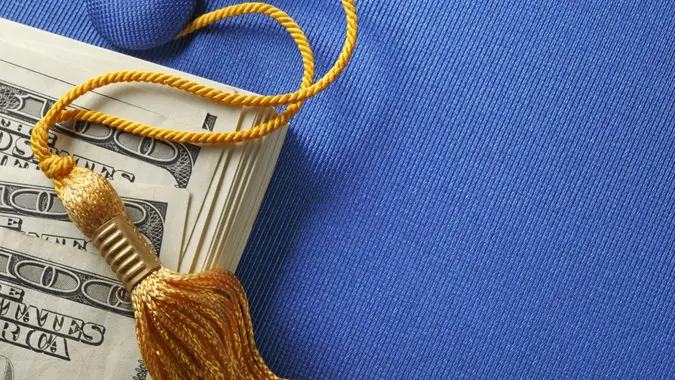 DNY59 / Getty Images/iStockphoto
The Biden administration's plan to forgive up to $20,000 in federal student debt per borrower has not gone well, to put it mildly. Legal battles continue to delay the loan forgiveness program from being implemented, and it's no longer a certainty it will ever see the light of day.
This uncertainty has left many cash-strapped borrowers scrambling for other options. For some, one option is to seek student loan forgiveness under income-driven repayment (IDR) adjustment plans. These are one-time adjustments made to borrower accounts to address past inaccuracies, according to Studentaid.gov. The ultimate goal is to permanently fix the way IDR payments are counted by reforming the U.S Department of Education's IDR tracking procedures.
As part of the initiative, the Education Department will conduct one-time adjustments of IDR-qualifying payments for all William D. Ford Federal Direct Loan (Direct Loan) Program and federally owned Federal Family Education Loan (FFEL) Program loans. The adjustments will count time toward IDR forgiveness, including the following:
Any months in a repayment status, regardless of the payments made, loan type, or repayment plan.
A full 12 or more months of consecutive forbearance, or 36 or more months of cumulative forbearance.
Months spent in economic hardship or military deferments after 2013.
Months spent in any deferment (with the exception of in-school deferment) prior to 2013.
Any time in repayment on earlier loans prior to consolidation of those loans into a consolidation loan.
The Education Department announced the adjustment in April 2022. At the time, the agency said several thousand borrowers with older loans will receive forgiveness through IDR, while more than 3.6 million borrowers will receive at least three years of additional credit toward IDR forgiveness.
The IDR Account Adjustment essentially lets the Education Department retroactively credit borrowers with time towards a 20-year or 25-year repayment term under IDR plans, Forbes reported. That's the case even if borrowers have been repaying loans under a different plan. Repayment plans are based on a formula tied to income and family size. After 20 or 25 years in repayment, borrowers can receive complete student loan forgiveness.
Repayment periods will also count towards the 120 qualifying payments required for Public Service Loan Forgiveness (PSLF) — at least for borrowers in qualifying PSLF employment at the time.
In a November tweet, Education Secretary Miguel Cardona said the aim is "improving Income-Driven Repayment, Public Service Loan Forgiveness, and other student loan programs to help borrowers get the relief they have earned."
Adjustments under the initiative will be implemented automatically for borrowers who already have federally administered loans. However, some borrowers might have to consolidate their loans through the federal Direct consolidation program in order to qualify.
Borrowers who have commercially managed FFEL, Perkins, Health Education Assistance Loan (HEAL) Program, or other non-Direct Loan loans should apply for a direct consolidation loan by May 1, 2023, to get the full benefits of the one-time account adjustment, according to Studentaid.gov.
To learn more about the IDR Adjustment and how to apply, visit the Studentaid.gov Income-Driven Repayment (IDR) Plan Request page.
More From GOBankingRates