Student Loan Forgiveness: New Income-Driven Repayment Proposal Could Shrink Debt for Millions of Americans — Do You Qualify?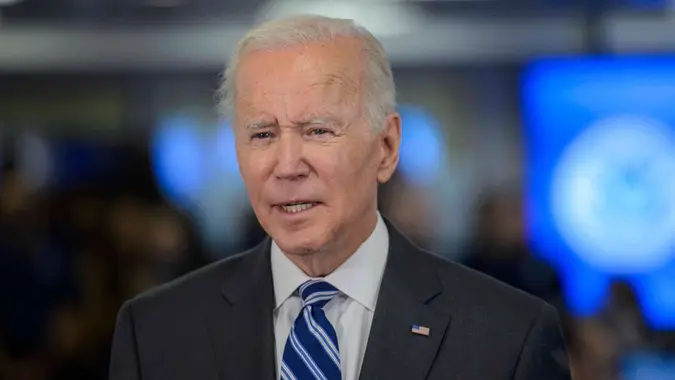 Shutterstock / Shutterstock
The Biden administration announced a proposal to reduce the cost of federal loan payments and pause payments for anyone making under $30,600 annually, according to a Jan. 10 announcement. This comes on the heels of millions of borrowers waiting for the Supreme Court's decision in February about President Joe Biden's much broader student loan relief program announced in August 2022. 
Student Loan Forgiveness: Timeline of Events Leading Up To the Supreme Court Review
Discover: Get Your Credit Score On Track With These 3 Tips for Success
"We cannot return to the same broken system we had before the pandemic, when a million borrowers defaulted on their loans a year and snowballing interest left millions owing more than they initially borrowed," Secretary of Education Miguel Cardona said in the announcement. "These proposed regulations will cut monthly payments for undergraduate borrowers in half and create faster pathways to forgiveness, so borrowers can better manage repayment, avoid delinquency and default, and focus on building brighter futures for themselves and their families."
The administration said that the proposed regulations would create "the most affordable income-driven repayment (IDR) plan that has ever been made available to students."
The regulations will update Revised Pay As You Earn (REPAYE) plan, with changes including $0 monthly payments for any individual borrower who makes less than $30,600 annually and any borrower in a family of four who makes less than about $62,400.
In comparison, under the current rules, borrowers on the REPAYE plan must make payments equal to 10% of their "discretionary" income–income more than a protected amount set at 150% of the Federal poverty guidelines, according to a fact sheet.
In turn, a single borrower must start making payments on income above $20,400.
In addition, the new plan would also cut in half monthly payments on undergraduate loans for borrowers who do not have a $0 payment in this plan. These borrowers would only pay 5% of their discretionary income, half the rate charged on "the most generous existing IDR plans."
Overall, the administration expects the new plan will enable future cohorts of borrowers to see their total payments per dollar borrowed decrease by 40%, while borrowers with the lowest projected lifetime earnings would see payments that are 83% less, while those in the top would only see a 5% reduction.
It would also mean that 85% of community college borrowers would be debt-free within 10 years and it would help minorities too, as on average, Black, Hispanic, American Indian and Alaska Native borrowers would see their lifetime payments per dollar borrowed cut in half, according to the announcement.
CNN reported that the new plan could affect 8 million borrowers enrolled in IDR plans for their federal student loans and could open it up for more borrowers to enroll.
"In fact, many additional borrowers could achieve lower monthly payments by enrolling," Deputy Secretary James Kvaal told reporters, according to CNN, adding that it would create a "true student loan safety net."
Social Security: Garnishments for Delinquent Student Loans Might Resume Soon — and It Could Cost You $2,500 a Year
Learn: Can Unpaid Student Loans Affect How Much Social Security Money You Receive?
Another key point of the proposal is the shortened timeframe for receiving loan forgiveness for borrowers based on their original principal balance.
"Under existing plans, any remaining balance will be forgiven after 20 years of payments, but we're also giving borrowers with smaller loans a path to forgiveness in 10 years," Kvaal said, according to CNN. "One shortcoming of the existing IDR (income-driven repayment) plans is that all borrowers must be in repayment for up to 20 years, even if they only enrolled in college for a semester or two or borrowed a few thousand dollars."
Following several lawsuits and injunctions, the Supreme Court will finally hear cases on February 28. 
More From GOBankingRates