Student Loans: These Schools Promise You'll Graduate Loan-Free — Is There a Catch?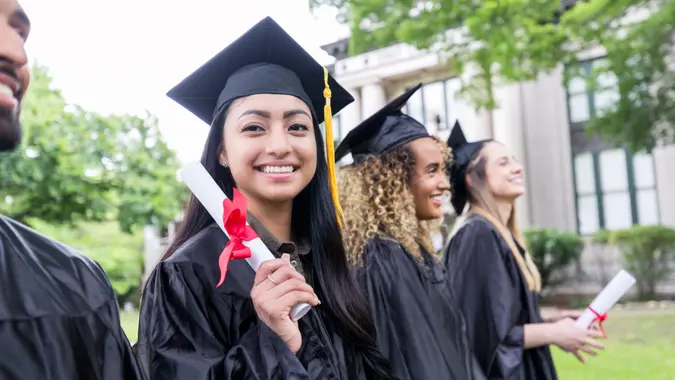 asiseeit / Getty Images
Government efforts to address the student debt crisis have met with mixed results over the past year or so, with the Biden administration announcing a pair of debt relief programs in recent weeks after a more ambitious federal student loan forgiveness program was shot down over the summer. Now, a group of colleges aim to fix the problem by helping students graduate with no loans.
About two dozen colleges have introduced no-loan policies, meaning they're eliminating student loans from their financial aid packages, CNBC reported. One of those schools is Lafayette College in Easton, Pennsylvania, which announced that families with household incomes of up to $200,000 can now use grants and work study programs for financial aid instead of loans.
"College is expensive — we have to make sure we keep it accessible," Lafayette President Nicole Hurd told CNBC. "We have a moral obligation to make sure our low- and moderate-income families know that college is the best investment you'll make in yourself."
No-loan colleges are not a new phenomenon. As recently as January 2023, LendingTree listed 56 U.S. colleges and universities that had no-loan policies in place for either all students, low-income students or in-state students.
Many of the schools on that list are prestigious (and expensive) private universities such as Harvard, Yale, Columbia, Princeton, Duke and Stanford. But there are also several state university systems, including those in Arizona, California, Illinois and North Carolina.
The list of no-loan colleges has grown this year as student loan forgiveness entered the national spotlight, bringing into clearer focus how many student loan borrowers are struggling to pay down their debt. Federal student loan payments resumed this month following a three-and-a-half-year pause — and many borrowers are not financially prepared.
Meanwhile, millions of current and future students need either government or private loans to afford college tuition and other costs that have skyrocketed in recent decades.
Over the past 20 years alone, tuition and fees at private universities have more than doubled (up 132%) in pure dollar amounts and are up about 40% when adjusted for inflation, according to U.S. News data. In-state tuition and fees at public universities have increased by about 158%, or about 56% when adjusted for inflation. The average total student loan debt is around $30,000, U.S. News reported.
Schools that have implemented no-loan policies "have addressed the biggest concern for students and parents, which is assuming too much debt," Robert Franek, The Princeton Review's editor-in-chief and author of "The Best 389 Colleges,"  told CNBC.  "They are saying to students and parents: 'I see you and I hear you.'"
But one thing to keep in mind is that "no loan" does not mean "free." As U.S. News reported, most no-loan colleges aim to cover each family's "demonstrated financial need," which is the difference between the cost of attendance and the expected family contribution, or EFC.
Even at no-loans colleges, some families and students might still need to borrow money to cover college costs — which usually means getting loans from a private lender.  
More From GOBankingRates