Student Loan Payments Resume Soon — Here Are 2 Short- and Long-Term Implications for Your Retirement Savings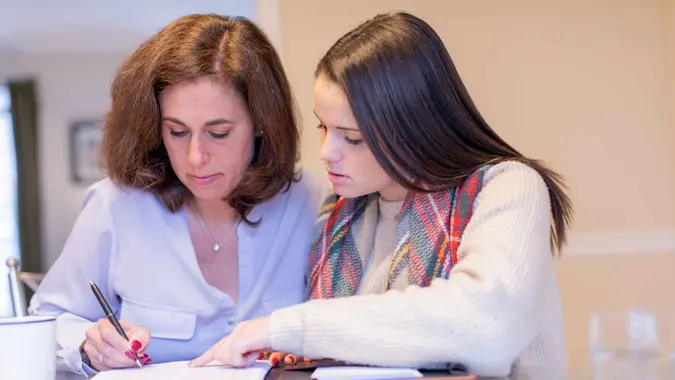 GCShutter / Getty Images
The resumption of student loan payments on Oct. 1 after a three-year hiatus is set to make a huge dent in millions of borrowers' budgets. And this additional financial burden could have both short-term and long-term consequences for their retirement savings.
Indeed, estimates, such as the ones by the Education Data Initiative, put the average monthly student loan payment at $503- funds that will have to be redirected away from retirement savings for many, for instance.
Long-term impact
A new Corebridge Financial and Morning Consult survey found that three out of four — 75%– borrowers said that the resumption of payments will impact their ability to save for retirement. What's more, only 9% of borrowers used the payment pause to supplement their retirement savings.
In turn, this will have potentially long-term consequences including the fact that more than one in five borrowers — 29% — expect to reduce savings overall, another 29% expect to reduce savings for emergencies, while 22% expect to reduce their retirement savings.
Short-term impact
In terms of immediate consequences, a whopping 85% of borrowers say the resumption of payments will have an impact on their financial stress, while 82% said it will impact their financial security.
In turn, they expect to make drastic changes to their spending habits, the survey found.
These include 50% of them planning on reducing spending on nonessentials and a concerning 37% planning on reducing spending on essentials like groceries.
Borrowers earning less than $50,000 will likely feel the greatest impact, as 77% say that payments will affect retirement savings, 67% say they will probably or definitely not be able to afford to make payments toward student loans, while 53% expect to miss one or more payments, and 38% expect to default on the loan.
These findings are in line with a recent Fidelity Investments' 2023 College Savings and Student Debt study, which found that two in three recent college graduates who were taking advantage of the federal student loan repayment pause say they have no idea how they're going to start repaying their student loans.
In turn, this translated into 67% of recent college graduates with student loan debt saying their student loan debt is preventing them from participating in major life milestones such as saving for retirement.
Additional issues
To make matters more burdensome, over the course of the student loan payment pause, many consumers who currently have student loans acquired new credit products, increasing their monthly payment obligations, said Liz Pagel, senior vice president of consumer lending at TransUnion.
"For many consumers, their total monthly payments today, without student loan payments, exceed what they were paying in aggregate in 2020 prior to the pause," said Pagel. "Adding the new payments to the mix will be a noticeable payment shock."
Yet, Pagel also noted that there's some good news, with several different government programs available to help consumers who cannot afford their payments.
"While there is a 12 month 'runway' in place before missed payments are reported as delinquencies, it's in the best interest of consumers to begin payments immediately as interest will begin accruing," she said. "Programs like the SAVE Plan will help consumers who cannot afford their payments, but it is important that these consumers take proactive steps before they get behind on payments."
More From GOBankingRates