5 Best Money Lessons From Robert Kiyosaki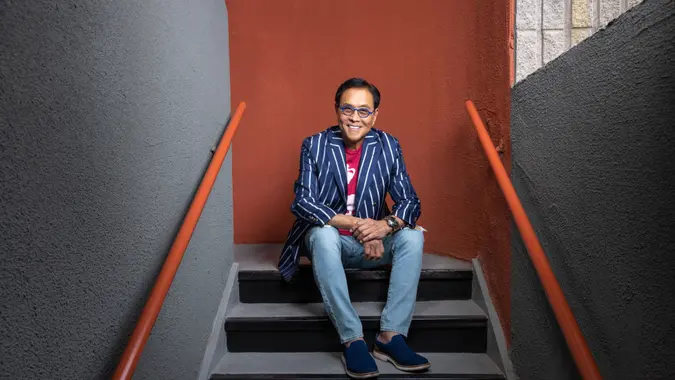 ©Robert Kiyosaki
You might know finance expert Robert Kiyosaki from his book "Rich Dad, Poor Dad," which he co-wrote with Sharon Lechter in 1997. In the book, Kiyosaki dispenses financial advice that he got from his best friend's dad, otherwise known as his "rich dad," on real estate investing, entrepreneurship and other methods on how to become wealthy. Since the publishing of the book, Kiyosaki has founded Rich Global LLC and Rich Dad Company, which specialize in providing financial literacy tools to the public.
Here are some of Kiyosaki's best financial lessons he's offered over the years.
1. "Intelligence solves problems and produces money, but money without financial intelligence is quickly lost." – "Rich Dad, Poor Dad"
One of the main points of "Rich Dad, Poor Dad" was that financial literacy is key to growing your wealth, but unfortunately, it's not often taught in schools. Kiyosaki says that your best bet is to supplement your traditional education with financial literacy. If you were to receive a lot of cash tomorrow, but had no financial education to speak of, you're bound to spend the money in a way that won't leave you with much down the line. Kiyosaki says to learn as much as you can about money, so that as you earn more of it, you know exactly how to invest it in order to grow your wealth exponentially throughout your life. 
Make Your Money Work Better for You
2. "An asset is something that puts money in your pocket and a liability is something that takes money out of your pocket." – "Rich Dad, Poor Dad"
Kiyosaki defines assets as shares and property investments and liabilities as commitments and obligations. Basically, don't live above your means if you don't need to. Focus on adding assets to your portfolio, like investment property that you don't owe a substantial amount of money on, or stocks. Liabilities include items that you own that you can't actually afford, like perhaps a luxury car or boat you'll be paying off for many years to come. Try to only add assets to your financial portfolio rather than take on a bunch of liabilities. 
3. "The poor pay their bills first. The rich pay themselves first." – The Oprah Winfrey Show
Kiyosaki acknowledges this is a tough concept, but encourages people to buy assets or save money before paying their bills. On an episode of The Oprah Winfrey Show, Kiyosaki recalled having bill collectors hounding him to pay his bills, because he was not paying them so he could invest and save to ultimately own his own business. He says it's better to transition into a place where you own your own business and make passive income, so you're paying less in taxes than you would at a 9-to-5.
4. "You want to know a little about a lot." – "Rich Dad, Poor Dad"
Kiyosaki writes that the more skills and areas of expertise you familiarize yourself with, the more opportunities there will be to invest and grow your portfolio. When new technologies are introduced, or new trends emerge, learn about them so you know when you can become part of the next big thing. 
Make Your Money Work Better for You
5. "Winners are not afraid of losing. But losers are. Failure is part of the process of success. People who avoid failure also avoid success." – "Rich Dad, Poor Dad"
The key to making more money in Kiyosaki's eyes isn't by playing it safe. He emphasizes that growing your wealth means you're going to take on a fair amount of risk, and sometimes, that risk will not pay off. The trick is to not let those failures get you down, as that's a part of learning. The more comfortable you get with risk, and the more you learn from your mistakes, the better you will be in being able to find successful ways to make money. 
More From GOBankingRates