Behind the Business of Bodegas: How Your Corner Store Makes Money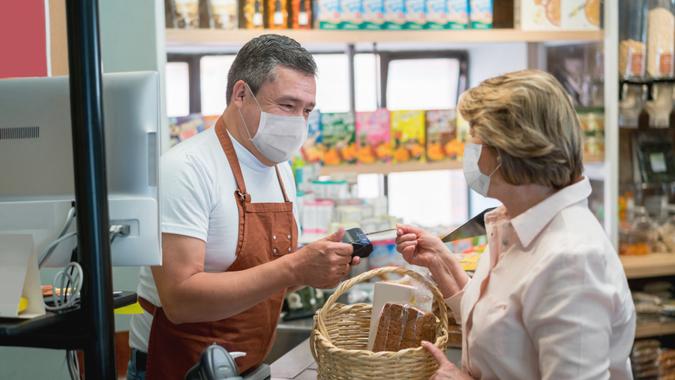 andresr / iStock.com
If you're ever in New York City and you need an egg cream, toilet paper and cantaloupe at 4 a.m., but you only have time to visit one store, that store had better be a bodega. Part deli, part grocery, part five-and-dime, the corner bodega is a New York City institution. It's often cited that there are around 14,000 of them, although the Health Department says there are just over 7,100 of them based on different requirements, scattered across all five boroughs. 
2021 Small Business Spotlight: Check Out Our Small Business Stories, Plus the Nominated Businesses Near You
See: 25 Secret Money Traps at Target, Walmart and Other Big-Box Stores
The most famous of them all might just be fictional.
The hit-Broadway-musical-turned-must-see-movie-of-the-summer "In the Heights" tells a timeless tale of an immigrant family working tirelessly at their corner bodega in the Washington Heights neighborhood of Manhattan in the hopes of giving a better life to the next generation. 
Make Your Money Work Better for You
But what does it really take to make money selling cheap stuff in one of the most expensive cities in the world?
Good To Know: Shopping Mistakes You're Making and How To Stop
Sky-High Bills Are the Bane of Bodegas
While always stocked with the most seemingly random and miscellaneous items — a child's kite and a pack of razor blades, anyone? — bodegas do not provide an easy living for their owners. 
In March 2020, Mel magazine interviewed Parul Patel, the owner of Gem Spa in Manhattan's East Village, one of the oldest and most iconic bodegas in the city with a century of history dating back to the 1920s. The rent was $16,224 per month plus $2,600 in taxes and $2,000 for utilities. 
Tips: 15 Times You Should Splurge, Settle or Skip When Shopping
That's about $21,000 a month — more than a quarter-million bucks a year — before a single employee is paid or a single piece of merchandise is purchased. With most merchandise in the store selling for $10 or less, that can be an impossible lift — and for Gem Spa, it proved to be exactly that. Two months later in May of that same year, the most famous nonfictional bodega in New York — and the birthplace of the legendary egg cream — had closed for good.
Make Your Money Work Better for You
Important: 11 Things You Should Never Buy New
Vices Are the Bread and Butter of Bodegas
Gem Spa was hardly alone. Hundreds of bodegas had closed by April 2020 as the burgeoning pandemic kept people off the streets and out of stores. But the real trouble began when Gem Spa had its tobacco and lottery licenses suspended. 
The dirty little secret is that nearly all of New York's bodegas rely on lotto and cigarette sales to survive. According to the owner of Gem Spa, about 80% of a bodega's revenue comes from those two addictive items alone, she told Mel magazine. The mish-mash of non-vice items found on the shelves of the city's bodegas delivers much higher profit margins — as much as 20%-30% compared to 5%-20% for lotto tickets, smokes and e-cigs. But the vices are what drive foot traffic. Without them, it would seem no bodega could survive.
Be Aware: 50 Purchases Buyers Almost Always Regret
But even with expensive tobacco licenses intact, far fewer people smoke than ever before — good news for the healthcare system, not so much for bodegas, which simply can't make rent no matter how many $5 egg creams and $2 orange sodas they sell.  
Bodegas Are a Tradition, a Legacy and, in Many Cases, a Savior
New York's bodegas tend to be owned and operated by people of color and immigrants, according to Eater NY. Shoplifting, drunk and unruly customers, and even violent armed robberies are a part of life — who among us would want a loved one working the overnight shift in a bodega in a poor neighborhood in New York City? 
Make Your Money Work Better for You
Helpful: 24 Ways To Make Money Off Your Shopping
It's exactly those neighborhoods, however — places like East Harlem, the South Bronx and Central Brooklyn — that for generations have relied on their local bodegas for jobs, socialization and, in many cases, food. Those neighborhoods are the ones that are most likely to exist in food deserts where there are no grocery stores or supermarkets. The corner bodega is often the only source of fresh fruit and vegetables, baked goods, cold cuts and, yes, cigarettes and the pipe dreams that lottery tickets represent.
But sometimes, dreams do come true. "In the Heights," after all, tells the tale of a local bodega coming up big as the place that sells a lotto ticket that hits for $96,000 — more money than any of them could have ever imagined seeing in a single lifetime working behind the counter of their beloved neighborhood bodega. 
More From GOBankingRates
Last updated: June 15, 2021