Get Paid To Spend Money: 22 Ways You Can Get Paid to Go Shopping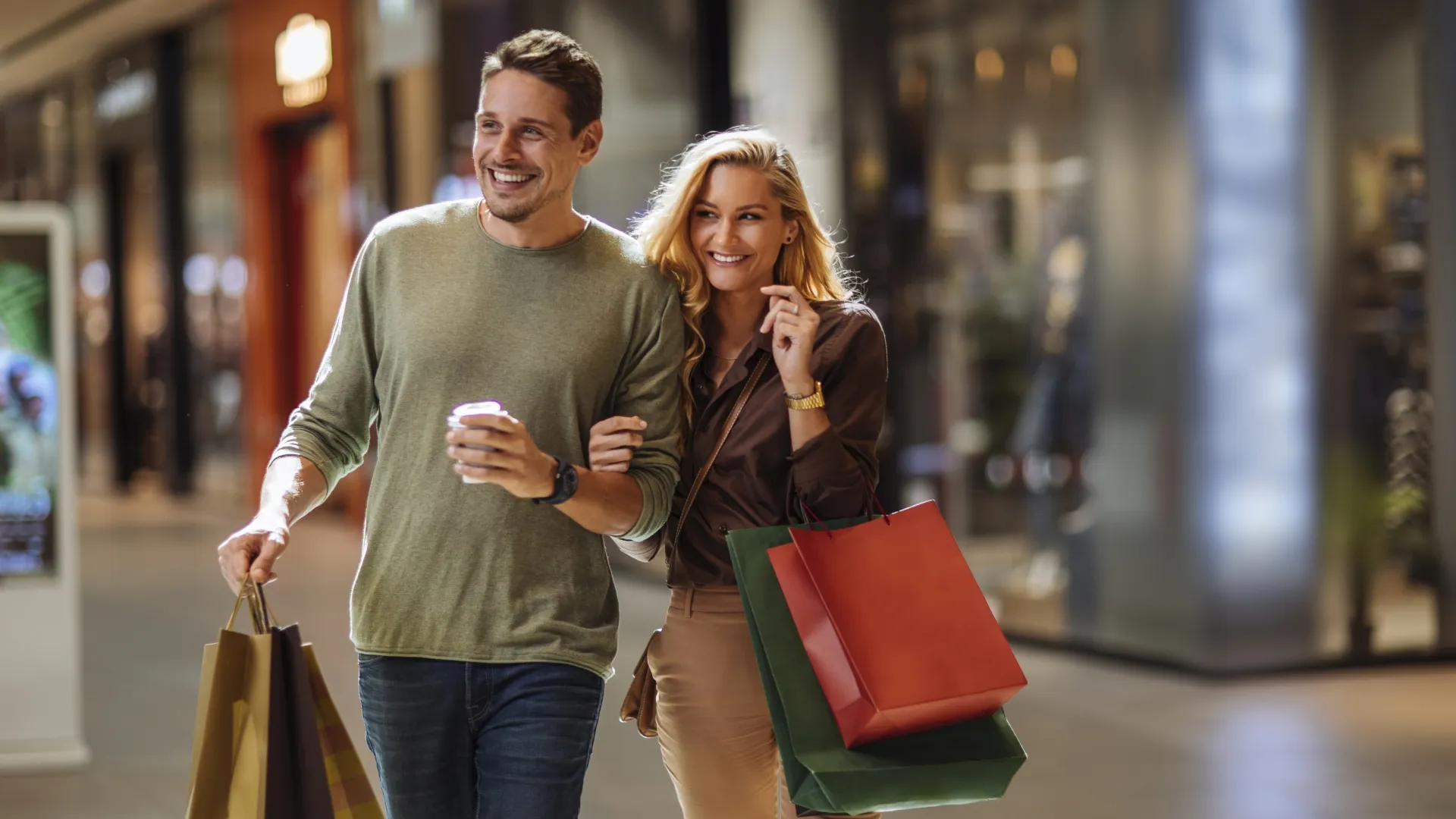 Shopping can be a costly endeavor — but it doesn't have to be. In fact, you can easily save and make money when shopping for yourself or someone close to you.
Check Out: Read:
From mystery shopping to using cash-back sites, GOBankingRates rounded up the best ways to make money while shopping, many of which require nothing more than the click of your mouse. If you want to put more money back into your pocket, find out about your best options for getting cash back.
Join Store Loyalty Programs
If there's a store you shop at frequently but you're not a member of its loyalty program, you're likely missing out on free money. Many of the best loyalty rewards programs offer rewards, cash back and gift certificates to shoppers who accumulate points with purchases.
Shop With a Cash-Back Card
Earn cash back for all the money you spend on shopping using a cash-back card. Just make sure you aren't spending more money than you can afford to earn the cash back.
Get Paid To Shop at Your Favorite Stores With Field Agent
Turn your shopping trips into an opportunity to make cash with the Field Agent app. Download the app to find "jobs" that you can complete at retailers like Target, Kohl's, Best Buy and Costco, and get cash when you complete them. Jobs can include mystery shopping and auditing, which involves taking photos and answering questions about displays and products you see in stores.
Make Your Money Work for You
Clip Coupons
While you can use many apps and online promo codes to get cash back, don't forget about old-fashioned coupon clipping. Check your local paper and mailings for flyers containing cash-back offers at your favorite shopping retailers.
Become a Personal Shopper
If you really want to make money while shopping, look into becoming a personal shopper. The average pay for a personal shopper in the U.S. is around $59,700 a year. It's recommended that shoppers have organizational, customer service and time management skills.
Sign Up To Mystery Shop With BestMark
Apply to become a mystery shopper with BestMark, a mystery shopping and market research company that pays you to shop at select retailers and fill out a survey afterward.
Each assignment has specific parameters, and surveys must be completed on time to receive compensation. Your goal as a mystery shopper is to observe and report on the quality of customer service. Depending on the retailer, you could get paid in cash, reimbursement for dollars spent or both.
Shop Using the Drop App
"A lot of people don't know about Drop as it's still relatively new, but I just love how easy it is to use," said Dylan Houlihan, founder of Swift Salary. "You simply connect your credit card to the app, select your favorite stores, and that's it. From then on, you'll earn points automatically each time you purchase at one of those stores. No receipt scanning, no activating offers — just shop and earn."
In addition to automatically earning points from the preselected stores, you can earn additional points for shopping through the app and referring friends. Points can be redeemed for Amazon, Netflix, Starbucks, and more gift cards.
Make Your Money Work for You
Use Mobee To Mystery Shop
Mobee is a mystery shopping app that makes it easy to get paid while shopping. Just open the app to find "missions" near you — there might even be a store already on your shopping list for the holidays or every day.
When completing a mission, you'll need to answer some questions. Once completed, you will be credited points, which can be redeemed for gift cards and prizes.
Use a Credit Card That Offers Statement Credits
If you're planning to spend a little more money in the near future, you should consider taking advantage of the bonuses that can come with opening a new credit card.
Just be sure to use your card wisely and not spend what you can't afford.
Effortlessly Earn Cash Back With Dosh
You can earn cash back without effort when using the Dosh app. Simply link your credit and debit cards to the app and when you use these cards to pay at one of the supported stores, you'll automatically get cash back on your purchase. You can then transfer the cash to your bank account, PayPal or Venmo account or donate it to charity.
Get Cash Back With Extrabux
Get money back every time you shop using Extrabux.com. Sign up with your email address, click on any of the 10,000-plus online stores available through the Extrabux site, and receive cash back when you shop. Extrabux will pay you via PayPal, a gift card or a check.
Earn Cash Back With Ibotta
YYou can earn cash back at over 300 retailers with the Ibotta app when you shop in-store or online. To earn cash back in-store, add offers through the app, scan your receipts, and you'll receive your cash. You can also shop directly through the Ibotta app and earn cash back on eligible purchases. Additionally, you can link select loyalty accounts directly to your Ibotta account to earn cash back automatically.
Sign Up For Earny for Extra Price Drop Protection
Earny is another app that claims a rebate on your behalf when a price drops on a purchase you make on Amazon. Simply link your Amazon account and Earny will start tracking prices for you."It's a great way to make sure you're getting the best deal even after you've made your purchase," said Natalie Graham, a budget expert and founder of GoFromBroke.com.
Right now, you can also enter to win $4,000 in sweepstakes prizes when you make purchases on Amazon.
Shop Online Through MyPoints
When you shop online at any of the 2,000 stores — such as Kohl's, Staples, Target and Sephora — available on MyPoints, you will receive points for your purchases. The number of points you receive per dollar depends on the store. Points can be redeemed for gift cards or cash via PayPal. You can also get rewarded for playing daily games.
Get Cash When You Shop With Gift Cards With Raise
Raise is best known for selling discounted gift cards, but you can also opt to pay face value for gift cards and get rewarded with cash back in the form of Raise Cash. The cash-back option is available for top retail gift cards including Walmart, Lowe's and Macy's.
Shop Through Rakuten
Before you start shopping online, head over to Rakuten or download the app. Once you're online, browse the list of 2,500-plus available retailers — Macy's, Best Buy, Walmart and more — on its site and shop online as you normally would. You'll receive cash back on your order by check or via PayPal.
Get Cash for Your Receipts With Receipt Hog
No matter where you shop, Receipt Hog wants to know about it. The market research app rewards you every time you take a picture of a receipt, either with coins or the chance to win coins with a spin at the Hog Slots. Coins can then be redeemed for Amazon gift cards or cash via PayPal.
Turn Your Receipts Into Gift Cards With ReceiptPal
ReceiptPal operates much in the same way as Receipt Hog. Still, it makes it even easier to earn rewards by allowing you to link your email account to get credit for e-receipts automatically. Points can be redeemed for gift cards, and you'll also have the chance to win cash through weekly sweepstakes.
Shop and Earn Money With RetailMeNot
RetailMeNot has become a go-to destination for money-saving promo codes, but the site also has numerous cash-back deals.
Sign up for an account, and visit the site's "Cash Back" section. Then, click on a cash-back offer that automatically redirects you to the retailer's site. Shop as you normally would, and redeem your cash-back rewards from your RetailMeNot wallet within 45 days of your purchase.
Use Shopkick To Earn Gift Cards for Yourself
You can earn rewards with the Shopkick app, whether you're shopping online or in person. To earn points when you shop in-store, scan the product's barcode, purchase it with the credit card linked to your Shopkick account and submit the receipt through the app. You'll also earn points for select online and mobile purchases.
Shopkick points can be redeemed for gift cards at Starbucks, Target, Sephora and more, so you can treat yourself a little more.
Get Rewarded To Shop Online With Swagbucks
Swagbucks members earn SB points for every dollar they spend at over 1,500 retailers — including Amazon, Walmart, Target and Starbucks — when they shop through the Swagbucks website or app, or play the daily games available. SB points can then be redeemed for gift cards at top retailers like Amazon and Walmart or for cash through PayPal.
Turn Your Shopping Into Investment Funds With Acorns
Acorns can automatically invest your spare change from shopping purchases when you opt-in for automatic Round-Ups. You'll also get extra funds invested into your account when you shop with your linked credit or debit card at one of Acorns' over 350 Found Money partners. These partners include Barnes & Noble, Nike, Sephora and Walmart.
More From GOBankingRates
Sam DiSalvo contributed to the reporting for this article.

BEFORE YOU GO
See Today's Best
Banking Offers