9 Business Ideas That Require No Expertise — Some Can Make You $100K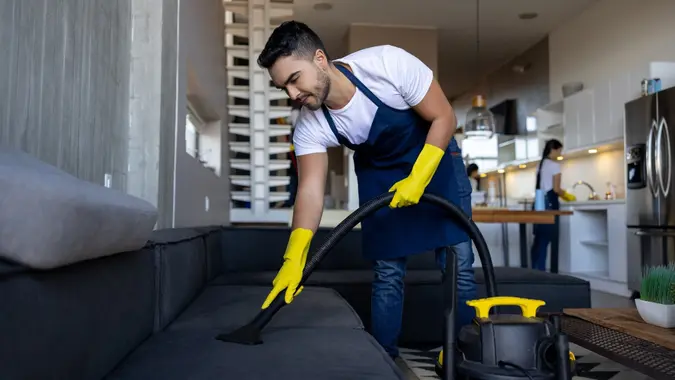 Hispanolistic / iStock.com
Experience, experience, experience. It seems like that's the key ingredient that just about every hiring company is looking for. But there are quite a few businesses out there that you can launch that require no expertise. 
A seven-figure salary could be in your future. Here's a look at nine of the best businesses to start — and how much you stand to make in each.
Cleaning Services Provider 
People are messy and they often don't have time to clean up after themselves. Here's where you step in — with or without experience. 
"A cleaning business has one of the lowest barriers to entry of any business," said Kacie Stephens, director at The Big Clean Co. "Anyone with a Facebook profile can jump into the local groups and advertise themselves as a cleaner. This year, my company hit that elusive seven-figure mark; but when I started, I had no experience in the cleaning industry. I had no formal training. I didn't even have any money." 
Wedding Officiant 
Becoming a wedding officiant is pretty easy, and you don't need any experience to get started. 
Valise Jackson, a wedding officiant and officiant business coach, has firsthand experience launching this career into a full-time job. 
Make Your Money Work Better for You
"You can learn as you go and grow it as much as you want," Jackson said. "There are many officiants (like myself) that have made this a full-time living and I actually only work a part-time schedule."
According to Salary.com, wedding officiants make an average salary of $81,430. 
Brand Designer
Got an eye for branding? Make it a career! 
"Begin by honing your design skills and creating a portfolio of your work," said LeeNor Dikel of Life With Leenor and an entrepreneur. "Identify your target audience and develop a unique brand identity for yourself. Market your services through online platforms, social media and networking events. Income in brand design can vary widely depending on factors such as experience, client base, and project complexity. You can earn $50 to $200 per hour or charge fixed fees for branding projects."
Social Media Manager
Social media is constantly evolving and right now, with so many new platforms popping up, it's a perfect time to hone your skills as a social media manager, regardless of any formal experience. 
"Gain knowledge and expertise in social media platforms and marketing strategies," Dikel said. "Create a portfolio highlighting your success in managing social media accounts. Market your services to businesses seeking social media management assistance. Income as a social media manager can range from $15 to $50 per hour, depending on your experience, the number of clients and the scope of services provided."
Affiliate Marketer 
Starting an affiliate marketing business doesn't require professional expertise, and it can be lucrative. According to ZipRecruiter, affiliate marketing jobs pay an average of $72,969 a year.  
Make Your Money Work Better for You
"Create a website or blog using website builders, blog templates, and online resources and allow other entrepreneurs and companies to promote their products and services," said Nat Miletic, owner and CEO at Clio Websites. "Affiliate links generate revenue for every referral or sale. ClickBank, Amazon Associates and Shopify are a few of the most popular affiliate marketing platforms you can use to jumpstart your business."
Specialized Subscription Box Services Provider  
These days, subscription box services are all the rage, with over 10,000 different ones out there, according to Gitnux. You don't need any experience to get in on the action. 
"Pick a niche — like rare teas — and collaborate with suppliers," said Peter Mendez, co-founder and experience director at Crafted. "I once guided a client through this process. The trick here was having an ear to the ground; she listened to what people wished they had but didn't have the time to get. First-year revenue? A cool $130,000 with a 45% margin." 
Personal Concierge
Time is money, and many high-earning professionals need more of it. You can fill the need by becoming a personal concierge. 
"A client of mine started a personal concierge service targeting busy professionals," Mendez said. "We developed a streamlined model that focused on making other people's lives easier. This was not about reinventing the wheel, just rolling it in the right direction. The result? She made six figures in her first year."
Consultant 
Are you a great problem solver? Can you think on your feet and help others focus? You could make a great consultant — and, according to communications strategist and Web3 growth specialist Maslin Edwin, expertise shouldn't be a barrier to launching a consulting business. 
Make Your Money Work Better for You
"In today's fast-paced world, individuals with a keen eye for problem-solving can launch successful consulting businesses in any industry," Edwin said. "When I started my own single-person consulting business, I was making $3,500 per month. Over time, as I gained more experience and attracted high-ticket clients, my income scaled to six figures. Starting small is the key, and with dedication and the right clients, the earning potential can be significant."  
Dog Scooper 
Yup, this is a weird one, but it's a job — and it requires no experience (but perhaps a strong tolerance for bad smells). This job may best be held as a side gig, given that the average pay is just $14 an hour, according to ZipRecruiter.
"As long as there are dogs, there will be poop that needs to be scooped," said Camille Gaines, an accredited financial counselor at Retire Certain. "You can provide services through a thumbnail or market through local veterinarians, then scale your business by hiring others to scoop after you get established. Add-on services can include dog walking."
More From GOBankingRates