6 Companies Believed To Be Behind Aldi's Store-Brand Products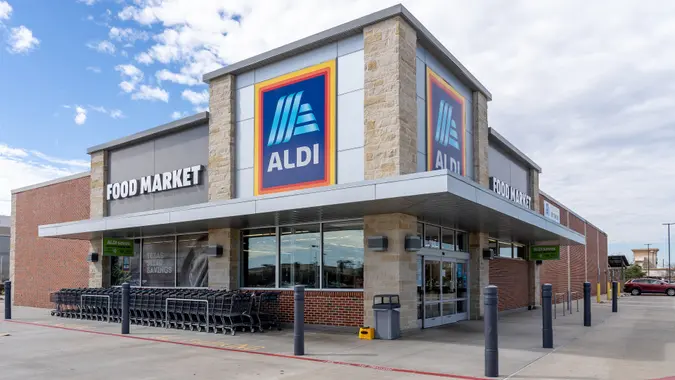 JHVEPhoto / iStock.com
Among grocery retailers, it's no secret that Aldi is a champion of low prices. Take a tour of the store's website, and you'll find enticing slogans, such as "Top quality, not top dollar" and "#1 in price for six years running."
However, not only can you save when shopping at Aldi, but you can also be assured of the quality of the groceries you buy. Aldi states that it tests its products repeatedly to make sure they're as good (or better) than national leading brands. And if you don't like something you purchase, you can take advantage of Aldi's "Twice as Nice Guarantee," which means you'll get your money refunded and the item replaced.
With all of Aldi's promises and guarantees, you might wonder what companies are manufacturing its products. According to the Aisle of Shame, many of Aldi's foods are manufactured at the same factories as big national brands, but they are labeled for Aldi.
Although the majority of these manufacturers are unconfirmed, rumor has it that the following six companies are behind some of Aldi's store-brand products.
House of Flavors
Aldi's Sundae Shoppe ice cream is rumored to be made by House of Flavors in Ludington, Michigan, which is recognized as a well-known private label manufacturer of ice cream. Support for the rumor includes Aldi's Sundae Shoppe Moose Tracks ice cream, which contains vanilla ice cream with peanut butter cups and famous Moose Tracks fudge, which is a dupe of the House of Flavors Moosetracks ice cream.
Make Your Money Work Better for You
Bimbo Bakeries
Aldi's L'Oven Fresh brand bakery products, such as its Hawaiian sweet rolls, plain bagels and hamburger buns, are rumored to be manufactured by Bimbo Bakeries. Bimbo Bakeries manufactures products for 37 labels, including Mrs. Baird's, Entenmann's and BallPark Buns & Rolls, so it's possible that it also could be manufacturing Aldi-brand bakery items.
ADM Milling Company
Aldi's Baker's Corner All-Purpose Flour is likely still made by ADM Milling Company, which was confirmed to be the manufacturer as late as 2019. Unfortunately, in 2019, ADM Milling Company recalled all 5-pound bags of Aldi's Baker's Corner All-Purpose Flour in 11 states due to the potential for the presence of E. coli, which was discovered via testing by the Rhode Island Health Department. The flour was made for Aldi stores at ADM Milling Company's flour mill in Buffalo, New York.
SmithFoods
Unfortunately, there's a confirmed connection between SmithFoods and Aldi's Earth Grown brand due to the manufacturer issuing an allergy alert for a product it made for Aldi. Aldi's Earth Grown Vegan Non-Dairy Almond Based Frozen Desserts were voluntarily recalled by SmithFoods because the desserts might have contained undeclared cashew allergens.
Smithfoods is known for making plant-based beverages, milk, cultured products, frozen yogurt and ice cream. However, it is unknown what other items, if any, it has manufactured or currently manufactures for Aldi.
Old Dutch Foods
Aldi's Clancy-brand chips and snacks include corn chips, potato chips, cheese curls, pork rinds and pretzels. They are rumored to be manufactured by Barrel O' Fun, which is currently owned by Old Dutch Foods.
Make Your Money Work Better for You
But Barrel O' Fun has changed hands more than once. An affiliate of Old Dutch foods, UR Brands, purchased Barrel O' Fun from Shearer Foods in 2018, and Shearer Foods purchased it from KLN Enterprises three years earlier in 2015.
Post
Aldi's Millville cereals brand, which includes varieties such as Frosted Flakes, Raisin Bran and Shredded Wheat, is rumored to be manufactured by Malt-O-Meal, which is a brand under the Post Holdings umbrella.
In the past, the Millville brand was associated with MOM brands — a leader in ready-to-eat cereal — but Post bought MOM brands in 2015. So it's possible that Post and Aldi made a deal to continue manufacturing Millville-brand cereals.
More From GOBankingRates