Companies That Have Committed To Reducing Waste and How They Plan To Do It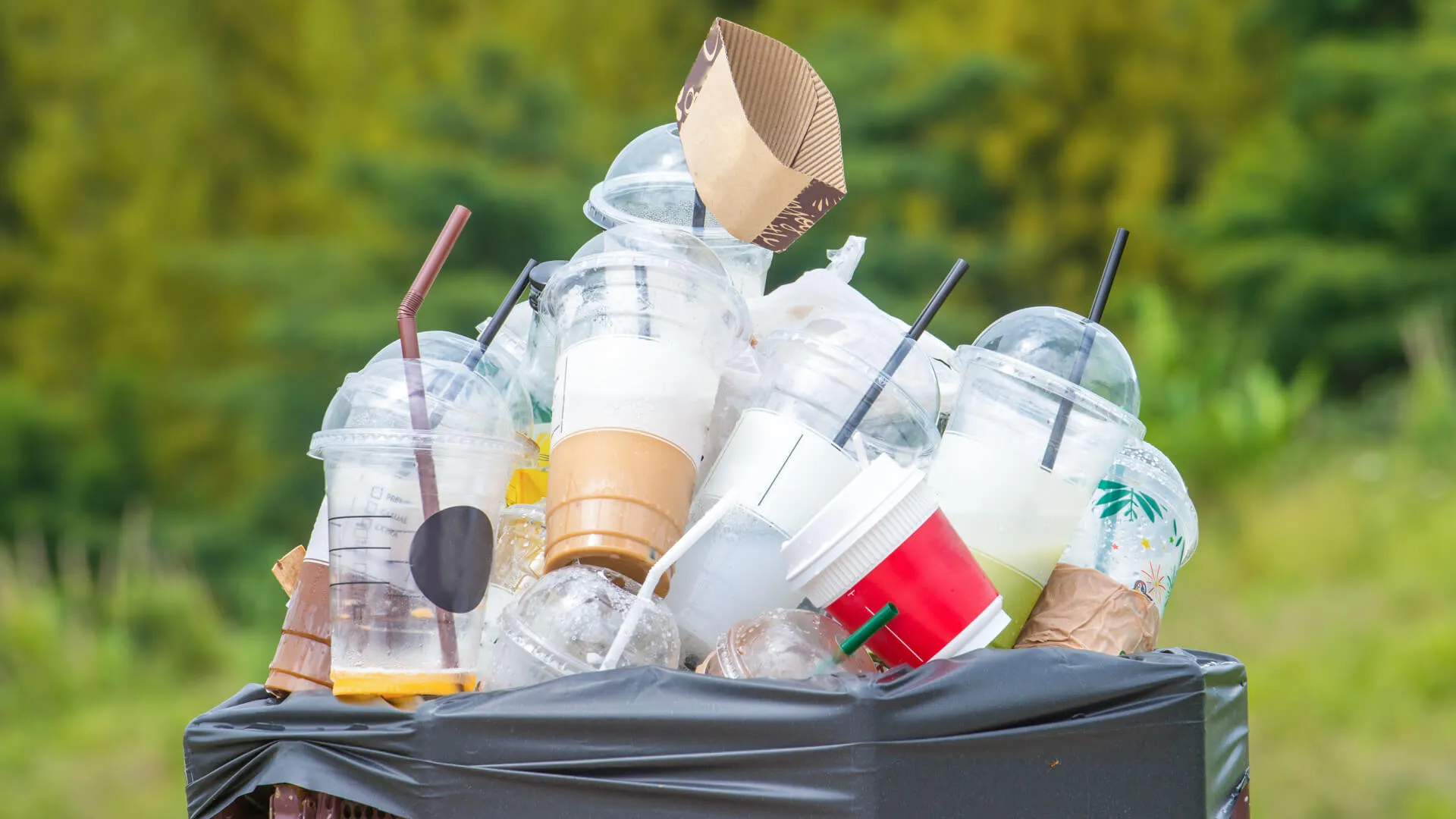 Companies of all kinds produce massive amounts of waste, from the packaging for their products and industrial byproducts to the food their employees eat in their cafeterias. The United States, the world's top producer of plastic waste, produced 42 million metric tons of plastic waste in 2016.
Only 10% of it gets recycled, while much of it gets shipped to countries with limited or nonexistent waste management systems. Not only does plastic packaging, in particular, contribute to greenhouse gas emissions and harm marine life, but all this trash has a disproportionate impact on communities of color and low-income communities, both in the U.S. and abroad, creating toxic environments and health problems.
Measures like the Break Free From Plastic Pollution Act, which was reintroduced in Congress last month for the second time, aim to shift more of the waste burden to companies and hold them accountable through federal regulation. Among many other things, it would require packaging producers to design, manage and finance waste and recycling programs. It would also create a nationwide beverage container refund program.
With uncertain chances of passage, though, it's still up to companies to take voluntary measures to address their role in waste streams. 
Faced with increasing consumer consciousness and dismal predictions for the future and our human impact on the planet, more and more companies are stepping up and announcing initiatives to curb their environmental impact, from reducing carbon emissions to tackling waste. 
While some are vague about their strategies to achieve those aspirations, here are 10 large companies that have pledged to green up their game and have outlined detailed plans for keeping those promises. 
Last updated: April 22, 2021
Coca-Cola
Coca-Cola produces 3 million metric tons of plastic packaging per year — the most of any company that revealed such information in 2019's New Plastics Economy Global Commitment report. In a separate study by Break Free From Plastic, Coca-Cola branded products were the most common items found in beach cleanups in 42 countries. 
The beverage giant's disclosure was part of its World Without Waste plan that it launched in 2018. Its goals include: 
Having 50% recycled material in all its packaging by 2030

Collecting and recycling a bottle or can for each one that it sells by 2030 

Making 60% of packaging either refilled or collected for recycling
In February, the company launched new bottles made out of 100% recycled materials, rolling out the new 13.2-ounce packaging at convenience stores in the U.S. Northeast, Florida and California. It is also testing paper bottles, which now use recycled plastic liners. Ultimately the goal is to remove the plastic completely to achieve a bottle made completely from recyclable paper.
Make Your Money Work Better for You
Estee Lauder
Estee Lauder has targeted virgin plastics in its waste reduction strategy, with a goal that 75%-100% of its packaging will be recyclable, refillable, reusable, recycled or recoverable by 2025. According to the company's internal plastic guidelines, its pledge includes: 
Replacing plastic applicators in retail stores with paper or wood versions

Reducing plastic water bottles and cutlery in office spaces 

Reducing with weight/size of packaging and using bioplastics where possible
Plus, its manufacturing and distribution facilities have sent zero waste to landfills since 2003. Any waste it can't recycle is incinerated and converted to energy.
Subaru
Subaru has demonstrated a commitment to sustainability for more than a decade. All of its products are manufactured in zero-landfill plants, with all its waste either recycled or reused. 
Partnering with the National Parks Conservation Association, the outdoor-enthusiast brand is piloting a zero-landfill initiative to decrease visitor-generated waste and increase recycling in three national parks, which it hopes to expand throughout the U.S. national park system. 
The company also partners with TerraCycle, offering public collection boxes at its dealerships for hard-to-recycle items like coffee pods and disposable cups. 
Microsoft
Microsoft has pledged some of the most ambitious environmental sustainability goals of any big tech company, announcing last year that it planned to go carbon negative by 2030, and by 2050, remove all the carbon it has ever emitted since the company's founding in 1975.
To address its waste footprint, Microsoft is targeting multiple waste streams: solid, compost, electronics, construction and demolition and hazardous wastes. The plan includes: 
Diverting at least 90% of its solid waste headed to landfills and incineration 

Building its own recycling 'Circular Centers' to reuse and repurpose servers and hardware for its datacenters

Manufacturing 100% recyclable Surface devices and use 100% recyclable packaging

Diverting at least 75% of its construction and demolition waste 
Make Your Money Work Better for You
Sierra Nevada
Brewing beer produces a lot of byproducts in the form of barley and hops. This California-based brewing company sends its byproducts to livestock farms where it becomes animal feed and has special on-site composting facilities. Sierra Nevada also diverts 95% of its solid waste from landfills and is proud to have its Chico, California, brewery certified platinum level by the U.S. Zero Waste Council. 
Sierra Nevada also keeps a close watch on its wastewater, which contains high organic content. Its Chico wastewater treatment plant removes 95% of the organic material before it goes through municipal wastewater processing.
Unilever
Another company topping multiple lists of worst polluters, Unilever has joined Coca-Cola and several other top consumer goods companies in signing on to the New Plastics Economy Global Commitment. The massive health and beauty product manufacturer with some 400 brands under its umbrella has pledged to: 
Eliminate problematic or unnecessary plastic packaging by 2025

Move from single-use toward reuse models where relevant by 2025

Make 100% of its plastic packaging reusable, recyclable or compostable by 2025
Among other actions, Unilever has piloted refill programs with retail partners and participates in Loop, a national consumer delivery initiative that ships popular products to customers in reusable containers that are returned, cleaned and reused. 
Aramark
Aramark, which provides food, facilities and uniform services across industries like education, healthcare, sports and entertainment, has outlined broad sets of commitments to better environmental stewardship. It aims to reduce its emissions through responsible sourcing, conserving water and energy, minimizing its food waste and reducing its packaging. 
To address its waste issues, Aramark plans to: 
Reduce food loss and waste by 50% by 2030 across operations by deploying waste tracking technology to make more informed purchasing decisions 

Compost food waste and partner with hunger relief agencies to use surplus food 

Significantly reduce single-use disposable plastics, such as straws, stirrers, bags and cutlery by 2022 
McDonald's
In its statement on waste reduction, McDonald's says it wants to move away from a linear economic model "where we take, make and dispose of materials" to a circular economy. Targeting its packaging as its greatest opportunity for improvement, the fast-food giant operating in more than 100 countries has set goals to source 100% of its guest packaging from renewable, recycled or certified sources, and to recycle its guest packaging in all of its restaurants by 2025. 
Among its many waste reduction initiatives, the company's measures include: 
Help drive demand for plastic recycling by using recycled plastic in trays, Happy Meal toys and restaurant interior design. McDonald's France recently removed all plastic toys from its Happy Meal menu and offers the choice of a new book instead. 

Innovate packaging design, such as partnering in the NextGen Cup Challenge to design beverage cups to be more easily recoverable

Recycling kitchen waste materials such as cooking oils, organic waste and corrugated cardboard packaging from suppliers 
Make Your Money Work Better for You
General Mills
As one of the world's biggest food brands, General Mills, which manufactures more than 100 brands found on grocery store shelves, has enormous potential for waste reduction. Its ambition is that all of its brands will design 100% of its packaging to be recyclable or reusable by 2030. 
The company's strategy includes: 
Reducing greenhouse gas emissions occurring within its packaging supply chain

Sustainably source 100% of its fiber packaging from recycled material, from virgin wood fiber regions that do not contribute to deforestation or from Forest Stewardship Council mix or better 

Achieve zero waste to landfill at 100% of its owned production facilities 
TerraCycle
Established in 2001, this specialty recycling company's mission is to tackle hundreds of hard-to-recycle waste streams, from dirty diapers to cigarette butts. Through proprietary recycling methodologies and partnerships with cities, manufacturers and retailers, TerraCycle collects these items in Zero Waste Boxes in homes, workplaces, schools and more. 
In 2019, TerraCycle launched Loop, a circular delivery service that allows consumers to buy many popular items from ice cream to shampoo in reusable containers that they return to be cleaned and filled again. 
Loop's founding investors and launch partners include many brands with the most substantial global waste footprints, such as Coca-Cola, Nestle, Unilever, PepsiCo and Procter & Gamble, and its product offerings now include dozens of common grocery store brands. 
More From GOBankingRates

BEFORE YOU GO
See Today's Best
Banking Offers