What COVID-19 Means for Shopping Malls This Holiday Season

7 min Read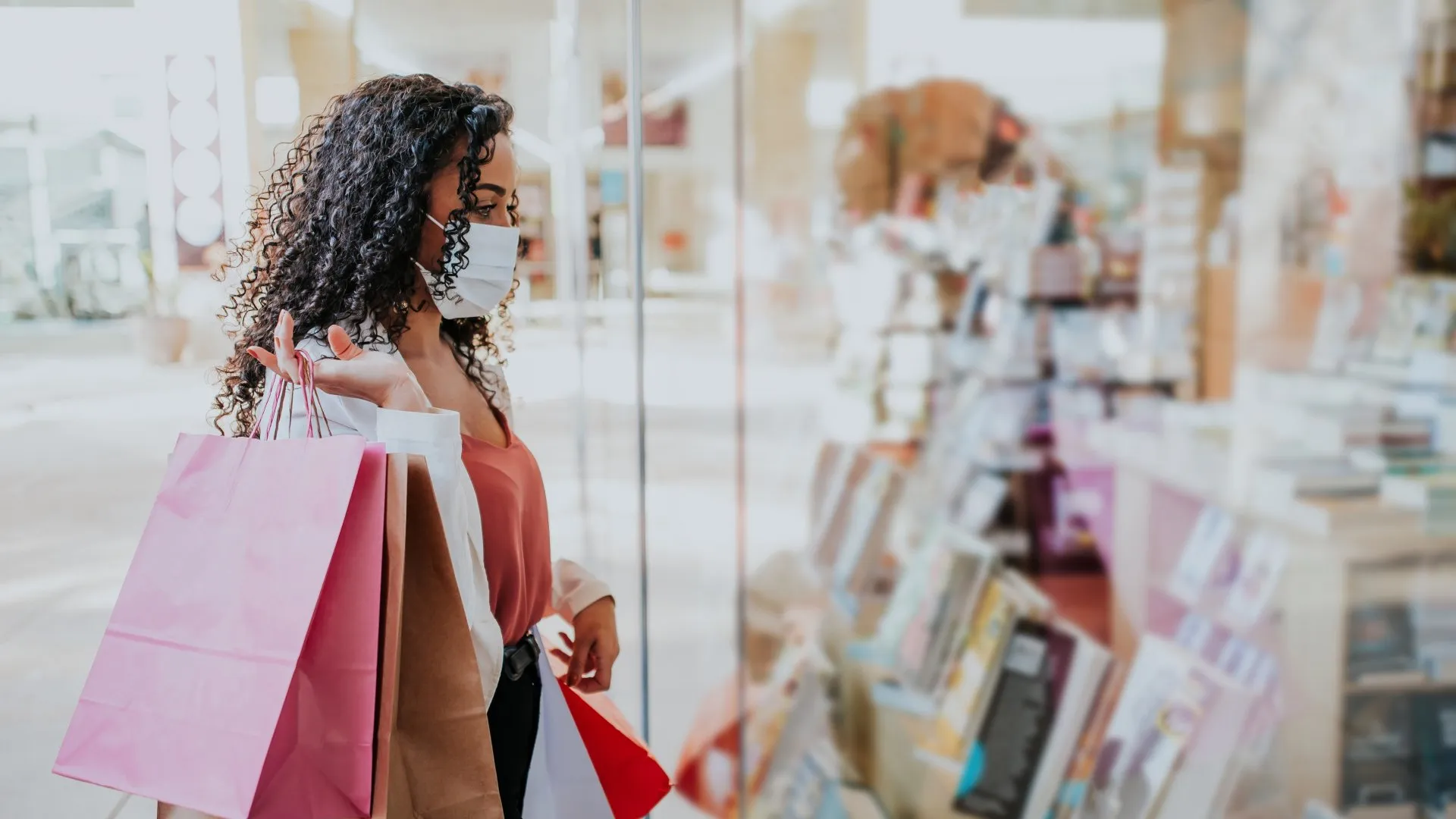 With the coronavirus hanging on tightly as time quickly counts down to the last days of 2020, it's eerie to reflect on how many things have changed in our lives over the past year. Among those changes are traditional holiday shopping behaviors, including trips to the mall.
While there is an expected increase in e-commerce shopping, 81% of U.S. shoppers still plan to spend money in physical stores, according to the International Council of Shopping Center's annual Holiday Shopping Intentions Survey. But what will a holiday mall shopping experience look like this year?
What you won't find are shoppers weaving their way through crowds, mixed groups lounging in communal areas while eating or countless patrons picking up and putting down items in stores with nary a nod to hand sanitizer or social distancing.
Instead, you'll find restrictions and limits, more sterile environments and plenty of encouragement to wear masks, sanitize hands and keep a safe distance from others. Here's what COVID-19 means for shopping malls this holiday season.
Last updated: Nov. 2, 2020
Make Your Money Work Better for You
No Long Lines for Mall Santas
The combination of long lines, crowded indoor spaces and close physical contact with Santa are a recipe for disaster during the COVID-19 pandemic. While some shopping malls may still opt for an in-person Santa experience that takes place outside — or inside at a safe distance — others are opting out.
As an alternative to the in-person mall Santa, children — or the whole family — can see Santa virtually.
Macy's is offering its traditional Santaland experience at home, for free, starting Friday, Nov. 27 through Thursday, Dec. 24. The virtual experience includes an interactive video meeting and a selfie with Santa.
Another option is JingleRing, which offers two different packages. Starting at $24.95, you can opt for a live signature experience that you can personalize according to special needs as well as faith, ethnic and language preferences. Or for $19.95, you can choose a pre-recorded video from Santa to share with your child anytime.
Mask-Free Mall Shopping Is Not Common
In the hustle and bustle of the holiday season, you may find yourself huffing and puffing — through your mask that is. Thirty-three state governments and the District of Columbia have mask mandates in place, according to AARP. In general, a mask mandate means that you're required to wear a mask in indoor public spaces.
The following states do not have statewide mask orders: Alaska, Arizona, Florida, Georgia, Idaho, Iowa, Mississippi, Missouri, Nebraska, New Hampshire, North Dakota, Oklahoma, South Carolina, South Dakota, Tennessee, Utah and Wyoming.
However, even without a statewide mask mandate, local governments can require you to wear masks while shopping. Additionally, specific retailers can require shoppers to wear a mask.
If the thought of wearing a mask while holiday shopping is too much to bear, shop online. Many retailers are hosting sales online or via their mobile apps, and Walmart and Best Buy began offering Black Friday prices in October.
Make Your Money Work Better for You
No Packed, Bustling Stores
Depending on where you are located in the U.S., your local mall could be under social distancing restrictions that limit the number of people who can be in the mall at the same time. In the greater Long Beach area of California, malls just opened again at the beginning of October. Even so, they are only operating at 25% capacity.
Not being shoulder to shoulder with other shoppers is a good thing. It makes it easier to get where you need to go in less time.
Simon Malls Won't Be Open on Thanksgiving
Simon Properties, which is the biggest U.S. mall owner, announced in September that all of its mall locations will be closed on Thanksgiving Day. Additionally, CBL Properties, based in Chattanooga, Tennessee, announced its 108 malls would be closed for the fifth consecutive year.
Other malls not owned by Simon Properties or CBL Properties may also be closed. Call your local mall to find out before you head out on a Thanksgiving Day shopping trip.
No Lights Are On at Some Retail Locations in Malls
Due to the ongoing retail apocalypse, partially due to the strain of the pandemic, some mall retailers or certain retail locations are permanently closed or closing. For example, JCPenney is in the process of shuttering 150 stores. Gap is closing 30% of its stores to reduce its dependence on mall traffic. Other mall retailers that are closing a number of stores include J. Crew, Sears, Lord & Taylor, New York & Co., Chico's, Nordstrom, Victoria's Secret, Zara, H&M and Forever 21.
Look for locations in neighboring cities that may still be open as an alternative.
Spontaneous Shopping Won't Be So Easy
Westfield Century City in Los Angeles is offering Line Pass, where you can join a waitlist and be given an estimated time that you can enter a participating store. Or, you can book an appointment for a specific time.
Individual mall stores, like Apple, are offering Shop With a Specialist, which allows you to schedule a one-on-one shopping session in advance.
To get the most out of your shopping experience, you'll need to plan ahead. Check store hours and try to go during nonpeak times. And if stores are accepting appointments, try to make one in advance so you won't have to join a waitlist or wait in a physical line.
See: Online Holiday Shopping Sales Expected To Shatter Records
Make Your Money Work Better for You
No Crowded Food Courts
While no one would likely argue that a mall food court is their favorite dining destination, the collection of grab-and-g0 eateries with the convenience of nearby seating is perfect when you're trying to get through your holiday shopping list.
The problem is the food courts in some mall locations, such as those in areas of California, are either closed or operating at a reduced capacity.
If grabbing a quick bite to eat while shopping is a must for you, call ahead to your favorite mall and ask about the status of the food court before visiting.
No On-Site Shopping at Some Macy's Stores
Even though the Macy's stores in Dover, Delaware, and Littleton, Colorado, will still look like the shopping destination you're used to from the outside, you won't be able to go in and shop. The retailer is using those locations to implement what's known as "dark stores." Dark stores are used as distribution centers to help assist fully operating stores with curbside and in-store pickup orders.
If your closest Macy's store has turned into a dark store, drive to a different Macy's location that's open — either in your city or down the road.
Not Everyone Is Getting Out and Going In To Shop
While you can choose to go into the mall and shop at the stores in person, you don't have to. Instead, options like curbside pickup, buy online or in-store pickup are available for many retailers — especially stores that are considered mall anchors, like Macy's, Dillard's and JCPenney.
Plus, Macy's and Bloomingdale's have partnered with DoorDash to allow customers to get same-day home delivery on orders placed at Macy's by 12 p.m. and Bloomingdale's by 1 p.m.
The good news is that many retailers are still happy to have in-store shoppers if that's your preference.
More From GOBankingRates
About the Author