I'm an Entrepreneur: This Is the Best $20 Investment You Can Make When Starting Your Business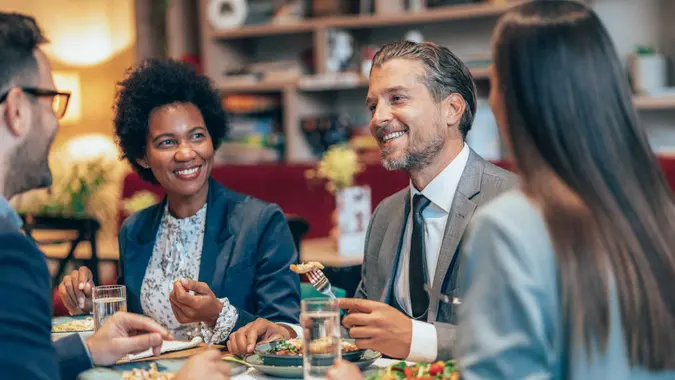 filadendron / Getty Images
In 2005, corporate trainer and consultant Keith Ferrazzi, along with co-writer Tahl Raz, penned the book "Never Eat Alone." Nearly two decades later, the advice holds true. The title isn't as metaphorical as it may sound. Ferrazzi advised that anyone who wants to be successful should make the most of every meal time by using it as a networking opportunity.
After all, as the saying — based on another popular business book by entrepreneur Porter Gale — goes, "Your network is your net worth."
Gale described "stuffy power lunches" as being somewhat outmoded in the description of her book, discussing networking in the digital age as an efficient alternative. But making time for in-person networking remains important, as Gale's book details, emphasizing both online and off-line networking.
Other entrepreneurs agree with Gale and Ferrazzi about the importance of connections for personal and professional success. Finance blogger Ramit Sethi, author of "I Will Teach You To Be Rich," revealed the best $20 a new or aspiring entrepreneur can spend.
"If you want to start a business, the best $20 you'll ever spend its to find successful entrepreneurs and take them out to lunch," he wrote.
Picking up the tab shows respect for their time — but you also want to make sure you see a return on your investment. That's where it's important to know how to approach this lunch.
Goals of a Productive Networking Lunch
First, remember that, while you have a goal in mind, your first objective is to build a lasting relationship. People love talking about themselves. Make sure that you spend 90% of the time during lunch talking about the entrepreneur, Sethi advised.
Make Your Money Work Better for You
Ask them about the steps they took to achieve success in their field. Ask them about mistakes they made as they were growing. Ask about the best advice they ever received along the way.
Finally, as you close out the conversation, ask them if they have any advice for you as you approach your new business venture.
Look for Patterns
Once you start doing this regularly, you'll notice patterns in the advice that most successful entrepreneurs share. Take note of not just what they say, but how they say it. As Tony Robbins one said, "Success leaves clues."
How To Find Successful Entrepreneurs
Fortunately, you don't have to spend thousands of dollars on a networking event or conference to find successful entrepreneurs willing to share their knowledge.
Sethi pointed out in his post that successful entrepreneurs you choose to approach don't necessarily have to be in your industry, although that's a place to start. To find business owners in your industry, peruse industry magazines, he suggested.
You can also search Facebook groups related to your industry or related to local entrepreneurs. LinkedIn can also be a good resource to find successful business owners in your field. It might be worth it to invest in a Premium subscription for one month and spend an hour each day making connections via InMail.
You can also network at the local level through Chamber of Commerce, Lion's Club or Rotary Club meetings, for example. Your community is full of resources that you can rely on and learn from, all for the cost of a good burger and an hour of your time.
Make Your Money Work Better for You
More From GOBankingRates