Free In-Flight Wi-Fi for Travelers: This Airline Hooks It Up (If You Sign Up)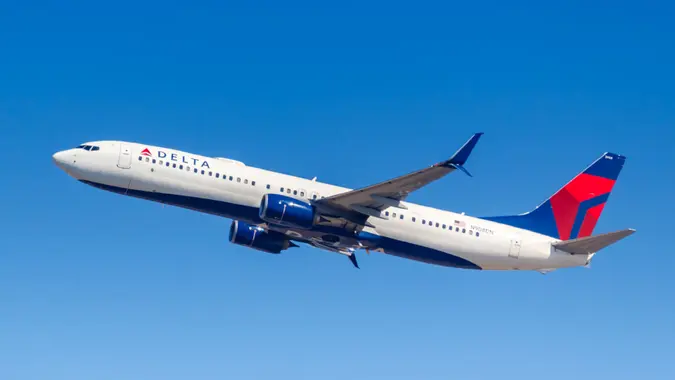 Boarding1Now / Getty Images
Beginning Feb.1, Delta is rolling out free Wi-Fi to all passengers on most of its domestic mainline flights.
Explore: Your Biggest Money Etiquette Questions Answered
The Future of Finances: Gen Z & How They Relate to Money
Delta CEO Ed Bastian made the announcement Jan. 5 at the Consumer Electronics Show (CES) in Las Vegas, noting that the service will be made possible through a partnership with T-Mobile.
"It's going to be free, it's going to be fast and it's going to be available for everyone," Bastian said.
To use the free Wi-Fi, here's what Delta passengers need to do.
Sign up with Delta SkyMiles, Delta's loyalty program, which is free to join. You can learn more and sign up here.
Use their mobile device or laptop to log into their SkyMiles account once aboard the aircraft in order to access the Wi-Fi.
If you don't have a SkyMiles account, you will need to create one on your flight in order to connect while onboard.
Make Your Money Work Better for You
Delta's free Wi-Fi will first be available on its Viasat-enabled mainline aircraft, and will later come to its other regional aircraft (and international flights) by the end of 2024.
"At work, at home and everywhere in between, connectivity is essential to daily life, and your journey on Delta should be no different," Bastian said. "Our vision has long been to deliver an experience at 30,000 feet that feels similar to what our customers have available on the ground."
Take Our Poll: How Long Do You Think It Will Take You To Pay Off Your Credit Card Debt?
More: Earn Airline Miles Shopping at Starbucks Thanks to Delta Partnership — Learn How
Delta is the first of the "big 3" airlines to offer free Wi-Fi to its customers. United Airlines and American Airlines both charge their passengers for internet access. JetBlue, though, has offered free (albeit bumpy) Wi-Fi on all its planes since 2017.
More From GOBankingRates
Make Your Money Work Better for You