How To Make More Money on Amazon for Your Small Business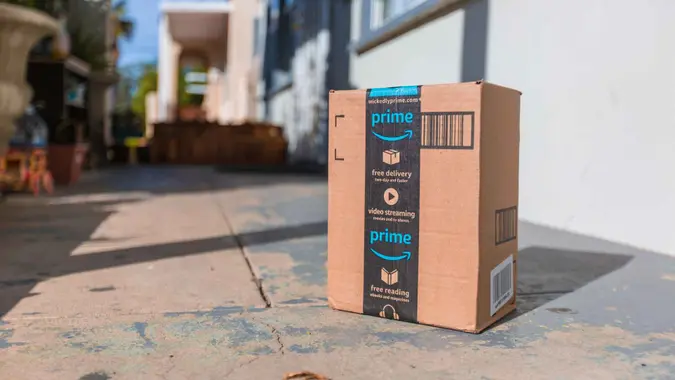 Jorge Villalba / Getty Images
Amazon has often been seen as the giant online retailer that is slowly taking over all sectors of commerce — because, if you need to buy something, Amazon usually has it.
Now, though, Amazon is using its wide reach and power to recruit small businesses — including coffee shops, corner stores, boutique clothing shops and florists — for deliveries. This partnering effort helps local small businesses in 23 states earn extra money by finishing Amazon deliveries for approximately the last three miles of travel.
Working within the scope of the Amazon Hub Delivery program, each small business would deliver roughly 30 packages a day and receive about $2.50 per parcel, according to Axios. The goal for Amazon is to bring 2,500 small businesses into the program by the end of 2023, before expanding into other states across America.
If you are a small business and in one of the states that offers the Amazon Hub Delivery program, you might be able to generate some additional income via this program. Here's what you need to do.
Also see secret ways to save more on Amazon.
The Amazon Hub Delivery Program 
Amazon hopes to give the resources — as well as extra dollars — to small businesses willing to deliver, on average, 30 packages a day for seven days a week, major holidays excluded. The tech giant is enticing local business owners with the incentive to "earn up to $27,000 per year by partnering with Amazon Hub Delivery to deliver packages in your community."
It works like this: Amazon's Delivery Service Partner drivers are part of a network that leaves packages with local businesses in safe places. From there, the businesses are responsible for getting the packages to their destinations, which is roughly in the range of three miles.
Make Your Money Work Better for You
Once the package has been successfully delivered, Amazon will pay the small business. And cha-ching: Extra money in the bank for local business owners and their employees.
Who Can Participate?
Existing small businesses located in Alabama, Alaska, Arkansas, California, Florida, Iowa, Indiana, Illinois, Massachusetts, Minnesota, North Carolina, North Dakota, New Jersey, New York, Ohio, South Dakota and Washington are able to potentially sign up for the Amazon Hub Delivery Program this year.
Amazon has announced that a minimum of 20 cities across the United States will be eyed for inclusion, with Boston, New York, Los Angeles and Seattle at the top of the list.
How To Get Involved
If you own a small business that has a secure area for storage for Amazon drivers to drop off packages for delivery in one of the associated states, you might qualify to sign up.
Amazon, according to their marketing, is telling those who are interested in the Amazon Hub Delivery Program:
Prior delivery experience is not required in order to participate.
There is no long-term contract or obligation.
Packages can be delivered using existing staff, methods of transportation and personal devices to track and monitor the program.
Direct deposit payments will happen on a weekly basis.
There is a support app available for small businesses to download to assist with tracking, planning and other tasks associated with deliveries.
The rate of payment is $2.50 per package. While Amazon is not marketing a full figure for what a business might earn in extra money per year, the promotional materials highlight additional earnings of up to $27,000 per business.
Make Your Money Work Better for You
Amazon is currently accepting applications for the Hub Delivery Program, as well as providing online webinars and localized events for all small businesses who might want to sign up and get a little extra delivered to their bottom line.
More From GOBankingRates