6 Key Milestones That Turned Amazon into the World's First $1.7 Trillion Retailer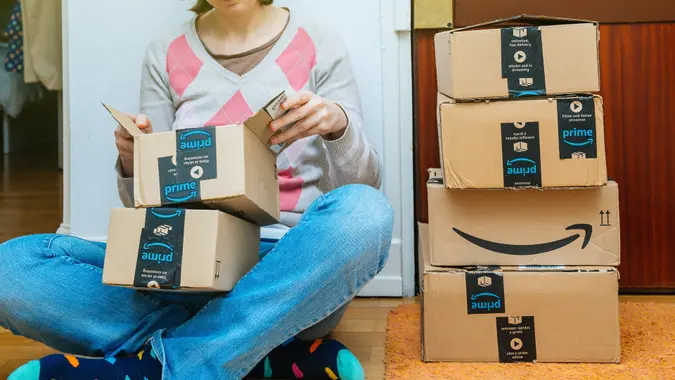 Hadrian / Shutterstock.com
Amazon founder and CEO Jeff Bezos announced yesterday that he will be stepping down from his role as CEO in the third quarter. In the 27 years since Amazon was founded, Bezos has accomplished what few ever imagined — creating a world where online shopping and overnight door-to-door delivery of everything from books and clothing to groceries and technology is not just a perk, but the expectation.
See: What Bezos Stepping Down Means for Amazon Investors
Find: A Look Back at the Life and Career of Jeff Bezos
Certainly, the pandemic served to increase our reliance on e-commerce. Online shopping increased by 31.5% between the first and second quarters of 2020, according to MarketWatch, with mid-March 2020 representing the beginning of the pandemic and lockdowns in the U.S.
Amazon reported fourth-quarter sales of $125.5 billion as buyers flocked to do their holiday shopping online. Last year marked the first time Amazon ever reported more than $100 billion in quarterly revenue. Amazon stock rose 80% in 2020, according to Bloomberg.
But how did Amazon get where it is today? And what lies ahead now that Bezos will no longer be at the helm?
Make Your Money Work Better for You
Let's look at some of the milestones in online shopping where Amazon has led the way.
See: How Jeff Bezos Built Amazon into What It Is Today
Find: Can Amazon Continue Its Incredible Run in 2021?
Amazon Experiences Rapid Growth Early On
Jeff Bezos founded Amazon as an online bookseller in 1994 in the garage of his rented home in Washington with almost $250,000 start-up capital from his parents, according to an SEC filing reported by Bloomberg. In just two months the company was making $20,000 per week in book sales but reinvesting the money back into the business, according to Inc.
Amazon Gets Funding, Expands Reach
Bezos received $8 million in series A funding from investors in 1995. In 1996, the company introduced its affiliate program, enabling bloggers, website owners and other influencers the ability to earn a bit of extra cash off Amazon sales.
In 1997, the site launched its first remote distribution center and introduced one-click ordering, which was unprecedented at the time, CBS News reports.
See: If You Would Have Bought Only 100 Shares of These 10 Stocks, You Would Be Incredibly Rich
Find: Jeff Bezos' Most Outrageous Business Failures
Make Your Money Work Better for You
Amazon Issues IPO, Goes Beyond Books
As it worked to expand reach and increase sales, Amazon went public in 1997 with an IPO of $18 a share. By 1999, the company's original investors had made back returns of 55,000%, Fundable reports.
By 1999, Amazon was also selling DVDs, music, home improvement products, software, video games, gift items and more. In 2000, it offered free shipping on orders over $100 for the first time ever, in a program that would become the predecessor to Amazon Prime, where many items ship for free the next day.
See: How Amazon Changed Our Shopping Habits — For Better and Worse
Find: Walmart+ vs. Amazon Prime: Which Is Better?
"Prime" Time for Amazon
In 2005, Amazon launched its subscription-based loyalty program, Amazon Prime, which gives members access to fast, free shipping and a library of movies, TV shows and exclusive programming available for streaming. Today, 82% of American households have a Prime membership while 57% of Amazon shoppers worldwide pay for the service monthly, according to a Digital Commerce 360 analysis of Consumer Intelligence Research Partners data. These numbers represent 139% growth since Amazon introduced the program.
Make Your Money Work Better for You
Amazon Added Half a Million Workers in 2020
Sparked by the pandemic and increasing demand for Amazon's online shopping and its cloud computing services, Amazon Web Services, Amazon hired 500,000 people in 2020, a 63% increase from the prior year, GeekWire reports. Amazon now employs 1.3 million people.
See: Amazon Launches New Grocery Store Concept — Here's All You Need to Know About the World-Dominating Company
Find: Bezos Dumps More Amazon Shares to Help Increase Net Worth by $10.5B in a Day
Amazon Hit a Market Cap of More Than $1.5 Trillion
Amazon reached a record market valuation of $1.5 trillion in July 2020. Months later, Bezos — who had surpassed Bill Gates briefly in 2017 to become the wealthiest person with a net worth of $90 billion, and then held that spot steadily beginning in 2018 — became the first person in the world to achieve a net worth of $200 billion, according to Forbes.
Today, Amazon has a value of $1.7 trillion. In January, SpaceX and Tesla CEO Elon Musk surpassed Bezos briefly. Right now, Bezos maintains the title as the world's wealthiest person, with a net worth of $196.2 billion vs. Musk's $188.3 billion, Forbes reports.
More From GOBankingRates:
Make Your Money Work Better for You