Jeff Bezos' Most Outrageous Business Failures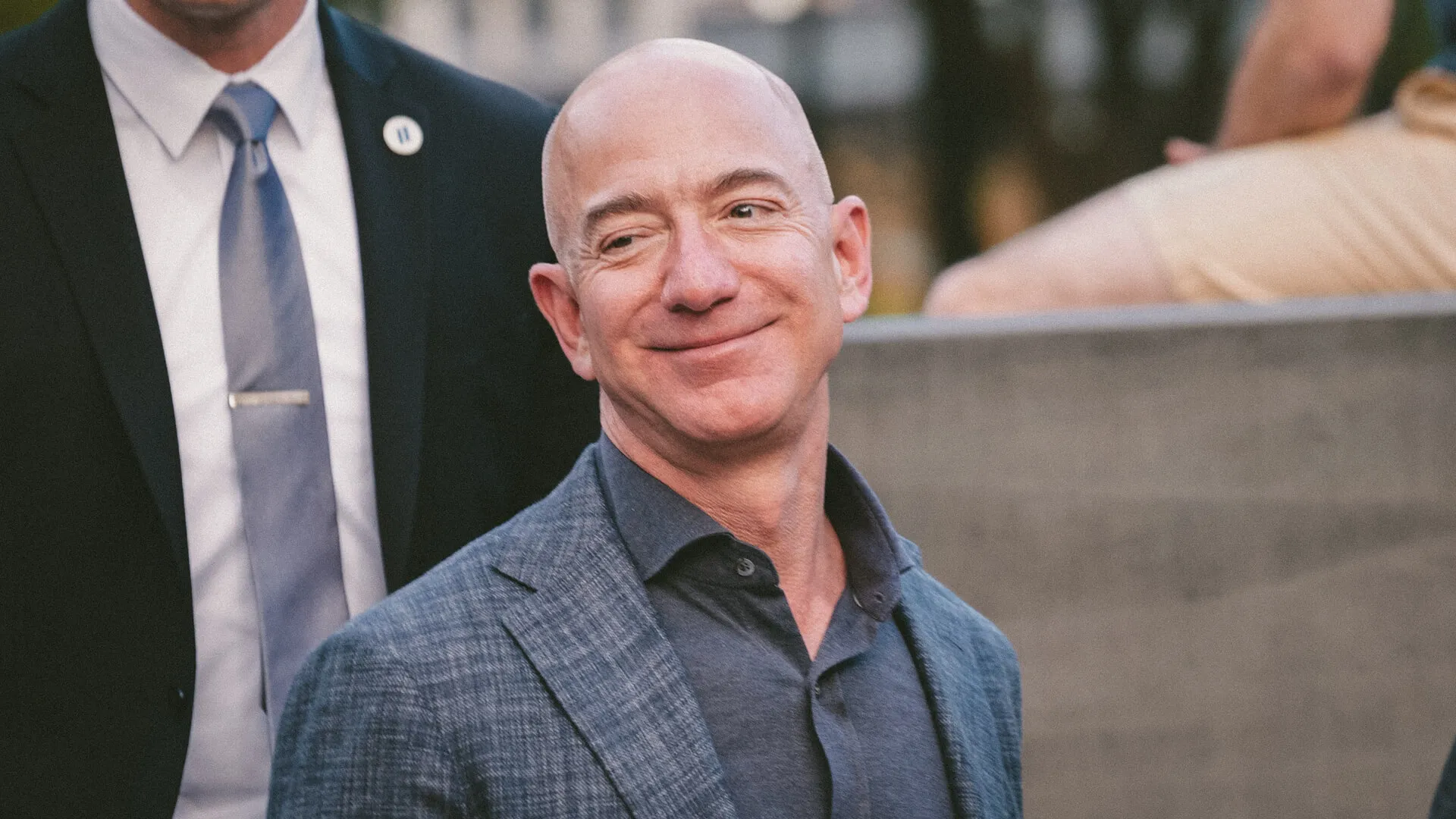 In 1994, Jeff Bezos co-founded the future e-commerce behemoth Amazon in a Seattle garage. Previously employed by a Wall Street hedge fund, he quit his job to try his hand at building an online business before most people even knew what the internet was.
In an interview with Time magazine, the Amazon CEO revealed he gave himself a 30% chance that Amazon would succeed. "That's actually a very liberating expectation, expecting to fail," Bezos said.
Now one of the richest people on any continent, Bezos was the first person to obtain a net worth surpassing $150 billion in the 30 years Forbes has been tracking the richest Americans. His fortune is estimated at $147 billion as of June 8, 2023, according to Forbes. Amazon's market capitalization is $1.27 trillion, as of June 2023. So, Bezos is clearly doing something very right, but he's made plenty of mistakes along the way.
Click through to read about his failures Bezos endured before he convinced millions of people that Amazon Prime is worth the money.
Crucible
Amazon launched "Crucible," its first AAA video game in May 2020, but the game shifted to an invite-only closed beta just one month later. By October 2020, development had been permanently halted.
An end of development FAQ on the Amazon Games site notes "Crucible" shut down because "The dev team is moving on to work on "New World and other Amazon Games projects." The page also listed ways for customers to request refunds.
The amount of money Amazon lost on "Crucible" is unclear, but a rough estimate of development costs for AAA games is $60-$80 million, according to Juego Studios.
Make Your Money Work Better for You
Haven
A joint venture between Amazon, Warren Buffett's Berkshire Hathaway and JPMorgan Chase, Haven was a healthcare company formed in 2018. It aimed to help improve healthcare services and reduce insurance costs to employees and their families at these three companies — with the potential to expand to other U.S. employers.
While a novel idea, Haven struggled to achieve its goals and saw several changes in top leadership during its relatively brief tenure. In January 2021, Haven announced plans to end operations at the end of February. The amount Amazon invested in the company is unknown.
LivingSocial
In December 2010, Amazon invested $175 million into Groupon rival LivingSocial. However, the company's rapid expansion quickly came to a halt, as the daily deals business began to slow.
LivingSocial attempted to pivot its business model by selling tickets to local events and hosting its own — for which it spent nearly $4 million renovating a historic building in Washington, D.C. — according to The Washington Post. However, these efforts failed and the company was ultimately absorbed by Groupon for $0 in October 2016.
Amazon Fire Phone
Introduced in 2014, the Amazon Fire smartphone was a major flop. Within months, the price of the phone was dropped from $199 to 99 cents, with a two-year AT&T contract.
Bezos took the $170 million loss in stride.
"If you think that's a big failure, we're working on much bigger failures right now — and I am not kidding," he said in 2016 when asked about the phone's failure by executive editor of the Washington Post, Martin Baron. "Some of them are going to make the Fire Phone look like a tiny little blip."
Pets.com and Kozmo.com
"I've made billions of dollars of failures at Amazon.com," Bezos said, in an interview with Henry Blodget at Business Insider's 2014 Ignition conference. "Literally, billions of dollars in failures. You might remember Pets.com or Kozmo.com. It was like getting a root canal with no anesthesia. None of those things are fun. But they also don't matter."
In 1999, Amazon purchased a 50 percent stake in Pets.com, and contributed to a $50 million round of financing in the pet supply company, according to Newsweek. The online retailer went out of business in 2002.
Amazon invested at least $60 million in Kozmo.com, according to The New York Times, but the online retailer that delivered products within an hour lasted just a few years before closing its doors. The company did, however, come back under new ownership in 2018 with a refined business model, but is defunct as of 2023.
Make Your Money Work Better for You
Amazon Destinations
Launched in April 2015, Amazon Destinations was a short-lived travel reservation service focused on short, local getaways. The company stopped selling reservations six months later in October 2015, according to the Seattle Times.
Bezos hasn't spoken publicly on the closure, but considering he's been taking risks his entire career, he likely took it in stride.
"I didn't think I'd regret trying and failing," he said when discussing launching Amazon during his commencement address to Princeton's Class of 2010. "And I suspected I would always be haunted by a decision to not try at all."
Books Deleted From Kindles
In 2009, Amazon removed copies of George Orwell's "1984" and "Animal Farm" from the Kindle accounts of users who had unknowingly purchased the books from an unauthorized seller. The move sparked outrage for its censorship-like approach and the overall way the company handled the situation.
Bezos was quick to admit his company's mistake and issue a public apology.
"Our 'solution' to the problem was stupid, thoughtless, and painfully out of line with our principles," he said during a July 2009 earnings call. "It is wholly self-inflicted, and we deserve the criticism we've received. We will use the scar tissue from this painful mistake to help make better decisions going forward, ones that match our mission."
Amazon Wallet
A way to store and organize gift cards and store loyalty cards, Amazon Wallet launched in July 2014. The short-lived venture lasted just six months, before the company bowed out, likely because the wallet didn't allow consumers to store credit or debit cards.
Bezos likely didn't stress too much about the quick demise of Amazon Wallet since he frequently touts the lessons learned from failure.
"One area where I think we are especially distinctive is failure," Bezos said in his 2015 letter to shareholders. "I believe we are the best place in the world to fail (we have plenty of practice!), and failure and invention are inseparable twins."
Make Your Money Work Better for You
Amazon Local Register
Designed for small businesses, the Amazon Local Register debuted in August 2014. The secure card reader and mobile app counted Square and PayPal as its rivals, but it proved to be little competition itself.
Amazon stopped selling new devices to businesses in October 2015 and ended the program completely in February 2016, according to The New York Times. Bezos didn't speak out on this specific letdown, but it's easy to assume he was glad Amazon at least gave payment processing a try.
"What really matters is, companies that don't continue to experiment, companies that don't embrace failure, they eventually get in a desperate position where the only thing they can do is a Hail Mary bet at the very end of their corporate existence," he told Blodget at Business Insider's 2014 Ignition conference "Whereas companies that are making bets all along, even big bets, but not bet-the-company bets, prevail."
Amazon Auctions and zShops
"Marketplace's early days were not easy," Bezos said in his 2014 annual letter to shareholders. "First, we launched Amazon Auctions. I think seven people came, if you count my parents and siblings. Auctions transformed into zShops, which was basically a fixed price version of Auctions. Again, no customers."
Bezos and his team used the lessons they learned from Amazon Auctions and zShops to create its Marketplace platform. In 2023, half of Amazon's revenue is reportedly from third-party sales. 
Amazon TestDrive
In March 2011, Amazon debuted its TestDrive feature, allowing users to test out apps before making a purchase decision. The company shuttered this feature in April 2015, due to a notable drop in usage and the popularity of free apps, according to TechCrunch.
Bezos didn't specifically address the TestDrive flop, but he highlighted his approach to failure in his very first letter to shareholders back in 1997.
"We will continue to measure our programs and the effectiveness of our investments analytically, to jettison those that do not provide acceptable returns, and to step up our investment in those that work best," he said. "We will continue to learn from both our successes and our failures."
Make Your Money Work Better for You
Amazon WebPay
In 2009, Amazon WebPay was introduced as a desktop-based online payment service. The service was discontinued in 2014.
No doubt, Bezos doesn't like to fail, but he believes it's part of the brand's journey. In his 2015 letter to shareholders, he shared his thoughts on how company culture is made, which included failure.
"It is created slowly over time by the people and by events — by the stories of past success and failure that become a deep part of the company lore," he said.
Askville.com
In 2007, Amazon introduced Askville.com, an information-sharing site that allowed users to ask questions and receive answers from one another. The site built up a huge repository of information, but even that wasn't enough to keep it live. Askville closed to new activity in 2013.
It's possible Bezos doesn't even view the shuttering of Askville as a failure, because it served a purpose. He hasn't publicly voiced his thoughts on the site, but he's been very open with his thoughts on giving new things a try.
"Very rarely are you going to regret something that you did that failed and didn't work or whatever," he said in a 2018 interview with Mathias Dopfner, CEO of Business Insider's parent company Axel Springer. "And I think that, when you think about the things that you will regret when you're 80, they're almost always the things that you did not do. They're acts of omission."
My Habit
Amazon launched fashion flash sale site MyHabit in 2011, but the site shuttered in 2016. In a statement to Women's Wear Daily, Amazon said fashion is one of its fastest-growing categories, and the decision to close the site was a move to simplify its offerings.
Bezos didn't specifically speak on the MyHabit closure, but the move to shift clothing, shoes and accessories under the Amazon Fashion umbrella, might've been less of a perceived failure and more of his way to better serve customers.
"I was one of those people who every time I looked at something it looks like it could be improved — there's something wrong with it," he said in the 2018 interview with Dopfner. "So, I'd go through, like, how could this restaurant be better? So I've always had that kind of idea."
Make Your Money Work Better for You
On Failure in General
The first to admit his business isn't perfect, Bezos' forthcoming attitude is refreshingly honest. Instead of trying to sweep failure under the rug or pretend it didn't happen, he faces challenges head-on.
"We've had critics be right before, and we changed," Bezos said in the 2018 interview with Dopfner. "We have made mistakes. And you know, I can go through a long list."
More From GOBankingRates
Sam DiSalvo contributed to the reporting for this article.