The Money Behind the College Football Playoffs

6 min Read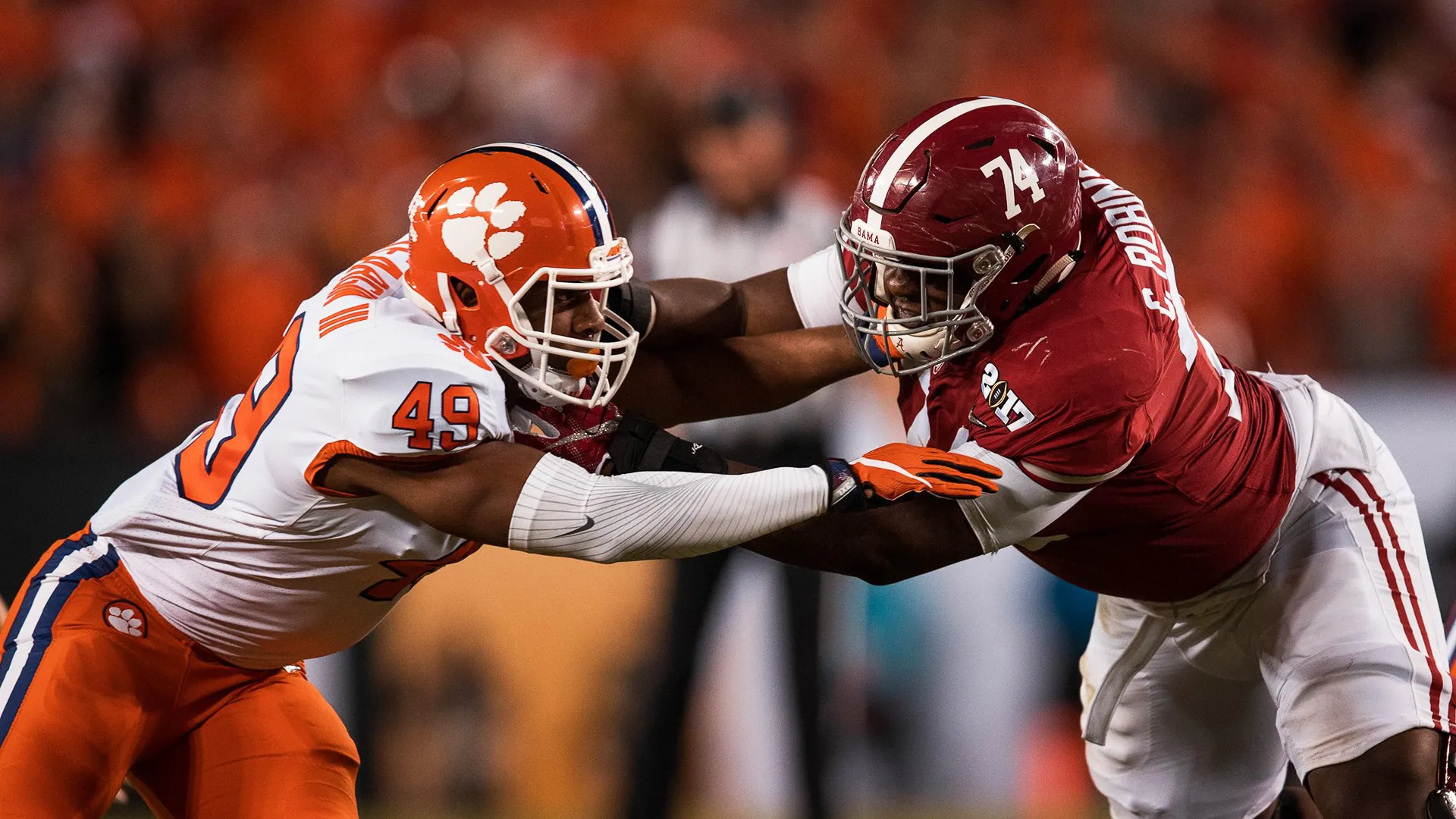 Each January, millions of Americans obsess over which team will earn the title of college football's national champion. As part of an annual winter ritual, dozens of teams battle in a complex and highly lucrative series of NCAA bowl games leading up to the College Football Playoff National Championship on Jan. 8 in Atlanta.
Among the most anticipated — and most profitable — matchups are Georgia vs. Oklahoma in the Rose Bowl and Alabama vs. Clemson in the Sugar Bowl. The winners of those two games will play for the championship. As the action unfolds, millions of dollars will change hands between advertisers, broadcasters, coaches, conferences, schools, administrators and corporate sponsors — everyone, it seems, except the players on the field.
Click through to learn about the vast amounts of money earned and spent in the run-up to the championship game, and learn which college players might go on to become one of the highest-paid players in the NFL.
Make Your Money Work Better for You
Each Conference Receives $6 Million for Every Semifinal Team
Conferences are awarded $6 million when one of their teams are selected to participate in a semifinal matchup. The conferences do not, however, get additional payments if a team makes it to the national championship game. When a team plays in a non-playoff bowl like the Peach, Fiesta and Cotton bowls, its conference gets $4 million.
ESPN Pays $600 Million a Year to Air the Playoffs
In 2012, ESPN announced a deal to air the playoffs "and other selected games" from 2014 through January 2026. As part of the deal, ESPN bought the rights to air semifinals, championship games, playoff format bowl games and "related programming." CNN estimates the deal was worth $7.3 billion, or $600 million a year. The bowl game deal isn't the only lucrative licensing deal ESPN has signed recently.
ESPN Charges $1 Million for 30 Seconds of Airtime
At the run-up to last year's championship game, Forbes reported that recent changes to the College Football Playoff format dramatically boosted viewership, and that 26 million people tuned into the championship game alone, making it history's No. 6 most-watched cable broadcast event. ESPN took full advantage of the captive audience, charging advertisers $1 million for 30-second spots. These high advertising rates help make ESPN one of the most valuable sports business brands worldwide.
Corporations Pay as Much as $20 Million for Bowl Naming Rights
From the Buffalo Wild Wings Citrus Bowl to the Capital One Orange Bowl, naming rights for bowl games is a business unto itself. According to USA Today, there are more than 40 bowl games, and each of them makes money through corporate sponsorships. The most prestigious, closely watched bowls like the playoff semifinals can fetch $20 million for naming rights. Corporations can slap their names on the more obscure, lesser-known bowls, however, for just a few hundred thousand dollars.
Make Your Money Work Better for You
Schools and Leagues Make Big Money From Bowl Games
According to USA Today, ticket sales, title sponsorships and TV revenue from bowl games are used to pay the schools and leagues that participate. It's not chump change, either. USA Today reported at the end of 2016 that payouts to schools and leagues totaled $600 million, more than two out of three dollars of which — a full $425 million — came from the top five bowl games alone, which includes the playoff games.
College teams aren't for sale, naturally, but there's big money in football at the professional level. Find out what it would take to own your own football team.
Bowl Organizers and Executives Earn Massive Salaries
According to an investigation by The Outline, the CEOs and presidents of the committees that organize and oversee bowls are among the highest-paid nonprofit executives in America. The CEO of the organization that oversees Outback Bowl, for example, was paid $993,000 for his efforts — that's more than triple the salary of the executive director of the Sierra Club, a nonprofit with 10 times more assets. The executive director of the Military Bowl earned $272,354.
Winning Coaches Can Earn 7-Figure Bonuses
According to USA Today, coaches, who are already paid massive salaries, are heavily incentivized to win. They can receive tens of thousands of dollars for making it to the postseason, hundreds of thousands for winning bowl games games or even $1 million or more for conference championship games and title games. All of that doesn't even include bonuses associated with honors like coach of the year.
The Most Important People Earn Nothing
The reason that coaches, schools, bowl administrators, executives, broadcasters and conferences reap such massive windfalls is because the NCAA enjoys a critical benefit with which no other big-draw sporting franchise can compete. Unlike their millionaire professional counterparts, the actual players — whom tens of millions of viewers tune in to watch — get paid nothing.
Make Your Money Work Better for You
Tickets to the National Championship Game Aren't Cheap
In 2018, the national championship game will be held at Mercedes-Benz Stadium in Atlanta. Although the College Football Playoff organization offers the chance to buy tickets at face value, that involves making a reservation in advance — and being lucky enough to guess which teams will make it. The other option is the secondary market. On StubHub, the least desirable seats — upper-deck end zone — start at $1,717.56. Lower sideline tickets will run you up to $8,400.
For the pickiest spectators, even a sideline seat isn't good enough. For them, Mercedes-Benz Stadium offers top-shelf amenities, personal service and field-level seating through club suites. Interested? National championship tickets for Suite 195 were recently available on StubHub for $89,000 — each.
See Where Mercedes-Benz Stadium Falls: The Cost to Watch a Football Game at All NFL Stadiums, Ranked
Gamblers Bet $15 Million to $20 Million on Last Year's Championship Game in Nevada Alone
Sports betting is legal in Nevada, and when Clemson played Alabama in last year's College Football Playoff championship, gamblers dug deep — and thanks to a Clemson victory, bookmakers and casinos were forced to dig even deeper. ESPN reported that sportsbooks in Las Vegas and throughout the state suffered massive record losses after gamblers wagered up to $20 million, the vast majority of which was used to bet against Alabama. Lose money at the sportsbook, not on the Strip — try these fun and free things to do in Las Vegas.
There's No Championship Money Prize, But Winning Is Good for Business
Schools and conferences get millions for qualifying for the postseason, even for non-playoff bowl games — but no money is awarded to the winner of the title game. That, however, doesn't mean that big bucks aren't on the line. According to Forbes, schools that win championships can expect to see double-digit bumps in football revenue to the tune of 11 percent the year they win and 18 percent the following year.
Make Your Money Work Better for You
Bowls Can Be a Billion-Dollar Boon
According to research from George Washington University and San Diego State University, the 41 annual bowl games combine to contribute $1.5 billion to local economies. More than $600 million of that comes from the New Year's Six College Football Playoff semifinal bowls, which are the Sugar, Cotton, Orange, Rose, Peach and Fiesta bowls.
Up Next: The Money Behind the March Madness NCAA Basketball Tournament
About the Author