Sears Stores in 24 States Are About to Go Dark — Is Yours Next?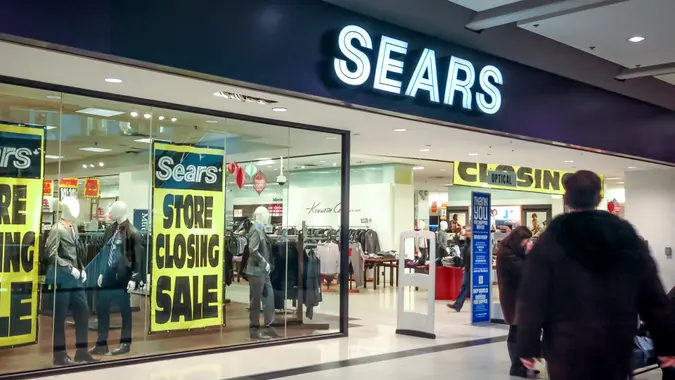 Canadapanda / Shutterstock.com
Sears plans to shut its doors at nearly 40 stores in 24 states, Business Insider reported.
Started in 1886 by Richard Sears, Sears has long been a household name in the U.S. As American consumers move from shopping at brick-and-mortar stores to shopping online with Amazon and other internet retailers, Sears Holdings has struggled to stay afloat.
Click to see retailers that closed the most stores in 2017.
It appears that Sears is fighting a losing battle. In the last five years, the company has cut its store count roughly by half. Sears had 1,002 stores as of early February, down from 1,980 stores in 2013. It closed another 103 stores in April, and by the end of July, another 40 stores will close.
Over the past decade, 175,000 Sears employees have been laid off — an unfortunate byproduct of store closures — and the new list of closures signals even more job losses. A spokesman for Sears told Business Insider last month that some of the affected Sears and Kmart retail employees would be eligible for severance or have the opportunity to apply for open positions at nearby Sears or Kmart stores.
Here's a full list of the 40 Sears and Kmart store locations that will close by the end of July:
Sears
Park Mall, 5950 E Broadway Blvd., Tucson, Ariz.

Sunrise Mall, 5900 Sunrise Blvd., Citrus Heights, Calif.

Westfield Galleria at Roseville, 1191 Galleria Blvd., Roseville, Calif.

Solano Town Center, 1420 Travis Blvd., Fairfield, Calif.

Parkway Plaza, 575 Fletcher Parkway, El Cajon, Calif.

University Mall, 7171 N Davis Highway, Pensacola, Fla.

Countryside Mall, 27001 US 19 N., Clearwater, Fla.

Oaks Mall, 6201 W Newberry Road, Gainesville, Fla.

Broward Mall, 8000 W Broward Blvd., Plantation, Fla.

Sears Town Mall, 3550 S Washington Ave., Titusville, Fla.

North Point Mall, 6000 North Point Circle, Alpharetta, Ga.

Marketplace at Six Corners, 4730 W Irving Park Road, Chicago, Ill.

Quincy Mall, 3400 Quincy Mall, Quincy, Ill.

Lindale Mall, 4600 First Ave. NE, Cedar Rapids, Iowa

Towne Mall, 1704 N Towne Drive, Elizabethtown, Ky.

Columbia Mall, 2201 W Worley St., Columbia, Mo.

Maplewood Mall, 3001 White Bear Ave. N, Maplewood, Minn.

Meadowood Mall, 5400 Meadowood Mall Circle, Reno, Nev.

Greece Ridge Center, 317 Greece Ridge Center Drive, Rochester, N.Y.

Summit Park Mall, 6929 Williams Road, Niagara Falls, N.Y.

Independence Mall, 3500 Oleander Drive, Wilmington, N.C.

Asheville Mall, 1 S Tunnel Road, Asheville, N.C.

Southern Park Mall, 7401 Market St., Youngstown, Ohio

Johnstown Galleria, 540 Galleria Drive, Johnstown, Pa.

Wyoming Valley Mall, 88 Wyoming Valley Mall, Wilkes-Barre, Pa.

York Galleria, 2899 Whiteford Road, York, Pa.

Citadel Mall, 2068 Sam Rittenberg Blvd., Charleston, S.C.

Park North Shopping Center, 622 NW Loop 410, San Antonio, Texas

Danville Mall, 325 Piedmont Drive, Danville, Va. 

Warrenton Village Center, 141 W Lee Highway, Warrenton, Va.

Overlake Fashion Plaza, 2200 148th Ave. NE, Redmond, Wash.
Make Your Money Work Better for You
Kmart
1602 W Brandon Blvd., Brandon, Fla.

74-5456 Kamakaeha Ave., Kailua-Kona, Hawaii

1813 Caldwell Blvd., Nampa, Idaho

180 Main St., Saugus, Mass.

180 Broadway, Elmwood Park, N.J.

970 Easton Ave. #7235, Somerset, N.J.

321 Stadium Plaza, Jersey City, N.J.

19 Kocher Drive, Bennington, Vt.

750 N 3rd St., Laramie, Wyo.
Click to keep reading about how retailers will have to adapt to millennials' spending habits.