12 Steps To Finding a Business Idea That Will Make You Rich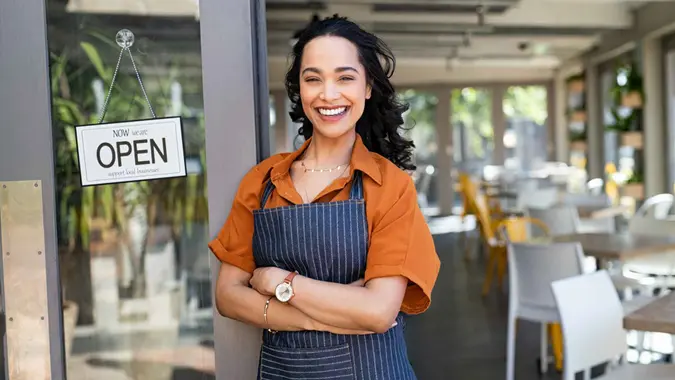 Ridofranz / Getty Images
Starting a business is a fairly common venture in the U.S. There are 31 million entrepreneurs in the nation, or 16% of the adult workforce, according to ThinkImpact. Alas, far from all entrepreneurs succeed. Data from the BLS shows that approximately 20% of new businesses fail during the first two years of being open, 45% fail during the first five years, and 65% collapse within the first 10 years. Just 25% of new businesses make it to 15 years and beyond.
Don't let these statistics take the wind out of your sail if you're thinking about starting a business. Instead, think about how you can start a business that will succeed, and understand what that entails. Here are the steps to take to get going.
Make a List of Stuff You're Good At — So Good, You'd Do It for Free
First, you should write a list of 20 to 50 things you are good at and enjoy doing. Yes, that's a long list — but you can do it! 
"Too many people start thinking about what will make the most money rather than what makes the most sense for them," said Brenda Gabriel, PR Agency founder and consultant. "Narrow the list down to the things you are better than the average person at because of your experience and knowledge. Then knock the list down to the work you would be willing to do for free, even if you got no clients and nobody paid you."
Make Your Money Work Better for You
Gabriel continued, "The truth is that starting a business is no guarantee of making sales. At the beginning you need to be prepared not to generate enough sales to pay yourself a proper salary. Doing something you love is one of the best insurance policies to keep going even when things get tough."
Ask ChatGPT for Help 
Once you have about three potential business ideas, Gabriel recommends logging into ChatGPT to ask for the best ways to make money from those ideas and the initial steps you need to take to make your first sales.
"Use what ChatGPT gives you to draw up a one-page business plan for how you will achieve your first $5k in sales," Gabriel said. "It's a big enough goal to stretch you, but small enough to feel doable."
Think of Businesses That AI Won't (Likely) Replace 
Mollie Plotkin of Mollie Plotkin Group suggests looking at "contra-ideas." Here's an example. "If everyone is focused on AI taking away entire industries, put your focus on things that AI can't replace: service industries and community building programs and businesses," Plotkin said. "These are not going to go away and will be in more demand than ever." 
Get Inspired by Your Worst Customer Service Moment 
We've all had pretty terrible customer service experiences. What is one that stood out to you? It could just be the seed of your business venture. 
Make Your Money Work Better for You
"Consider turning a bad customer experience into your own business," said Joy Gendusa, founder and CEO at PostcardMania. "If you have the right experience and know the industry, you could be filling a need in the market that isn't currently being met. My business, PostcardMania, was born out of a bad customer service experience. Twenty-five years and nearly $100 million in annual revenue later, it turned out to be a pretty good idea." 
Explore Business Chat on Reddit
Reddit is a platform to chat about everything from "Buffy the Vampire Slayer" to bad bosses, but it's also a place where you can learn from and engage with others who have started businesses on their own. 
"Browse some related subreddits to understand what people are talking about within the category," said Jake Luerkens, co-founder of Auxo Partners. "Do they mention any pain points they'd love to have solved?" 
Talk to People You Trust  
You can do this on Reddit and other social media platforms, but you should also do it everywhere else in your life (when appropriate): talk to people about your business ideas. 
"Think of a few people in your life that might be interested in the product or service you want to offer, and talk to them about it," Luerkens said. "Listen to their advice and feedback about the idea or concept. Better yet, see if you can pre-sell the product or service to them (getting your first revenue in the door is huge for momentum)."
Make Your Money Work Better for You
Use Google Ads Keyword Tool   
If you have a Google ads account setup, you can use its Google Ads Keyword tool to learn about search traffic for different keywords. 
"How many people each month are searching for the product or service you want to offer? Make sure it's a big enough group of people to allow you to build a viable business," Luerkens said. 
Dive Into Market Research 
Market research may seem boring, but thoroughly understanding it is crucial to success. 
"Market research becomes your best friend on this journey," said Dominik Maka, head of SEO at LVBET. "Dive deep into your potential customers' world. Conduct surveys, interviews and focus groups to gain valuable insights. What are their desires, needs and challenges? What existing products or services are falling short? This intel will be the foundation for your entrepreneurial adventure."
Adopt a Green Approach 
With climate change heating up the globe, there's increasing awareness on environmental issues. Think about how you can develop a business that is green or has a strong green angle you can promote. 
"Businesses with a focus on sustainability can find a unique place in the market," said Amber Dixon, CEO of Elderly Guides.
Subscribe to Business Publications  
If you're thinking of rolling up your sleeves and diving into launching a small business, get high-level intel from experts by subscribing to premier business pubs. 
"Consider subscribing to reputable business publications, both in print and online," said Matt Diggity, founder and CEO of Diggity Marketing. "Explore different topics, from finance and technology to marketing and entrepreneurship. Engage with the content, take notes and reflect on the strategies employed by successful businesses."
Make Your Money Work Better for You
Consider Franchising
If starting a new business from scratch feels overwhelming or impossible, Dixon recommends considering buying into a franchise. "It provides a proven business model and support," Dixon said.  
Get Support 
Yes, you may be starting the business on your own terms, but you still will need people who support you all along the way. 
"You need a support system before, during and after launching a business," said Emre Güzeldal, co-founder and CEO atRoketfy. "It is extremely helpful to have a family member or friend you can bounce ideas off of and who will be empathetic when you are going through the current company start-up crisis. Find a mentor or, if you're eligible, apply for a program to help new businesses get off the ground."
More From GOBankingRates