Taco Bell's Risky Call To Eliminate Potatoes and Add Grilled Cheese Burrito Pays Off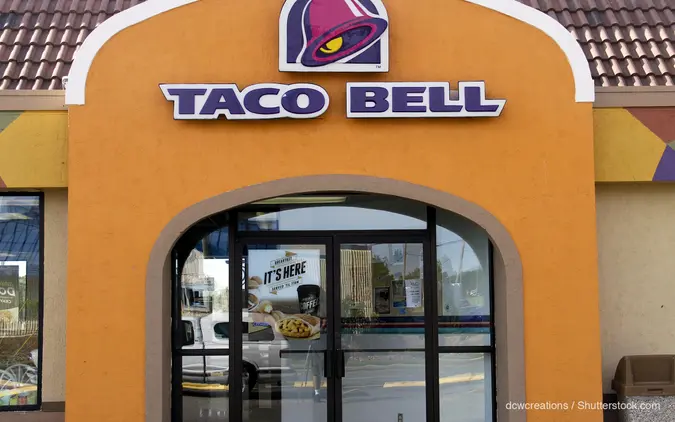 Taco Bell has made what some fans consider questionable decisions in the last several months, such as nixing popular menu items like Cheesy Fiesta Potatoes, Nachos Supreme and the cult-favorite Quesarito (still available by pre-order).
The gamble paid off, though, as Taco Bell's parent company, Yum! Brands, announced on Thursday a 5% sales growth in the third quarter for its subsidiary, driven by 3% same-store sales growth.
The original menu cuts announced in July came as the company aimed to simplify its menu and streamline operations during the pandemic. Cuts also included the Beefy Fritos Burrito, other potato-centric vegetarian items and Chips & Dips.
In the Thursday earnings call, Yum! Brands CEO David Gibbs hailed the arrival and instant popularity of the Grilled Cheese Burrito, which includes a pressed-cheese exterior, nacho cheese sauce and shredded cheese inside, and according to the Taco Bell menu, "radiates con-queso confidence."
The Grilled Cheese Burrito accounted for 9% of the chain's orders, followed by another new item, the crowd-friendly $5 Grande Nachos Box.
Despite the menu casualties of operational efficiencies, Taco Bell's response to the coronavirus has been successful. Focusing on a faster, easier experience, Gibbs said drive-thru speed has been record-breaking.
Make Your Money Work Better for You
"Drive-thru demand skyrocketed this quarter, as Taco Bell served 30 million more cars and was 17 seconds faster year over year," Gibbs said. The company is also continuing to develop dedicated lanes for mobile orders and bellhops for outside in-person ordering.
Meanwhile, fans are still fighting the planned cut of Mexican Pizza, a large round taco topped with pizza sauce, tomatoes and cheese, which was slated for the chopping block in early November. A Change.org petition to stop the removal of the beloved pizza had more than 100,000 signatures as of Oct. 29.
See what other common and popular items might soon be disappearing.
More From GOBankingRates