5 Types of Businesses People Usually Regret Opening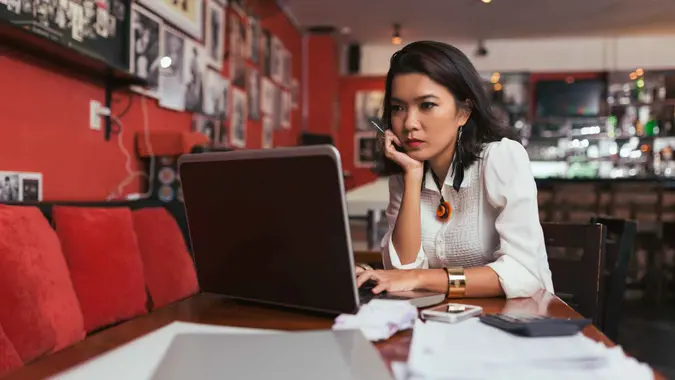 DragonImages / Getty Images/iStockphoto
Starting a business is a dream for many individuals. Whether it's to be their own boss, pursue a passion or seek a new adventure, embarking on a new business venture can be extremely thrilling. Staying in business is a different story, however.
Indeed, not all small businesses fare the same. Some have especially high failure rates, while others become very stressful or time-consuming to run.
The statistics can be worrisome. According to Zippia, 22% of business startups fail in the first year and 50% of new businesses fail within the first five years. Low cash flow is the top reason that these failures occur. Each year, 627,000 businesses open up, while 595,000 close, according to ChamberofCommerce.org.
Here are a few businesses that most people regret opening.
Restaurants
"It's a classic case of people jumping in without a plan, experience or a clue about what they're getting into," said Joe Camberato, CEO of NationalBusinessCapital.com.
According to Camberato, some new owners open up shop without understanding the actual potential earnings or true nature of maintaining their business, and often, have unrealistic expectations.
"While some restaurants can be lucrative, a lot depends on the type of restaurant and its location. It's a lot of hard work and late nights, especially if you're serving dinner or catering to a bustling bar crowd," he added.
The sentiment was echoed by several experts who said that restaurants and bars are some of the most notorious businesses people regret opening.
Make Your Money Work Better for You
"The National Restaurant Association estimates a 20% success rate for all restaurants. About 60% of restaurants fail in their first year of operation, and 80% fail within five years of opening," said Jay Jung, founder and managing partner at Embarc Advisors, a strategic consulting firm for start-ups and small businesses.
Businesses With Many Seasonal and Part-Time Employees
These can be some of the most stressful and challenging to manage as they tend to be lower-margin service businesses where the loss of one or two critical employees can cause the business to suffer, said Ben Johnston, COO of small business financing company Kapitus. 
"Because margins are tight, wage inflation can take a heavy toll on the bottom line, but because employees may be part-time or seasonal, turnover can be high if a business owner is unable to raise wages quickly in competitive environments," he added.
These can include businesses such as bakeries and landscaping companies, where it's common for owners and their family members to serve both as management and as employees, creating a challenging work-life balance in addition to complicated family dynamics.
"While these businesses can provide an opportunity for business owners to share their passions with others, they can also be draining and difficult to manage," he said.
Artistic-Related Businesses
Another business venture that people often regret embarking on is selling art, typically done through a platform like Etsy, said Sebastian Jania, owner of Ontario Property Buyers.
According to Smallbiztrends.com, Etsy doesn't release specific numbers about how much shops earn, but the company's CEO stated in 2020 that the average shop owner brings in just under $3,000 a year with the most successful Etsy sellers and those who work full-time usually earning between $40,000 and $50,000 a year.
Make Your Money Work Better for You
Fitness Studios
The fitness industry is highly competitive, with the boutique studios — smaller, more specialized centers — being especially on the rise. As Zippia notes, large, all-inclusive clubs are competing against smaller boutique studios, which currently take up 42% of all gym memberships. It's also worth noting that 81% of studios close or fail in the first year, according to IHRSA.
"I have seen people open businesses like fitness centers [and] regret that decision because much of the time the decision is solely about their love of fitness. They say: 'this would be amazing to open something I'm so passionate about' and, it seems easy because they love to work out," said Camberato. "But, sometimes hobbies and passions should remain just that. Once you turn them into a business, the fun disappears. It's real work, like any business, particularly in the early stages."
Camberato added that new owners of specialized fitness centers — like yoga, cycling or kickboxing gyms — are the ones instructing all the classes or acting as the personal trainer. "So you're essentially building the entire business around you. Remember you should be building a business — not a job," he said.
Finally, he said that often, certain fitness centers aren't profitable due to the location. "Too many fitness center owners jump into opening the business and take the approach of figuring it out as they go along. This is not a good strategy," he said.
He recommends to first take the time to do all the math up front, including spending money to pay for industry consultants with good track records. "You're better off spending the money in the beginning versus losing much more by diving in and hoping for the best," he added.
Make Your Money Work Better for You
Many experts agree, saying that opening and maintaining a studio requires substantial upfront investment, including equipment, marketing, rent and staff salaries. 
"However, generating a steady cash flow to cover these expenses can be a daunting task. Without a consistent stream of revenue, fitness studios may struggle to meet their financial obligations, leading to mounting debts and ultimately, business failure," said Jung.
Personal Services Businesses
Small businesses such as beauty salons, spas or cleaning services can be difficult to maintain profitably.
"They require constant customer satisfaction, high-quality service and can involve unsociable working hours," said Vikrant Shaurya, CEO of Authors On Mission.
In addition, other business ventures such as event planning can be highly stressful due to unpredictable working hours, demanding clients and the pressure of delivering flawless events, he said.
More From GOBankingRates