7 Ways To Support Black-Owned Businesses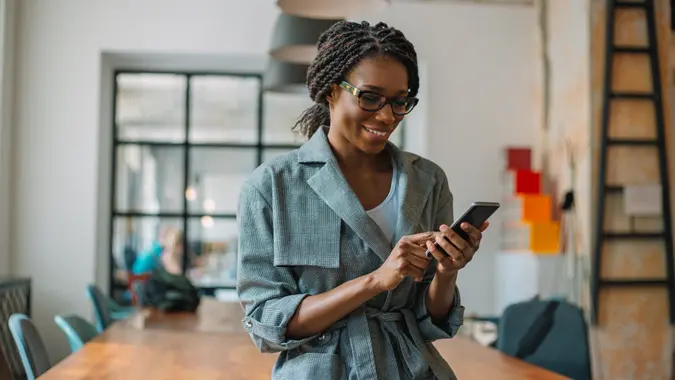 Obradovic / iStock/Getty Images
How can you support Black-owned small businesses? 
GOBankingRates spoke to several Black entrepreneurs and small-business owners to learn which meaningful ways customers can support these businesses.
Write Positive Revi ews
Check to see if the small business has a Yelp or Trustpilot account. If you find they do, write a positive review on the platform. The review can be two to three sentences in length. Write in the review how you liked the product or service offered and would recommend the product or service.
Tiffany Obeng, owner and principal author of Sugar Cookie Books, said reviews help small businesses, especially Black-owned businesses, build credibility and visibility. This is particularly true of reviews on crowdsourced websites, as these reviews help businesses to become a top localized search for their products and services.
Post About the Business on Social Media
After you finish writing a review, consider sharing the review and tagging the business on your personal social media accounts. You can also share videos or photos from the business on your personal social accounts and @ mention the company's handle to lift the business up and increase the company's visibility to the public.
What if you don't have many followers? Give the business a shoutout anyway! Victoria Jones, founder of Curriculum and Culture, said even if you don't have thousands of followers, your post will help the business build its reputation and reach new customers. (Don't forget to follow the business across its social media channels, like its content and reshare its posts.)
Make Your Money Work Better for You
Contact Your Local Media 
Looking to spread the word beyond social media platforms? Kristy W. Gilbraith — MBA and founder and CEO of FLOH Wear by UndiesLoft — recommends getting in touch with your local media outlets.
"Email your local paper and share the great work a Black business is doing," Gilbraith said. "This will support in obtaining exposure for the business and build their credibility."
In addition, visit the company's "about" page on its website. Often, you will find information about the founder or CEO of the business along with a summary of their story. Gilbraith said you can share the story of the founder to compel your network to check out the business.
Visit Your Local Black Chamber of Commerce
"You can also visit the Black Chamber of Commerce to find numerous businesses across various commerce interests," Gilbraith said. Conduct a quick search on Google to see where the nearest Black Chamber of Commerce is in your area.
Look for Black/BIPOC-Owned Badges
If a business sells its offerings online, look for websites with a Black or BIPOC-owned badge. These badges help customers find Black-owned businesses online, know they're open and show the business is proudly Black-owned.
In addition to looking for badges, Kirby Wilkerson, PR strategist and founder at The Impact Kind, said look for relevant hashtags like #blackbusiness on social media platforms. These hashtags can lead you to more products and services from Black-owned businesses in different industries.
Build Relationships With Black Entrepreneurs
Alex Mitchell — Esquire, founder and managing partner at Black-owned law firm Cumberland Law Group  — recommends building a relationship with a Black entrepreneur or small-business owner. 
Take the time to know the leadership behind Black-owned businesses. "Ask them about their needs," Mitchell said. "After identifying a Black-owned business in your community, reach out to them and ask them about their products and services."
Make Your Money Work Better for You
From here, customers can start supporting Black-owned businesses in various ways including referring new customers to the business, purchasing their goods or services, lending social media support and giving financial support to the organization.
Understand the Difference Between Black-Owned Businesses and Other Businesses
It takes more than money and social media postings to fully support a Black-owned business. Mitchell said to study the internal structure of the business as every Black-owned business has different structural abilities. 
"Supporters should deliberately search for ways to balance the wishes of Black-owned businesses by listening to the owners' needs and difficulties," Mitchell said. "You must put into practice the principle that changes the partial structure immediately, instead of doing nothing but watching these businesses struggle and eventually fold up."
More From GOBankingRates