What's It Take To Make Money on TikTok — And How Much Are the Top Names Making?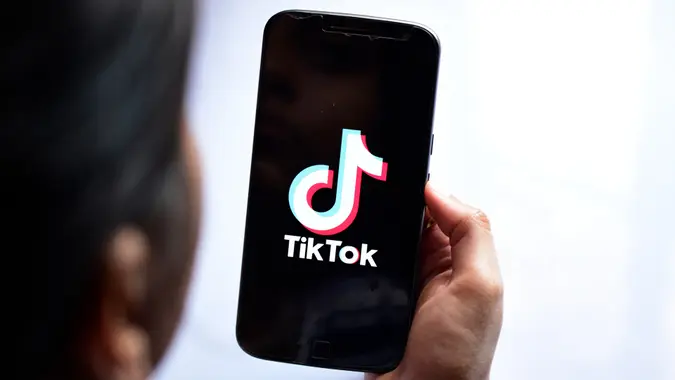 Funstock / Shutterstock.com
To baby boomers and even Gen Xers, TikTok probably seems like just a fun place for silly videos made by younger generations. To those in the know, however, and with the right formula, it's become much more than a social media platform, but a way for influencers to make money. Influencers are people who use the platform to offer either tutorials, videos, education or just plain fun on everything from fashion to culture to food. While it's the rare few who make big money at it, more and more influencers are figuring out how to make their talents work with the platform to make big bucks.
See: Addison Rae, Baby Ariel and More of the Richest TikTok Stars of 2021
Read More: 24 Celebrities Who Tried and Failed To Start New Careers
What Does It Take To Make Money on TikTok?
Making money on TikTok is possible, but not simple. CNBC reported that, according to a "social salary calculator" from Lickd.co, a music licensing platform, you need at least 10,000 TikTok subscribers and more than 270 million views per year to earn $100,000.
Make Your Money Work Better for You
TikTok has created incentives for influencers to create content through their TikTok Creator Fund, which pays creators who have a minimum of 10,000 followers with at least 100,000 views in the prior 30 days. Eligible creators must be at least 18 years old, and live in the U.S., the U.K., France, Germany, Spain or Italy. They must also meet TikTok's community guidelines and terms of service. Other programs, such as the TikTok Ambassador's Program, offer support, perks and financial incentives to content creators.
Check Out: The 10 Best Money Experts To Watch on TikTok
Sponsorships
Another way that influencers make money is by receiving profitable sponsorships from big companies who like the content they see, and pay the maker to create sponsored posts, according to Business Insider. In this case, the influencer charges a fee per post they agree to make. A few examples of this include:
The McFarlands
Since "dad bods" and "dad jokes" have been popular for a while now, the McFarland family of Kentucky has capitalized on this kind of humor and the #DadsofTikTok hashtag to create comedy sketches. Dan McFarland, 59, and his sons Colin and Dylan hit a milestone moment when the video of them dancing to the TikTok challenge tied to The Weeknd's song "Blinding Lights" surpassed 15 million views in 2020. It led to a licensing deal, a television commercial, part of a list of TikTok's "Top 100" for 2020, and won them an award from "Good Morning America." Emboldened by this success, they capitalized on it, and now charge anywhere from $3,000 to $5,000 per sponsored TikTok video. They have over 2.6 million followers.
Make Your Money Work Better for You
Related: 51 of the Biggest Money Influencers on TikTok and YouTube
Dana Hasson
In 2019, when fashion influencer Dana Hasson started posting videos on TikTok, it was primarily a dancing app. She was among the first to start posting about hair and makeup, which worked in her favor. One of her hair tutorials went viral, earning more than 350,000 views, and she posted more often to keep that energy going. By the end of that year, she had three other videos that gained more than 1 million views, and her business began to thrive.
She soon began working on sponsored content for brands like Olay, Revlon and Head & Shoulders. Today she has over 1.5 million TikTok followers, and some of her videos have received as many as 16 million views. She charges between $3,000 and $6,000 per sponsored post, or $10,000 for package deals that include TikTok and Instagram reels and stories.
Take a Closer Look: Top 10 Richest TikTok Influencer
Make Your Money Work Better for You
TikTok Stardom
There's TikTok success, and then there's TikTok Stardom, which only a handful of (mostly young) influencers have achieved the TikTok equivalent of megastardom, earning millions of dollars in sponsorships, product deals and even acting or singing gigs. A couple of examples include:
Charli D'Amelio
Perhaps the most well-known, and among the richest, TikTok star is 17-year-old Charli D'Amelio, who hit her stardom making dance videos. Today she's worth $12 million, according to Celebrity Net Worth, and often makes videos with her sister, Dixie, who is also a rising TikTok star. D'Amelio's fortune has come through sponsorships from big-name companies like Procter & Gamble and Hollister, and she even earned $1 million for a 2020 Super Bowl ad.
Loren Gray
Before D'Amelio stole the spotlight, 19-year-old Loren Gray was one of the TikTok it girls, sharing dancing and lip-syncing videos on TikTok. Celebrity Net Worth estimates her wealth at $5 million today, and she has over 53 million TikTok followers. She's earned much of her wealth from partnerships with big brands like Revlon and Burger King.
More From GOBankingRates
Make Your Money Work Better for You