Your Amazon Prime Could Cut Your Phone Bill to $10 or Less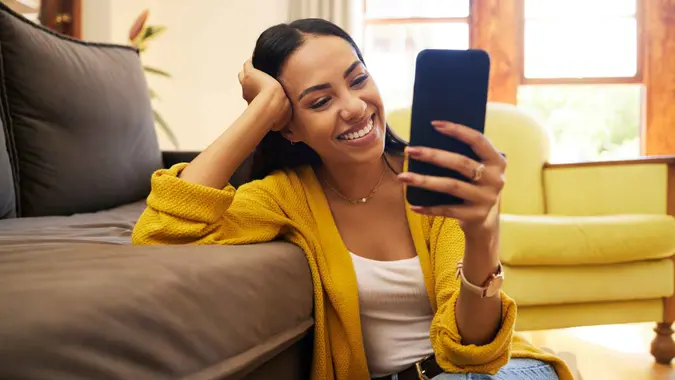 PeopleImages / Getty Images/iStockphoto
If you thought Amazon couldn't cast its net even wider, you're mistaken. The e-commerce giant is reportedly considering a move into mobile phone service that could cut monthly phone bills to less than $10 for Amazon Prime members — and the telecom industry is already rattled by the prospect.
Amazon has spent the last couple of months in talks with Verizon Communications, T-Mobile US, AT&T and Dish Network to get the "lowest possible wholesale prices," Bloomberg reported, citing sources "familiar with the situation."
If those discussions go as planned, Amazon would be able to offer Prime members wireless plans for $10 a month — or possibly even free — as a way of building more loyalty among its top customers.
Negotiations are still in the very early stages and it could take months for the service to launch — if it even gets off the ground at all. But the fact that Amazon, the nation's fourth-biggest company by market value, is even pursuing a wireless phone plan is enough to grab the attention of both consumers and investors.
Major telecom stocks retreated early Friday on the news, CNBC reported, with Verizon, T-Mobile and AT&T all reporting selloffs. The one outlier was Dish, which stands to gain the most from a relationship with Amazon. Its shares rose after the news.
Make Your Money Work Better for You
The telecoms themselves were quick to downplay the rumors.
"Amazon is a great partner to T-Mobile in many areas, and we are always interested in working more closely with our crosstown neighbors in new ways," a T-Mobile spokesperson told Business Insider. "However, we are not in discussions about inclusion of our wireless in Prime service, and Amazon has told us they have no plans to add wireless service."
An AT&T spokesperson said much the same thing, telling Business Insider that the company is "not in discussions with Amazon to resell wireless services."
If Amazon does dip its toe into mobile phone service, it would likely have a huge impact on the industry. The average wireless bill in 2022 was $166 a month, according to a report from J.D. Power. Cutting the phone portion of that bill to $10 or less could send customers flocking to Amazon Prime — and away from other telecom services.
The current cost of a Prime membership for most customers is $139 a year or $14.99, according to the Amazon website. For Amazon Prime student plans the cost is even lower: $69 a year or $7.49 a month. Getting phone service for $10 a month or less makes those subscription prices look like a bargain.
Amazon has already proven itself adept at disrupting markets — just look at what it has done to the grocery store sector. And as Business Insider noted, Amazon has both the "patience and ability" to put large amounts of money into building market share.
According to the Bloomberg sources, Amazon has been in talks with wireless carriers for "six to eight weeks." As of Monday, June 5, nothing concrete had come from the talks, and there's always the chance they could be scrapped. If something is worked out, it would likely involve having Amazon "piggyback" as a mobile virtual network operator (MVNO) to save on the cost of building out its own infrastructure.
Make Your Money Work Better for You
The average phone bill in the U.S. for an MVNO subscriber is $77 a month, Business Insider reported, citing J.D. Power research. Cheaper versions also exist at roughly $15 a month.
More From GOBankingRates