Another 778,000 U.S. Workers Filed Unemployment Claims Last Week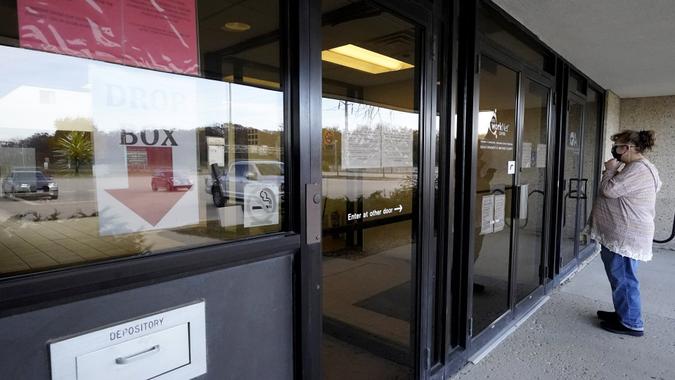 Nam Y Huh/AP/Shutterstock / Nam Y Huh/AP/Shutterstock
As COVID-19 infection rates soar, so too do new jobless claims, with another 778,000 people filing for first-time unemployment benefits last week. The surge of claims surpassed the expectations of economists surveyed by Dow Jones; they anticipated 733,000 new claims. The number also beat out last week's 742,000 new jobless claims. Unemployment claims are up by more than 100,000 from the first week of November signaling that layoffs are back on the rise as the pandemic continues to pummel the U.S.
Though the number of new jobless claims are higher than experts predicted, the swelling rate of unemployment isn't a surprise. Economists have been warning that without more federal aid, the economic situation in the U.S will worsen. Though President-elect Biden has promised more COVID-19 relief funding in 2021, the road between now and then is long and harrowing. Two crucial unemployment programs are set to expire at the end of the year, leaving up to 13 million people without benefits. Twenty-six million Americans say they don't have enough to eat, the Washington Post reported.
Make Your Money Work for You
More federal aid is a long shot until the Biden-Harris administration is up and running. The Trump administration has strongly indicated that it will not provide any more relief. Last week, U.S.Treasury Secretary Steven Mnuchin said that not only will he not act to renew the CARES Act when it expires at the end of the year, but that any unused funds used to power the program must be reallocated to Congress.
Small businesses, which fuel the economy, are continuously out of luck. Data from Yelp in September showing that 60% temporarily closed because of the pandemic will be forced to shutter permanently. The 2019 Small Business Profiles found that small businesses added 1.8 million net new jobs in the nation, employing 47.3 percent of the private workforce.
More From GOBankingRates