Apple and Other Companies Dodging Trump's Tariffs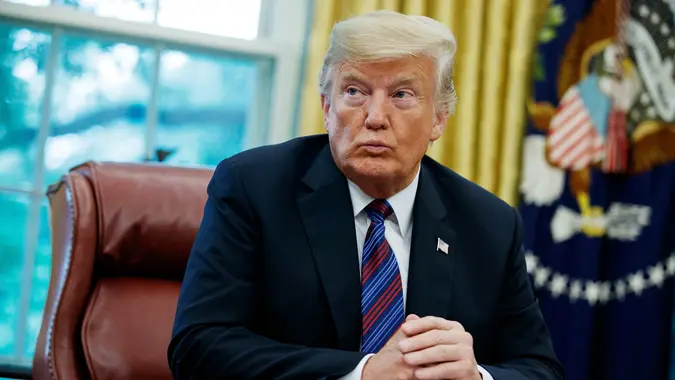 ©Evan Vucci/AP/REX/Shutterstock
President Donald Trump has identified another $200 billion worth of Chinese-made products that will be subject to a 10 percent tariff in the United States effective Sept. 24, but several big names are missing from the list.
The final list of products that will be taxed does not include the Apple Watch, AirPods or the FitBit fitness tracker. In fact, the list excludes all electronic devices that use Bluetooth wireless communications.
Click to read about what Trump's tariffs mean for you.
Apple (Nasdaq: AAPL) has been vocal about its concerns that the tariffs will cause prices to rise for U.S. consumers, and that the president's actions will hurt American consumers more than Chinese manufacturers. Apple said in a letter commenting on the proposed tariffs that its "concern with these tariffs is that the U.S. will be hardest hit, and that will result in lower U.S. growth and competitiveness and higher prices for U.S. consumers."
Read More: New $16B Trump Tariffs Mean Pretty Much Everything Could Cost More
In response to Apple's comments, Trump tweeted on Sept. 8 that there was an "easy solution where there would be ZERO tax, and indeed a tax incentive. Make your products in the United States instead of China. Start building new plants now."
Make Your Money Work for You
Graco, 3M and FitBit Are Also Exempt for Now
Other consumer goods that escaped this round of tariffs include baby car seats manufactured by companies like Graco (NYSE:GGG), whose SnugRide car seats are made in China, and rubber gloves from companies like 3M (NYSE:MMM).
Find Out: 'All-American' Brands Whose Products Are Actually Made Overseas
Being exempt from the tariffs is good news for these companies, because they won't be pressured to raise prices in the U.S. FitBit Inc. (NYSE: FIT) shares rose on the news that the tariffs won't affect them, helping the company recover after shares dipped upon Apple's new product announcement.
Upcoming Tariff Increases
The 10 percent tariff will rise to 25 percent on Jan. 1, 2019. In addition, Trump threatened tariffs on another $267 billion worth of products if China retaliates against this latest round of tariffs. If that happens, almost every Chinese import would be affected.
Buy Now? These Car Stocks Are Up Thanks to Trump's New NAFTA Deal
And it might well come to that. China announced Sept. 18 retaliatory tariffs worth about $60 billion on U.S. goods. The tariffs will apply rates between 5 and 10 on U.S. products goods, and will also take place on Sept. 24.
Click to keep reading about companies that have reinvested in America following Trump's election.
More on Making Money and the Economy