CEOs Send Strong Rebuke of Capitol Riot as Multiple Trump Staffers Resign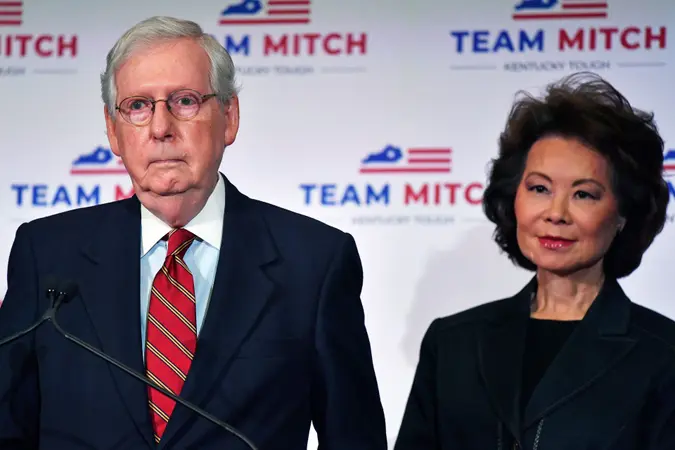 Timothy D Easley/AP/Shutterstock / Timothy D Easley/AP/Shutterstock
In the wave of the violence and insurgence at the U.S. Capitol in Washington, D.C. yesterday, which left four people dead, Trump's administration – many of whom make hefty salaries – is seeing a slew of resignations.
See: Why Wall Street Had a Good Day Wednesday Despite Chaos at the Capitol
Find: What Does It Cost to Deploy the National Guard?
The first to announce her resignation last night was Melania Trump's chief of staff and former White House press secretary Stephanie Grisham. This was followed by deputy press secretary Sarah Matthews and White House social secretary Rickie Niceta. According to the 2020 Annual Report to Congress of White House Personnel, Grisham's salary was $183,000, Matthews' was $106,000 and Niceta's was $168,000.
Transportation Secretary Elaine Chao is resigning, per two officials. Cites yesterday's events as reason in email to DOT colleagues, per draft. First Cabinet secretary to resign. Chao is married to Mitch McConnell. More TK.

— Josh Dawsey (@jdawsey1)

January 7, 2021
Grisham tweeted last night that "It has been an honor to serve the country in the White House. I am very proud to have been a part of FLOTUS Melania Trump's mission to help children everywhere, & proud of the many accomplishments of this Administration. Signing off now – you can find me at @OMGrisham."
Make Your Money Work for You
Transportation Secretary and wife of Senate Majority Leader Mitch McConnell Elaine Chao resigned today, as did Mick Mulvaney, Trump's former chief of staff resigned as special U.S. envoy to Northern Ireland. "I called [Secretary of State] Mike Pompeo last night to let him know I was resigning from that. I can't do it. I can't stay," Mulvaney told CNBC. "Those who choose to stay, and I have talked with some of them, are choosing to stay because they're worried the president might put someone worse in." His 2019 salary was $203,500, according to the White House personnel report.
1/2 Matt Pottinger has served the nation and the Administration with distinction for the past four years. His work lead to a great awakening in our country and around the world to the danger posed by the Chinese Communist Party.

— Robert C. O'Brien (@robertcobrien)

January 7, 2021
Deputy National Security Adviser Matthew Pottinger (annual salary $183,000, according to the report) also resigned last night, as well as Ryan Tully, the National Security Council's senior director for European and Russian affairs.
See: What a Biden Presidency Means for Your Wallet
Find: Leaders from the NBA, Goldman Sachs and Nearly 200 Top Companies Urge Congress to Certify Election Results
Make Your Money Work for You
With just 13 days left for the administration and increasing calls to invoke the 25th amendment to remove the President from office, additional resignations are expected in the coming days.
Business leaders are also denouncing the violence and the National Association of Manufacturers, one of the country's largest lobbying groups, also asked Vice President Mike Pence to consider invoking the 25th Amendment. The Business Roundtable, a group of CEOs from the nation's largest companies also issued a statement.
BREAKING: Ryan Tully has resigned from the NSC. He was senior director for European and Russian Affairs. Quit after yesterday's events at US Capitol, I'm told.

— Jennifer Jacobs (@JenniferJJacobs)

January 7, 2021
"The chaos unfolding in the nation's capital is the result of unlawful efforts to overturn the legitimate results of a democratic election," according to the statement. "After the unconscionable and tragic events we witnessed, it could not be clearer that it is time for the nation and lawmakers to unite around President-elect Biden and Vice President-elect Harris. It is only together that we can move forward to successfully confront our nation's many challenges, chief among them ending the pandemic and ensuring a safe and rapid economic recovery."
Make Your Money Work for You
More From GOBankingRates:
Make Your Money Work for You