Food Stamps Officially in Debt Ceiling Crosshairs: Work Requirements and More Cuts On the Table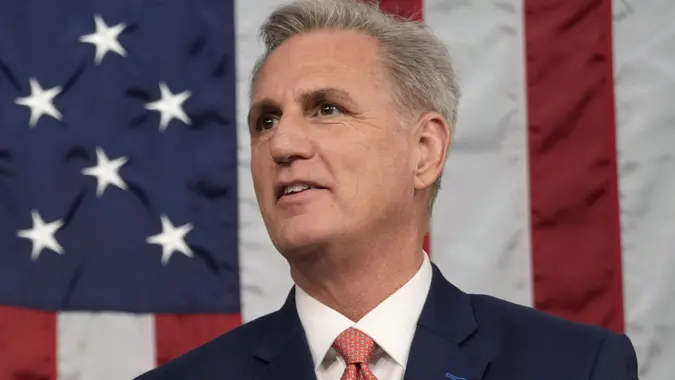 Jacquelyn Martin / UPI / Shutterstock.com
As House Republicans seek to reduce, and ultimately eliminate the federal deficit over the next ten years, some lawmakers are looking to make more changes to federally funded food stamps, now called the Supplemental Nutrition Assistance Program (SNAP).
SNAP Update: 31 States End Additional Emergency Payments in February
See: 3 Signs You're Serious About Raising Your Credit Score
The program currently helps 41 million Americans (including families with children) put food on the table, providing lower income households with an average of more than $230 in money for groceries each month.
Speaker of the House Kevin McCarthy has already said Republicans won't push to cut Medicare or Social Security, but according to an opinion piece from The Hill, Republican's goal to put the government "on a path to a balanced budget" could put SNAP benefits on the chopping block.
SNAP benefits will cost the federal government $153.9 billion in 2023, more than double the cost of the program prior to the pandemic. As COVID-era SNAP benefits expire in March, SNAP beneficiaries could see their grocery budgets slashed by as much as $258 per month.
Make Your Money Work for You
Meanwhile, food prices remain elevated, as the most recent Consumer Price Index (CPI) report showed a 0.5% increase in food prices in January. Staples like meats, poultry and fish rose 0.7%, while the price of eggs rose 8.5% over the month, GOBankingRates recently reported.
Some Republicans in Washington are pushing to institute standardized work requirements for SNAP benefits across all states. Currently, there are some requirements, but they vary by state and waivers are often granted.
"We need to go back to the Clinton-era welfare-to-work reforms," Rep. Jodey Arrington (R-Tex.), the leader of the House Budget Committee, said in an interview with the Washington Post.
Medicaid for Food Purchases: Biden Administration Approves State Requests
Food Stamps: NJ Expands Minimum SNAP Benefit To Compensate Emergency Allotments
The federal government is under a deadline of October 1, 2023, to reach an agreement on SNAP benefits and eligibility requirements. The "Farm Bill," which authorizes agricultural subsidies and nutrition programs, expires at the end of September. New legislation — or an extension — must be in place by October 1, or, "millions of farmers and families alike could experience significant economic disruptions this fall," the Washington Post explained.
More From GOBankingRates
Make Your Money Work for You