Guns Are Big Business Across All 50 States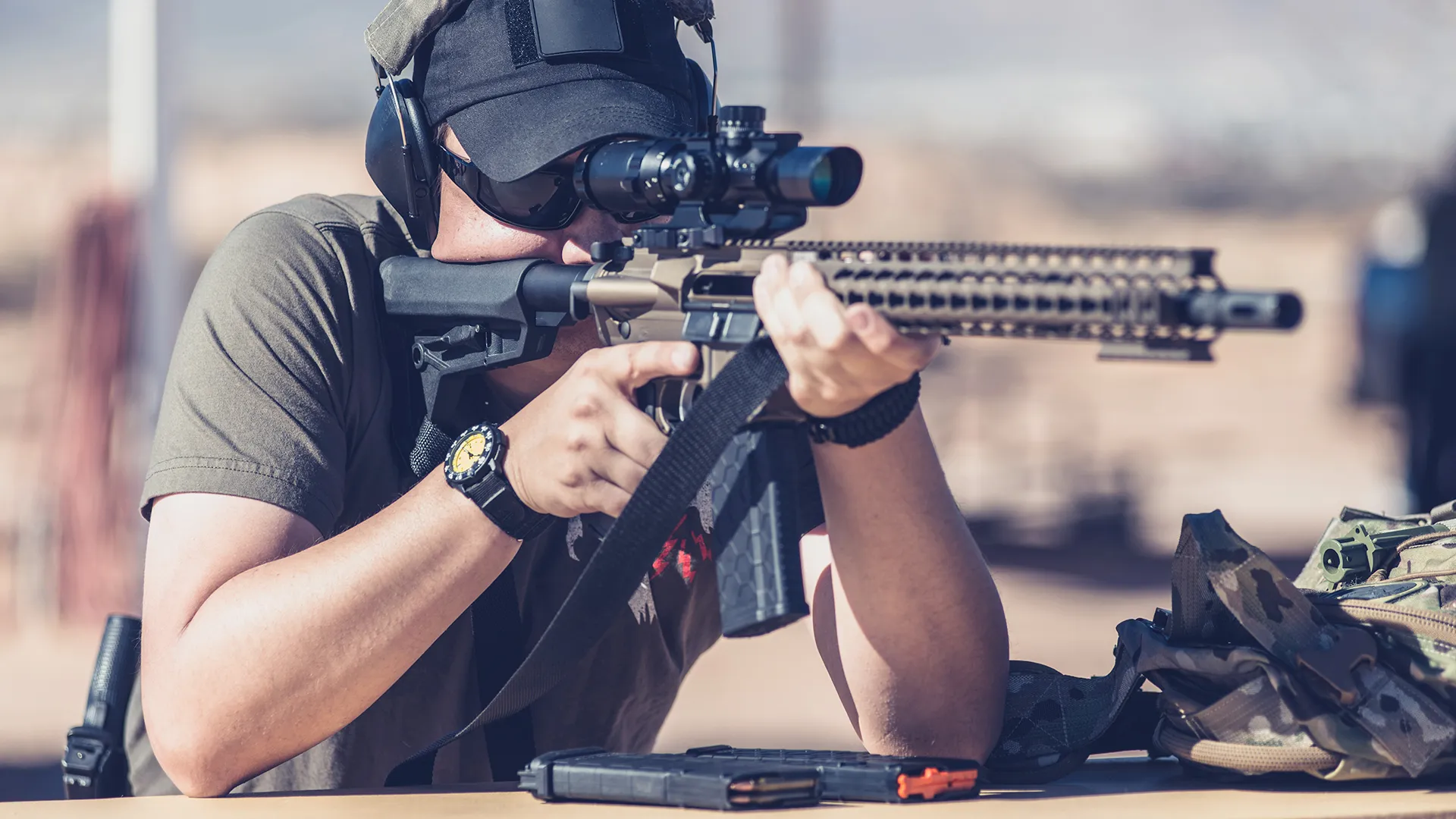 Between the recent high-profile mass shootings in California, Texas and Ohio, student walkouts and a fierce political debate between gun-rights groups and gun-control advocates, hardly a week goes by when guns aren't in the news. But in America, guns are more than just a hot political topic — they're also very big business and a large employer across all 50 states.
The firearms and ammunition industry employs 149,000 people working for companies that make, distribute and sell guns, ammunition and hunting equipment. An additional 163,000 people work supporting those companies.
Overall the gun industry is responsible for more than 300,000 jobs and more than $15 billion in wages, according to a report by the National Shooting Sports Foundation, which represents gun retailers, owners, distributors and manufacturers.
In the following slideshow, states are ranked from least to most gun-related jobs. Keep reading to see how the gun industry impacts jobs in your state.
Washington, D.C.
Total jobs: 16Total wages: $1,372,600
Delaware
Total jobs: 293Total wages: $12,109,000
Hawaii
Total jobs: 328Total wages: $13,129,700
Rhode Island
Total jobs: 514Total wages: $34,779,200
Vermont
Total jobs: 717Total wages: $34,269,500
North Dakota
Total jobs: 901Total wages: $33,507,800
Wyoming
Total jobs: 1,152Total wages: $43,868,500
Alaska
Total jobs: 1,155Total wages: $43,448,200
New Mexico
Total jobs: 1,210Total wages: $35,870,000
West Virginia
Total jobs: 1,378 Total wages: $44,952,600
South Dakota
Total jobs: 1,905Total wages: $79,425,300
Iowa
Total jobs: 2,143Total wages: $84,428,800
Nevada
Total jobs: 2,492Total wages: $97,161,700
Maine
Total jobs: 2,493Total wages: $95,266,200
Montana
Total jobs: 2,622Total wages: $96,246,800
New Jersey
Total jobs: 2,743Total wages: $185,662,000
Maryland
Total jobs: 3,484Total wages: $208,801,600
Nebraska
Total jobs: 3,768Total wages: $181,807,400
Kentucky
Total jobs: 3,779Total wages: $153,363,600
Oklahoma
Total jobs: 4,006Total wages: $154,320,400
Louisiana
Total jobs: 4,256Total wages: $165,550,900
Mississippi
Total jobs: 4,834Total wages: $202,642,800
Make Your Money Work for You
Kansas
Total jobs: 5,015Total wages: $194,347,400
Colorado
Total jobs: 5,184Total wages: $252,655,400
Wisconsin
Total jobs: 5,187Total wages: $226,940,300
Indiana
Total jobs: 5,430Total wages: $215,861,500
Virginia
Total jobs: 5,431Total wages: $254,491,000
Connecticut
Total jobs: 5,477Total wages: $413,924,800
Alabama
Total jobs: 5,870Total wages: $242,847,400
South Carolina
Total jobs: 6,064Total wages: $274,702,600
Tennessee
Total jobs: 6,125Total wages: $278,130,000
Arkansas
Total jobs: 6,455Total wages: $284,881,900
New Hampshire
Total jobs: 6,470Total wages: $429,785,000
Utah
Total jobs: 6,669Total wages: $311,160,300
Washington
Total jobs: 6,833Total wages: $317,388,100
Oregon
Total jobs: 7,342Total wages: $436,112,500
Idaho
Total jobs: 7,436Total wages: $319,761,600
Arizona
Total jobs: 8,043Total wages: $427,554,300
Michigan
Total jobs: 8,273Total wages: $369,093,900
New York
Total jobs: 8,986Total wages: $655,168,400
Massachusetts
Total jobs: 9,288Total wages: $678,578,000
Georgia
Total jobs: 9,374Total wages: $432,502,100
Missouri
Total jobs: 10,381Total wages: $425,558,000
North Carolina
Total jobs: 10,509Total wages: $469,537,900
Ohio
Total jobs: 11,981Total wages: $499,892,800
Pennsylvania
Total jobs: 12,575Total wages: $655,308,100
Minnesota
Total jobs: 12,760Total wages: $796,863,300
Illinois
Total jobs: 13,186Total wages: $803,730,900
Florida
Total jobs: 15,691Total wages: $714,196,500
California
Total jobs: 20,162Total wages: $1,181,389,500