Inflation Impact: 2012 Prices vs. 2022 May Not Be as Different as You Think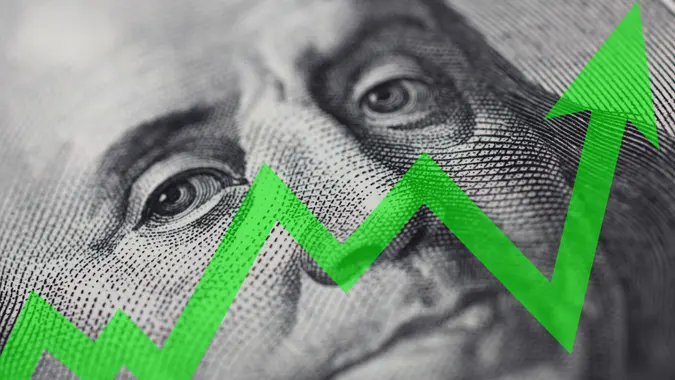 Aslan Alphan / iStock.com
It's hard to believe it, but 2012 was an entire decade ago. Remembered as the year "The Hunger Games" made its debut, the first generation iPad mini was released and mustaches were seriously in style, a lot has changed since then.
One of the most notable differences between then and now is the price of many common goods and services. Looking back, a lot of prices might seem enviably low, but they may not be as different as you think — when adjusted for inflation.
Check Out: 10 Richest People in the World
Find: Here's How Much Cash You Need Stashed if a National Emergency Happens
You're almost definitely aware that inflation is on the rise. Specifically, the Consumer Price Index increased 8.6% over the last 12 months — before seasonal adjustment — as of May 2022 — according to the Bureau of Labor Statistics.
However, you might not understand exactly how inflation works, and that's okay. Robert Persichitte — CFP, CPA, a financial planner with Delagify Financial, based in Arvada, Colorado — broke it down in simple terms.
Make Your Money Work for You
He explained that shortages are one of the main components of inflation, because at its core, inflation is simply too many dollars chasing a scarcity of resources. "Think about it from the perspective of a small restaurant owner," he said. "If you are full every night and turning away customers, you'd consider raising your prices. You might price out a few patrons, but since you are turning people away, it's still a better deal for you."
Additionally, by definition he said some things will outpace inflation, while others will lag behind. "Inflation is an average of the change in all prices," he said. "Right now, energy prices are by far the number one factor driving inflation up."
For example, he noted that energy prices have been on the rise, while the cost of used cars has been declining. "Given major retailers' recent announcements, we may see price cuts with some types of consumer goods, which will also help curb inflation," he said.
This would be a welcome relief for many, as rising costs in several sectors have caused budgets to be seriously strained. One of the largest and most high-profile areas includes housing prices, which have surged from an average of $211,131 for a single family home in May 2012 to an average of $349,816 in 2022 — more than a 65% increase.
Make Your Money Work for You
Additionally, the cost of bacon has surged 32% since 2012 — rising from $5.57/lb. in 2012 to $7.36 in 2022 — and the price of a dozen eggs has increased 33% — going from $2.15 in 2012 to $2.86 in 2022.
Despite that, you might be surprised to learn that some items — including one that's notoriously pricey right now — were actually pretty expensive in 2012 as well. This further proves the point that inflation isn't necessarily making everything more expensive — at least not all the time.
This one will likely shock you, but gas prices have actually not increased that much since 2012 when adjusted for inflation. Yes, you read that right. The average price per gallon of gas was $4.82 in 2012, compared to the new record high we just hit this week — $5.01 a gallon.
Additionally, electricity is cheaper today than it was in 2012 — with an average of $0.17 per kwh then and an average of $0.15 per kwh now. Same goes for bananas, which decreased from an average of $0.75 per pound a decade ago to an average of $0.64 per pound today. Again, this figures are adjusted for inflation.
POLL: Are You Concerned That Social Security Benefits Will Be Reduced During Your Lifetime?
You're likely thrilled to find that prices for certain products and services have declined since 2012, but even price increases can be a positive sign for the big picture. Ryan Phillips — CFA, CFP, founder of GuidePoint Financial Planning, based in Reston, Virginia — explained why this is the case.
Make Your Money Work for You
"In actuality, moderate and stable inflation is actually a sign of a healthy economy," he said.
Trying to keep pace with inflation can be a challenge, but he said homeownership is one of the best ways to do it — despite the fact that housing prices are currently high, making affordability low.
"But in the long-term, the purchase of a home allows you to keep your housing cost relatively fixed while your incomes rise," he said. "This allows your housing cost to make up a much lower portion of your monthly expenses and frees up room for other costs that may have gone up over that time." 
The average annual pay increase is 3-5%, according to Indeed. From January 2012 to February 2021, the inflation rate never surpassed this level. However, it has sharply increased most months since then.
Despite that, it's worth noting the 8.6% inflation rate recorded in May 2022 is actually only a slight increase from the 8.5% realized in March 2022. Only time will tell if this number will continue to climb.
All of this might make more sense if you consider how much average annual salaries have increased. In 2012, the U.S. median household income was $51,371, according to the U.S. Census. This number increased to $67,521 in 2020, the most recent year data was available.
Therefore, inflation has made many goods and services more expensive since 2012, but if income levels rise at the same or a higher pace, it all evens out. The issue is that inflation is soaring at a rate not seen since 1981 now, so it may take some time for income levels — and several other economic factors — to catch up.
More From GOBankingRates
Make Your Money Work for You