Will the Biden Presidency Hurt the Stock Market?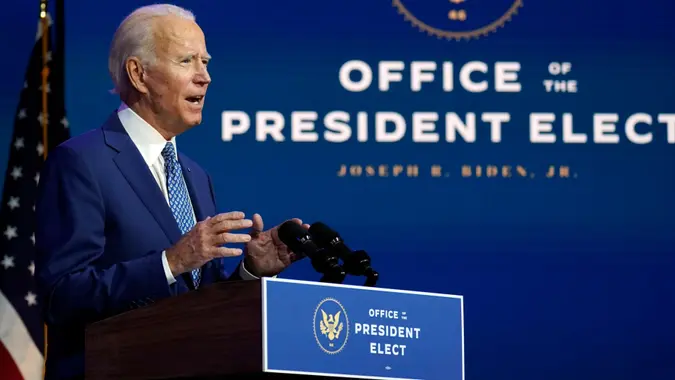 ©Carolyn Kaster/AP/Shutterstock
Futures markets hit all-time highs under the Trump presidency, with the Dow Jones Industrial Average reaching more than 30,000 points in 2020. But will the bull market continue under the Biden presidency?
In addition to the Dow reaching record highs, the S&P 500 soared more than 60% since Donald J. Trump moved into the White House in January 2017. Analysts attribute the jump, in part, to corporate tax cuts Joe Biden has pledged he would reverse. Biden could also raise capital gains rates for the country's high earners.
In a recent poll of more than 100 chief investment officers and portfolio managers conducted by CNBC, 67% said they believe the first four years of a Biden administration will be worse for stocks than Trump's first four years.
See: How Investors Need to Prepare Now for a Biden Administration
Explore: These Are Goldman Sach's Biggest Predictions for 2021
However, the Dow could still reach 35,000 points in 2021, two-thirds of the experts predicted, with 5% saying it could hit 40,000. Only 10 percent of those polled believe the Dow will dip to 25,000, but 18% said it could hover around 30,000.
Make Your Money Work for You
The investors polled say that stocks related to consumer discretionary spending, industrials and financials could perform the best. Utilities, consumer staples and energy stocks could take a hit.
See: OMG — Can You Believe How Much We Spent in 2020?
Explore: Experts Predict Which Industries Will Fail in 2021
Where should investors put their money in 2021, if not into stocks?
Special purpose acquisition companies remain a favorite amongst investors, with 58% of those polled saying that's where they will put their client's money. Another 33% said bitcoin, while 9% said their clients are likely to invest in options contracts.
With bitcoin cryptocurrency reaching more than $20,000 and gaining attention from payment platforms Square and PayPal, investing could, indeed, look very different in 2021.
More From GOBankingRates:
Make Your Money Work for You