How Much Will COVID-19 Vaccines Cost Taxpayers?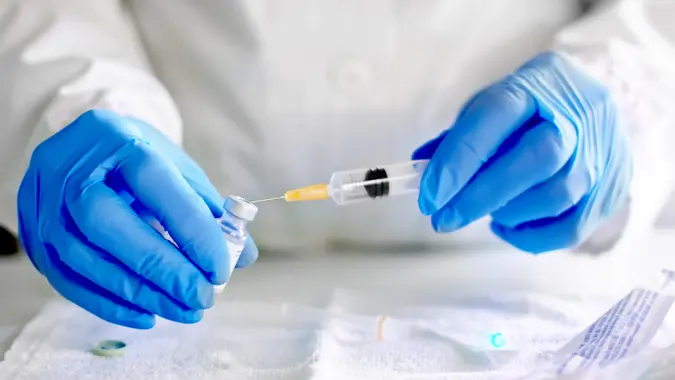 Meyer & Meyer / Getty Images/iStockphoto
Several major, publicly traded pharmaceutical companies, and a host of smaller ones, currently have COVID-19 vaccinations on the market or in development. Pfizer and BioNTech's mRNA vaccine, which uses genetic material to stimulate the immune system to create antibodies, is currently being administered across the U.S. Likewise, Moderna's mRNA vax also has FDA approval for emergency use.
Oxford-AstraZeneca's vaccine was just approved for emergency use in the U.K., while Johnson & Johnson started recruiting people for trials of its vaccine. Novavax is also testing its product on people. 
The federal government stepped in at the beginning of the pandemic with Operation Warp Speed to support pharmaceutical companies to develop these vaccines. The government is also paying for countrywide vaccines for all, although clinics, pharmacies and healthcare facilities may pass some administration costs onto patients. These costs should be covered by Medicare, Medicaid or public or private health insurance.
How much has the government spent on COVID-19 vaccines? USA Today reported that the government has spent more than $9 billion on development for the vaccines, distributed amongst nine different companies. Another $2.5 billion is going toward equipment, including storage vials and syringes, needed to administer the vaccines.
See: When Can You Get the COVID-19 Vaccine — and How Much Will It Cost?
Find: Could Your Boss Make You Get the COVID-19 Vaccine to Keep Your Job?
Here's a breakdown of how much each drug company has received to date, not counting money the federal government used to purchase the vaccines. So far, the government has placed substantial orders with both Pfizer, whose vaccine goes for approximately $20 a dose, and Moderna, which sells its vaccine for up to $37 per dose, CNBC reported. 
Make Your Money Work for You
Pfizer and BioNTech
Pfizer and BioNTech received $1.95 billion for delivering 100 million doses to the U.S. These firms did not receive any funding for research & development. 
Novavax
The U.S. Department of Health and Human Services and the Department of Defense signed an agreement to pay Novavax $1.6 billion to produce 300 million vaccine doses. The vaccine has not yet been approved. 
AstraZeneca and Oxford University
The Biomedical Advanced Research and Development Authority, part of the HHS office of the Assistant Secretary for Preparedness and Response, awarded a $1.2 billion grant to the biopharmaceutical firm and the university, which are working in partnership to develop 300 million doses of their vaccine. 
See: UK Approves AstraZeneca Coronavirus Vaccine on the Heels of a New Strain Discovery, Pharma Stocks a BuyFind: As Vaccines and 5G Come to Pharmacies Near You, Walgreens and Verizon Are Stocks to Watch
Janssen Research & Development
This Johnson & Johnson subsidiary got $456 million in R&D funding from the government and $1 billion during the summer to produce 100 million doses. 
Moderna
Moderna received $955 million in the form of three federal grants. This money does not include purchases of the vaccine and was used on R&D and testing.
Merck and IAVI USA
These companies received $38 million in federal funding to develop a single-dose vaccine that will be delivered orally. 
As the government continues to fund vaccinations across the U.S. through 2021, no doubt these costs will increase. But the price of rolling out the vaccines is certainly orders of magnitude less than the economic costs of the continuing pandemic.
More From GOBankingRates:
Make Your Money Work for You