UK Approves AstraZeneca Coronavirus Vaccine on the Heels of New Strain Discovery, Pharma Stocks a Buy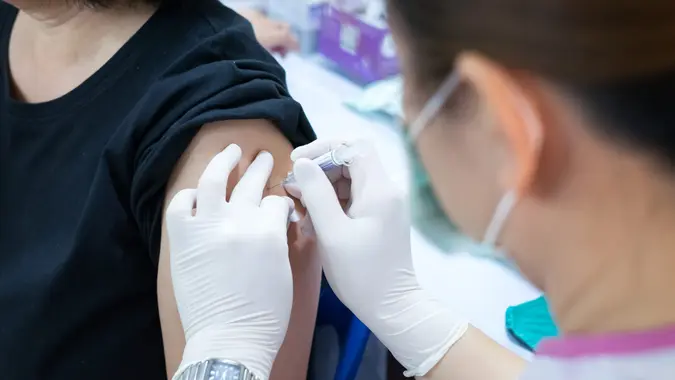 Byjeng / Getty Images/iStockphoto
U.K. Health Secretary Matt Hancock announced today that the country has approved the Oxford-AstraZeneca coronavirus vaccine, with 530,000 doses to start being administered on Monday, Jan. 4, 2021.
AstraZeneca has also submitted full data to the European Medicines Agency to get conditional marketing authorization across the continent.
In mid-December, the U.S. approved the Pfizer BioNTech vaccine about a week after U.K. officials approved the vaccine.
See: When Can You Get the COVID-19 Vaccine — and How Much Will It Cost?
Find: Could Your Boss Make You Get the COVID-19 Vaccine to Keep Your Job?

The AstraZeneca approval comes on the heels of a significant outbreak in the U.K. Most of the area has been placed on Tier 4 restrictions, which is a "stay at home" order unless you have a reasonable excuse, such as work, essential activities, education and childcare, legal obligations, respite care and exercise or recreation.
A new strain of the virus has also been discovered in the U.K., and it represents 60% of the current cases. While it does not seem any more or less serious than the original strain, the mutation seems to spread more easily. The Centers for Disease Control and Prevention stated that the novel coronavirus "mutates regularly," but other mutations have not been shown to be significant.
President Trump's COVID vaccine czar, Dr. Moncef Siaoui, said he expects the current vaccines to remain effective against the new strain. Likewise, the CDC called it "unlikely" for a vaccine-immune strain, termed "escape mutant," to develop.
See: Should You Invest in Vaccine Stocks Right Now?
Find: As Vaccines and 5G Come to Pharmacies Near You, Walgreens and Verizon Are Stocks to Watch
In light of the new vaccine developments from AstraZeneca (NASDAQ: AZN), the pharmaceutical company's stock started to rise again after a dip in mid-December when competitors Pfizer (NYSE: PFE) and Moderna (NASDAQ: MRNA) received vaccine approval in the U.S. At $50, the stock sits well below its 52-week high, and experts are calling it a buy right now.
The Motley Fool spotlights other developments, including promising COVID-19 treatments and solid revenue growth from AstraZeneca, as the "real reasons" to invest in the company.
Pfizer stock also started to climb again this week, with the European Union placing an order for 100 million additional doses of its vax, The Motley Fool reports.
More From GOBankingRates: