5 Best Cheap Stocks To Buy Under $5.00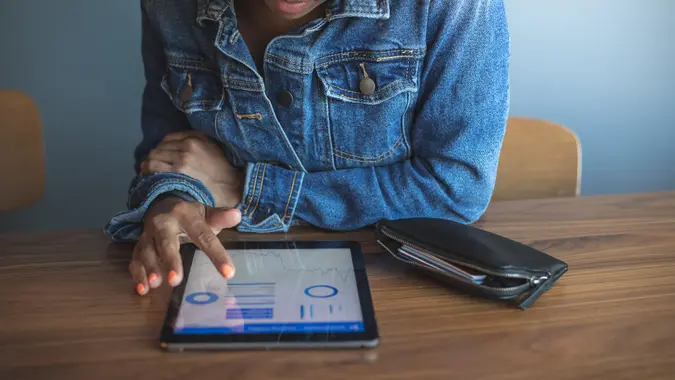 LPETTET / Getty Images
Most investment professionals tell investors to stay away from stocks under $5. These stocks, commonly referred to as penny stocks, tend to come with the highest levels of risk. On the other hand, they also represent compelling opportunities. Believe it or not, small-cap stocks have outperformed their large-cap counterparts throughout history.
Learn: 5 Things You Must Do When Your Savings Reach $50,000
The key to investing in smaller companies is doing adequate research and choosing the best stocks under $5, the types of stocks that have the potential to experience significant growth.
Best Stocks Under $5
If you're looking for the best stocks under $5, you're in risky territory. The smaller the company, the higher its potential to face insolvency, bankruptcy and significant losses. However, there are some gems in the market.
1. Ambev S.A. (NYSE: ABEV): $3.24 per Share
Ambev is an interesting play because it trades like a penny stock but is part of one of the largest companies in the world. The company is the South American arm of the world's largest brewer, Anheuser-Busch InBev SA.
With the 2022 World Cup just around the corner, beer sales in South America are likely to skyrocket.
Analysts rate ABEV a "Buy" according to Yahoo Finance, and if the growth in its parent company is any indication of its future, the stock is one of the best in its price range.
2. AvePoint Inc. (NASDAQ: AVPT): $3.79 per Share
AvePoint is a complete data management platform, and as data becomes more valuable, the company's likely to do so, as well. In particular, AvePoint makes it easy for other companies to migrate to the cloud, as well as manage and protect their data. 
Of five analysts who followed the stock in October, four rated it a "Buy" and one gave it a "Strong Buy." The $7.10 price target represents the potential for more than 87% gains over the next year.
3. ContextLogic Inc. (NASDAQ: WISH): $0.69 per Share
ContextLogic hasn't had a strong year in 2022. The company's stock was down more than 78% in late October, but that may represent an opportunity. The company operates a bargain-hunting website that's seen its fair share of headwinds. Nonetheless, the company recently appointed a new CEO that investors hope will turn things around.
What's most interesting is that the company has $947 million in cash with a $460 million market cap, representing a clear undervaluation. Of the five analysts following this stock in October, one rates it a "Buy," two rate it a "Hold" and two rate it "Underperform." The average price target stands at $3.09 per share, suggesting the stock could climb more than 347% from current levels.
4. Bark, Inc. (NYSE: BARK): $1.75 per Share
Bark is a direct-to-consumer company focused on the pet supplies space. Founded in 2012 as BarkBox, the company has since changed its name to Bark, Inc.
Bark's flagship product, the BarkBox — a monthly subscription-based product that resulted in goodies for your dog being regularly shipped to your home — did well during COVID-19. However, as traditional retail opened back up, sales slumped. At the same time, investors ran from SPACs, causing further pain for the company.
Nonetheless, some are expecting a comeback after the company restructured its business to offer more products. Two analysts followed this stock in October, and both gave it a "Strong Buy" with an $8 price target.
5. AgroFresh Solutions, Inc. (NASDAQ: AGFS): $2.75 per Share
AgroFresh Solutions is in the produce business. The company designed and produces a line of products to keep fresh produce and fresh-cut flowers fresh longer.
This is a meaningful solution to a significant problem. About 30% of food in American grocery stores ends up in the trash can, written off as food waste. AgroFresh Solutions aims to solve this problem and works with farmers, packers and retailers to bring its mission to life.  
Four analysts covered the stock in October. Three rated it a "Buy" and one rated it a "Hold." The consensus price target is $3.88, suggesting there may be room for a more than 40% upside.
Final Take
Although most stocks under $5 come with significant risk, sometimes taking that risk pays off. If you're considering jumping into small-cap stocks, those listed above are some of the best stocks under $5 on the market today. 
FAQ
Find the answers to some of the most common questions about stocks under $5 here.
What is a good stock to buy for under $5?

All the stocks listed above represent strong investment opportunities for under $5 per share. However, you must do your research to determine which stocks in that price range fit into your unique portfolio.

What is the best $3 stock to buy?

Ambev is the one of the best stocks in the $3 range, because when you buy the stock, you're buying shares of the South American arm of one of the largest brewing companies in the world.

What are the best stocks under $10?

There are several stocks on the market for $10 or less. However, the best stocks in that price range for you may be different than the best stocks for your neighbor. Do your research and find quality investments that fit in well with your current portfolio.

What are some good stocks to buy right now?

All the stocks mentioned above represent meaningful opportunities, given the current market landscape. If you have less risk tolerance, consider buying blue chip stocks – if you can't afford a full share, you can buy partial shares with many brokers.
Share prices are accurate as of market closing on Nov. 4, 2022.
Our in-house research team and on-site financial experts work together to create content that's accurate, impartial, and up to date. We fact-check every single statistic, quote and fact using trusted primary resources to make sure the information we provide is correct. You can learn more about GOBankingRates' processes and standards in our editorial policy.