Vaccine Stocks: Are Pfizer, Moderna and J&J Buys Now?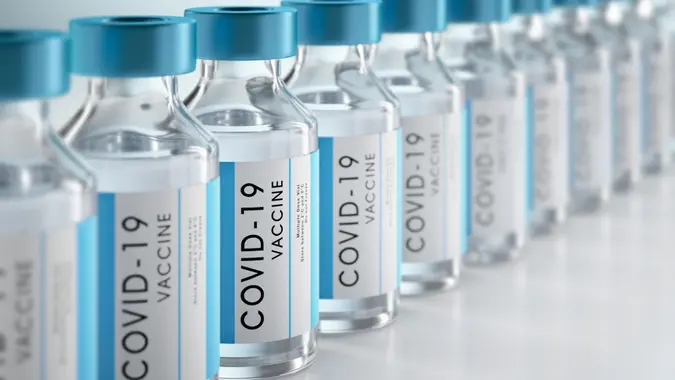 peterschreiber.media / Getty Images/iStockphoto
If you're looking to expand or diversify your portfolio, you may be eyeing vaccine stocks closely. Moderna (MRNA), Pfizer (PFE) and Johnson & Johnson (BNTX) have proven COVID-19 vaccines on the market right now. In fact, according to the latest statistics from the Centers for Disease Control and Prevention, 66.7% of the U.S. population has received at least one dose of a COVID-19 vaccine, while 57.6% of the population is fully vaccinated as of Oct. 28.
No doubt, the successful vaccines gave a boost to these businesses. But are the stocks still buys, or did you miss the boat by not investing back in March 2020, when the global coronavirus pandemic began and these companies began early research to be the first to market with safe and effective vaccines?
Vaccine Stock Time Machine: Where Would You Be Now?
Hindsight, of course, is 20/20, so to speak. But you may have experienced serious fear of missing out if you didn't buy into vaccine stocks in mid-2020. Let's look at what you really passed up.
Johnson & Johnson
On April 1, 2020, Johnson & Johnson stock was trading for $150 per share. On Nov. 4, 2021, it's up to $164.60, down 8.5% from its 52-week high of $179.92. However, timing the market is everything, and had you invested on Nov. 5, 2020. you could have picked up shares for just $137.76 each.
Let's say you did buy low and sold today — had you invested $1,000, you'd be holding $1,194.80, plus earning dividends on the stock.
Moderna
If you were looking to make money over the past year, however, Moderna may have been a better option than J&J. A relative unknown in the pharmaceutical space pre-pandemic, Moderna stock virtually skyrocketed from $45.99 per share on April 1, 2020, to $284.02 on Nov. 4, 2021 — and that's after a significant drop from its 52-week high of $497.49. If you had an actual time machine and bought in pre-pandemic on March 1, 2020, you'd have paid $29.95 per share and could have converted a $1,000 investment into $8,483.10 today.
Pfizer
If you had passed on Pfizer last April, you may have fewer regrets. The stock has only risen a bit more than $7 since April 1, 2020, when shares were trading for $36.39. On Nov. 4, 2021, shares are worth $43.85. In the past year, the stock has ranged from $33.36 up to $51.86. If you invested $1,000 last April, you'd now be holding just $1,205.
However, continuing to hold on to that Pfizer could be a smart money move, experts say. Investor's Business Daily pointed out that "shares haven't topped a new buy point," and "the company is expected to report bullish growth in the fourth quarter" based largely on its COVID vaccine.
Vaccine Stocks and Current News
Boosters are now available for all three vaccines, but the guidance varies on who should get it and when. All J&J vaccine recipients age 18 or older are advised to get a booster two months after their shot. Pfizer and Modern vaccine recipients age 65 or older — 18 or older in high-risk work or home settings or when underlying conditions are present — are eligible six months after their second shot. The CDC is allowing mix-and-match boosters, meaning recipients can choose a different vaccine type than they originally received.
Of the three companies, Pfizer has the largest COVID-19 vaccine market share by far, with 248 million doses administered compared to 159 million for Moderna and 15 million for Johnson & Johnson. It's also the first COVID vaccine to receive an emergency use authorization for use in children ages five through 11. The vaccine has full approval for use in those 16 and older. The Moderna and J&J vaccines are approved for use in adults age 18 and older.
The companies' third-quarter 2021 earnings reports give insight on where each of the stocks might be headed.
Pfizer's earnings beat analysts' expectations, and the company raised its sales forecast as a result. Moderna, on the other hand, fell short of earnings and revenue expectations and scaled back its sales forecast, driving its stock down 16% after its earnings announcement. Johnson & Johnson, which reported strong third-quarter earnings back in October, exceeding analysts' earnings and revenue estimates, increased its full-year guidance. Although the company expects 2021 sales to hit $94.1-$94.5 billion, just $2.5 billion of that is attributable to sales of its COVID vaccine compared to $15-$18 billion for Moderna's vaccine sales and $36 billion for Pfizer's.
Pfizer announced on Nov. 5 that its oral antiviral treatment candidate reduced the risk of hospitalization or death by 89%, according to an interim analysis of its Phase 2/Phase 3 study. Considering the dearth of effective treatments currently available, a medication with high efficacy could be a game-changer.
Exploring the Fundamentals
It's one thing to look back and regret day-trading missed opportunities or rue the daily fluctuations of the stock market. But if you're really in the long game for secure and profitable investments, it's important to explore each company's fundamentals.
After all, COVID-19 vaccines, however important they might be for our world's future, represent just a portion of these brands' offerings.
Pfizer
Of 21 analysts reported by CNN to be watching Pfizer, 16 rate the stock a "hold" and five rate it a "buy." The median consensus price forecast for the next 12 months is $46 –a 4.8% increase over the current share price — in a range of $39 to $61.
Johnson & Johnson
Johnson & Johnson could represent a solid long-term investment. The beauty of J&J stock, despite the volatility of the market, is its long-term reputation, diversified product lines including health and beauty care, and its quarterly dividend payments, which deliver $1.06 per share, for an annual yield of 2.57% compared to 1.28% for the S&P 500, according to The Motley Fool.
The company also recently entered into a 10-year virtual power purchase agreement with Enel Green Power, Dow Jones Newswires reported. J&J's European headquarters will be run by 100% renewable electricity by 2023, which also bodes well for investors looking for a stock that supports sustainability.
Moderna
Moderna stock rose when the company received emergency authorization in India to distribute its COVID-19 vaccine and, additionally, signed a supply agreement with Argentina for 20 million doses, IBD reported. However, the Q3 earnings report puts the stock on shaky ground.
Analysts' recommendations are mixed. Of 16 analysts reported by Yahoo Finance, six rate the stock a "buy" and six rate it a "hold." Just one rates it a "strong buy," whereas three rate it "underperform."
Takeaway

No matter how strong the fundamentals of any of these vaccine stocks, they should make up just a portion of a well-diversified portfolio. For long-term investments, exchange-traded funds and mutual funds provide more stability and less risk.

If you're looking for stable, long-term, profitable investments, leave the day trading to the professional day traders and focus on strong companies that have exhibited steady and consistent growth. Better yet, bank on the stability of ETFs and mutual funds for more consistent returns.
Daria Uhlig contributed to the reporting for this article.
Data is accurate as of Nov. 4, 2021, unless otherwise noted, and subject to change.
Our in-house research team and on-site financial experts work together to create content that's accurate, impartial, and up to date. We fact-check every single statistic, quote and fact using trusted primary resources to make sure the information we provide is correct. You can learn more about GOBankingRates' processes and standards in our editorial policy.