Robert Kiyosaki Predicts Economy Crash Again — Are We Headed for a Recession or Depression?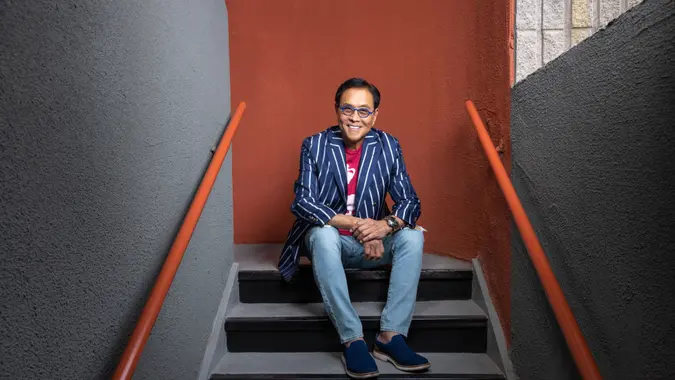 ©Robert Kiyosaki
Since the Great Depression, there have been 14 recessions, which are part of the normal economic cycle. Economists keep waffling on whether or not the U.S. is going to head into one in 2024 after fears about a 2023 recession haven't come to pass yet. Though inflation was at an all-time high recently, of 9.1%, it's dropped back to 3%, and consumer demand for goods and services, even for big-ticket items like cars and houses, is not slowing down, despite the Federal Reserve hiking up interest rates, according to Kiplinger. The only possible warning sign is an increase in delinquencies on things like car loans and credit cards.
Robert Kiyosaki Sounds the Alarm Bells
Despite non-urgent signs of recession, finance expert Robert Kiyosaki, author of the Rich Dad, Poor Dad series of books, made an alarmist tweet recently, suggesting that stock market fluctuations may herald not just a recession but a depression.
He tweeted: "I do not play the stock or bond markets. As an entrepreneur I like my hands on control too much. Yet too many signs point to a severe stock market crash. If your future depends on stocks and bonds please be careful, possibly ask for professional advice. Afraid depression coming."
Other economists are not clear on what signs are telling him that this could be the case. The markets have rallied — with the S&P 500 gaining 17% this year, and the Nasdaq composite rising 35%. Part of this, however, might be related to investors predicting positive gains for corporate profits as related to the rise of artificial intelligence. And this might be a risky area to bet on, according to Insider.
Make Your Money Work for You
Insider felt it was worth pointing out that Kiyosaki has been warning of a market crash for some time, and promoting assets such as gold, silver and bitcoin, in which he is more heavily invested. He has also said he would plan to capitalize on a market crash. Insider reports he has said, "the best time to get rich is during a crash."
So what exactly is a recession? And what's the difference between a recession and a depression? A recession is a period of significant, lasting decline in the economy, while a depression is more sustained and severe and has a more widespread impact. Here's some more information on recessions.
What Is a Recession and Who Declares It?
While economic indicators such as GDP might suggest a recession is in effect, or on the way, and many Americans might feel like the country is in one due to financial pressures that come with inflation, it's officially up to the National Bureau of Economic Research's "Business Cycle Dating Committee" to make the call. It defines a recession as "the period between a peak of economic activity and its subsequent trough, or lowest point."
This depends on a number of monthly economic measures, including income, spending and employment. Complicating matters is that employment has remained strong, with the current unemployment rate at 3.6% and an added 209,000 jobs as of June, according to the Bureau of Labor Statistics.
Make Your Money Work for You
Even then, the NBER won't announce whether the country has entered into a recession until it has insurmountable evidence. That much-anticipated call could happen even after a recession is over.
Historically, the GDP measurement has been a useful guide. As reported by The Associated Press, Michael Strain, an economist at American Enterprise Institute, noted that a recession often follows when the economy shrinks for two consecutive quarters. In fact, the last 10 times when there have been two quarters of economic contraction, recessions have resulted.
What Might Cause a Recession?
A number of factors can contribute to a recession, namely abrupt changes to the economy — like the COVID-19 pandemic — inflation, bursts in stock market bubbles and defaults as a result of debt, which fueled the Great Recession.
In all, there have been 14 recessions since the Great Depression. The pandemic recession, the most recent, lasted only two months — from February 2020 to April 2020 — representing the smallest one on record. In fact, the recession ended before the NBER determined that a recession had begun. Still, that recession cut deep, with the unemployment rating hitting 14.8% as 22 million jobs were slashed.
It's important to note that the end of recessions identified by the NBER doesn't necessarily correlate with the financial situations of Americans. They simply mark the period when the economy stopped contracting.
When Does an Economic Downturn Become a Depression?
An economic depression refers to "a severe, sustained period of economic weakness." The last one, the Great Depression, technically ran from October 1929 to 1933, but the U.S.'s economy didn't recover until around 1939. During the Great Depression, GDP dropped by 30% and 25% of the labor force was unemployed. It is widely recognized as the most dramatic economic downturn in U.S. history.
Make Your Money Work for You
There are a number of factors that led to the Great Depression. Key among them is the stock market crash of 1929.
"The crash was not a cause, but a triggering event," Barry M. Mitnick, a professor of business administration and of public and international affairs at the University of Pittsburgh's Katz Graduate School of Business, told Business Insider.
Unmitigated spending and lending habits during the Roaring '20s helped lead the way, followed by delayed action by the government to step in, tariffs that led to other countries heaping their own tariffs on U.S. goods and bad moves by the Federal Reserve, such as raising interest rates and allowing troubled banks to fail. All these factors helped the Great Depression go on for so long.
In general, during economic depressions, the stock market and consumer confidence fall and bankruptcies — both personal and business — skyrocket. The drop in economic activity lines up with a fall in employment and production.
Mechanisms To Safeguard Against Another Depression
In response to the Great Depression, the federal government beefed up its tools to prevent recessions, which are part of the normal business cycle, from ballooning into depressions.
The Federal Deposit Insurance Corp. was created to protect bank depositors' accounts and the Securities and Exchange Commission was established to keep U.S. stock markets in check.
There are now unemployment insurance and more tools available in the government's monetary policy toolkit, which it took advantage of during the Great Recession. The Fed responded by cutting interest rates, and the government bailed out several big industries, leading to an under-two-year downturn and long-running growth.
Make Your Money Work for You
Most importantly, the key indicators of a recession aren't even in evidence yet, which makes the likelihood of a depression very slim.
More From GOBankingRates
Jordan Rosenfeld contributed to the reporting for this article.
Our in-house research team and on-site financial experts work together to create content that's accurate, impartial, and up to date. We fact-check every single statistic, quote and fact using trusted primary resources to make sure the information we provide is correct. You can learn more about GOBankingRates' processes and standards in our editorial policy.