225,000 SNAP Recipients Projected To Lose Benefits Under New Debt Ceiling Conditions — Are You Among Them?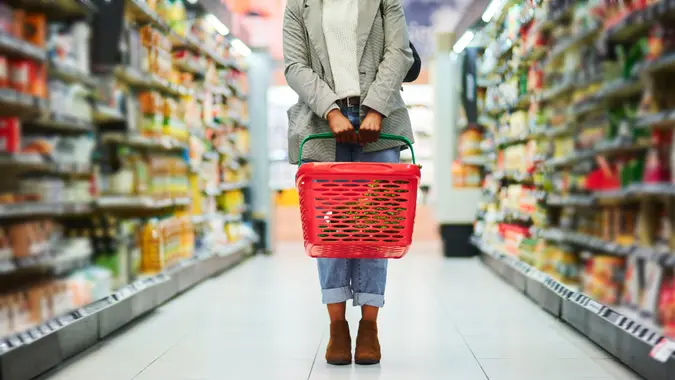 Adene Sanchez / Getty Images
Among the compromises reached during debt ceiling negotiations between President Joe Biden and U.S House Speaker Kevin McCarthy were changes to the Supplemental Nutrition Assistance Program (SNAP), which provides food purchasing assistance to low-income Americans. One change will expand the pool of SNAP recipients — but another could cause more than 200,000 recipients to lose their benefits.
That's one of the conclusions reached in a recent report by the Center on Budget and Policy Priorities (CBPP). Using Congressional Budget Office (CBO) data, the CBPP estimated that the debt ceiling agreement will "likely" cause about 225,000 SNAP recipients to lose benefits because of new rules governing work requirements.
The CBPP also estimated that nearly 750,000 older adults aged 50-54 are "at risk" of losing food assistance through an expansion of SNAP work-reporting requirement.
As previously reported by GOBankingRates, the new debt ceiling bill raised the proof-of-work age range for SNAP to between 18- and 54-years-old from 18-49 previously. This means hundreds of thousands of SNAP beneficiaries will now have to meet work requirements that they didn't have to meet before.
However, the bill also includes provisions that could widen the roster of potential SNAP beneficiaries. For example, work requirements would not be enforced if SNAP recipients fall into one of the following categories, according to NPR:
Those experiencing homelessness, regardless of age.
Veterans of all ages.
Young people 18- to 24-years-old who aged out of foster care.
Make Your Money Work for You
Under the current law, most adults aged 18-49 without children living at home can only receive benefits for three months in a three-year period unless they meet certain requirements, the CBPP noted. The requirements include documenting that SNAP recipients are working or participating in a job training program for 20 hours a week, or proving that they qualify for an exemption such as a work-limiting disability.
Some SNAP recipients could lose benefits even if they are working, according to the CBPP. These include people who struggle to "consistently meet" the 20-hour requirement or to provide documentation of their hours.
"It will likely be challenging for participants to understand whether they are subject to the requirement or not, particularly as the rules change as the age expansion phases in over time," the CBPP stated in its report. "Others would lose benefits if they should have been exempt from the requirement but were not correctly screened, or if they have a work-limiting health condition that the state does not view as serious enough for an exemption."
The CBPP estimates that older adults who no longer have access to SNAP — those in the 50-54 age group — would lose about $8 per person per day in benefits. These adults "often have very low incomes," the CBPP said, and the loss of SNAP benefits will push most of them "deeper into poverty."
But lawmakers who back stricter work requirements say the new rules will have a positive impact.
"We got it in welfare that puts people back to work, the core of what we looked for," McCarthy recently told Fox News.
Anti-hunger advocates have a different take, however. Ed Bolen, the CBPP's director of SNAP state strategies, told CNBC that it was "upsetting" to see the changes included in the debt ceiling bill.
Make Your Money Work for You
"You're not going to balance the budget, much less pay down the debt, through these kinds of changes," Bolen said. "On the other hand, you're going to affect up to 750,000 low-income older Americans who need food assistance."
More From GOBankingRates