Are New SNAP Requirements 'Taking Food Away from People?' Debt Ceiling Proposal Draws Criticism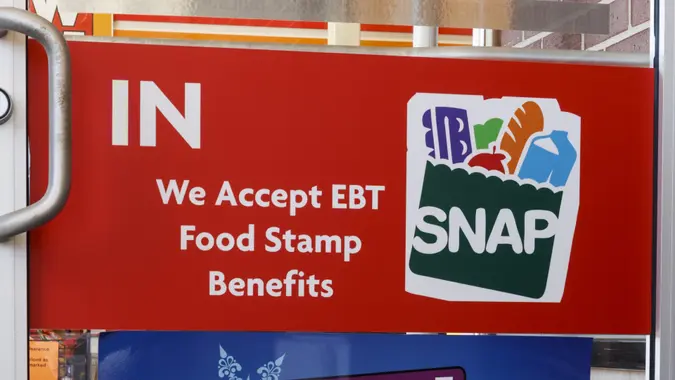 jetcityimage / iStock.com
Among the compromises reached in recent debt ceiling negotiations is stricter work requirements for Americans who receive Supplemental Nutrition Assistance Program (SNAP) benefits — and anti-hunger advocates are not happy about it.
Work requirements to receive SNAP benefits are nothing new. What is new is the age range of SNAP recipients who must provide proof of work to get the benefit, which provides food purchasing assistance to qualifying U.S. households.
In a debt ceiling deal reached over the weekend, President Joe Biden and U.S. House Speaker Kevin McCarthy (R-Calif.) agreed to raise the proof-of-work age range to between 18- and 54-years-old, up from 18-49 previously, NBC News reported.
It didn't take long for critics to pounce on the new requirements. In an analysis published on May 31, the Center on Budget and Policy Priorities (CBPP) said the bill would "put almost 750,000 older adults aged 50-54 at risk of losing food assistance" through an expansion of the "existing, failed" SNAP work-reporting requirement.
Make Your Money Work for You
"The expansion of this requirement would take food assistance away from large numbers of people, including many who have serious barriers to employment as well as others who are working or should be exempt but are caught up in red tape," the CBPP added.
Lawmakers who support stricter work requirements, mainly Republicans, argue that the new rules can help people get jobs, NBC News reported. However, many anti-hunger advocates contend that it doesn't help at all.
The CBPP cited research showing that existing SNAP work-reporting requirements don't lead to higher employment or earnings, but do "cause many people to lose food assistance." Among those who would be newly at risk of losing food assistance following the debt ceiling bill are households with incomes well below the poverty line. These households "would be pushed even deeper into poverty if they lose SNAP," according to the CBPP.
Ellen Vollinger, SNAP director for the Food Research & Action Center, an anti-hunger group, told NBC News that work requirements are "not doing anything to help" SNAP recipients or the economy.
"It's just a punitive way to take food away from people," Vollinger said. "If you're 50 to 54, you may be dealing with age discrimination. You may be dealing with a career where you worked for many, many years within a certain sector, and then all of a sudden things change for you and you've got to get a new skill set."
Make Your Money Work for You
Under the current rules, most adults aged 18-49 without children at home can only receive benefits for three months in a three-year period "unless they can document that they are working or participating in a job training program for 20 hours per week or can prove they qualify for an exemption, such as having a work-limiting disability," according to the CBPP.
Parker Gilkesson, a senior policy analyst with the Center for Law and Social Policy's Income and Work Supports team, told NBC News that three months is an "arbitrary" time frame.
"It doesn't consider the realities of today's labor market," Gilkesson said. "Food plays an integral role in people being able to find work. You can't find work when you're hungry."
Food Stamps: What Is the Maximum SNAP EBT Benefit for 2023?
More than 42.5 million Americans received SNAP benefits as of February 2023, NBC News noted, citing U.S. Department of Agriculture data. It is not yet clear how many people might be affected by the expanded work requirement, although the White House has said the number would not be significantly different.
Make Your Money Work for You
More From GOBankingRates