How Trump's $717 Billion Defense Policy Bill Will Affect You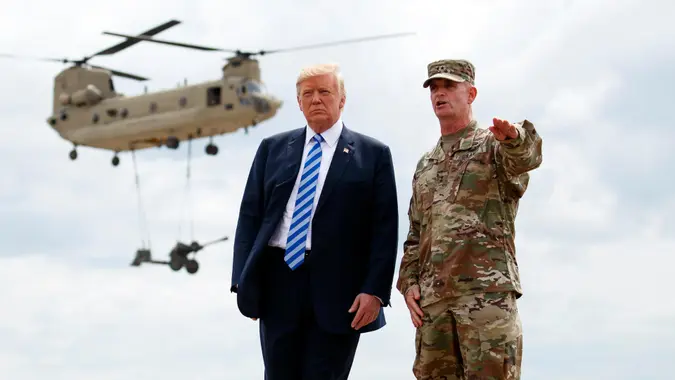 ©Carolyn Kaster/AP/REX/Shutterstock
President Trump signed into law a $717 billion defense-spending bill on Monday at Fort Drum in New York, CNBC reported. The law is formally known as the John S. McCain National Defense Authorization Act for Fiscal Year 2019, or NDAA.
In his address on Monday, Trump neglected to mention the bill's namesake, Sen. John McCain (R-Ariz.), and touted the law "the most significant investment in our military in our war fighters in modern history," saying he was "very proud to be a big, big part of it." 
Click to read about Trump's tariffs and what they mean for you.
Despite concerns from economists regarding the plan's price tag — given that the federal deficit is nearing $1 trillion and expected to rise — the law reflects a $16 billion increase in authorized Pentagon funding over 2018. Aside from the height of the Iraq War, present U.S. military spending is the highest it's ever been in recent decades.
Also See: How Trump's Budget Cuts to These Federal Programs Could Affect You
Included in the hefty $717 billion budget — one of the biggest and most ambitious U.S. military budgets in modern American history — is funding for the following:
135 M1 Abrams tanks

77

F-35 joint strike 

fighters

, accounting for $7.6 billion

13 combat ships 

A 2.6 percent raise for the troops

 — the largest pay increase in nine years

$4.1 million on Army aircrafts

$3.2 million on Army missiles

$4.5 million on Army weapons and tracked combat vehicles

$2.3 million on Army ammunition

$24 million on Navy shipbuilding and conversion  

$2.5 million on space procurement for the Air Force
Make Your Money Work for You
It was my great honor to sign our new Defense Bill into law and to pay tribute to the greatest soldiers in the history of the world: THE U.S. ARMY. The National Defense Authorization Act is the most significant investment in our Military and our warfighters in modern history!

pic.twitter.com/M6VI1c0Sgx

— Donald J. Trump (@realDonaldTrump)

August 13, 2018
The new defense bill might provide Americans with peace of mind, just knowing that their freedoms and liberties are being protected by a heavily funded U.S. military.
Related: This Is How Much a Major War With North Korea Will Cost Us
Although the majority of Americans will less directly reap the benefits of the new budget, it's the massive American military workforce — which is 1.42 million military employees and hundreds of thousands of civilian workers strong — that will receive a pay raise.   
The high level of monetary support comes at a price. The billions poured into defense severely limits America's spending abilities on other domestic issues and sends a clear message to both allies and rivals that the U.S. is prioritizing nuclear armament. To offset the inflated costs for 2019, Trump will likely have to majorly cut costs elsewhere. To pay for the 2018 defense budget, his administration made an unpopular move and slashed funding for domestic spending and the State Department.
Click to keep reading about Trump tariffs escalating over tension with Turkey and Russia.
More on Making Money and Economy
Make Your Money Work for You