John McCain Net Worth: The Senator's Fortune and Legacy at Age 82
A look at his legacy for John McCain's birthday on August 29.
John McCain is an Arizona senator and former service member who gained popularity after his 2000 and 2008 presidential campaigns.
His newest book is an autobiography titled "The Restless Wave: Good Times, Just Causes, Great Fights, and Other Appreciations."
Due to a battle with brain cancer, McCain recently stepped down as the chairman of the International Republican Institute after holding the position for 25 years.
Sen. John McCain is a politician, veteran and a published author. The one-time presidential candidate wrote his newest book, "The Restless Wave: Good Times, Just Causes, Great Fights, and Other Appreciations," after being diagnosed with brain cancer in July 2017, NPR reported.
In the book — a Publisher's Weekly Bestseller — McCain discusses how important it is for Americans to look past their political divides for a greater good. "I want to urge Americans for as long as I can to remember that this shared devotion to human rights is our truest heritage and our most important loyalty," he wrote in an excerpt published by NPR.
Click to read more about the 82-year-old Arizona Senator's net worth and his career as a politician.
John McCain's Military Career
Following in his father's footsteps, McCain spent the first 23 years of his career in the Navy. He graduated from the U.S. Naval Academy in 1958 and the National War College in 1973.
He served as a Navy pilot from 1958 to 1981. Terrifyingly, North Vietnam took him as a prisoner of war in 1967 and held him captive for more than five years, finally releasing him in 1973. Kept in solitary confinement for part of his imprisonment, McCain endured torture and beatings at the hands of his captors.
A decorated war veteran, he earned several honors for his service. These include the Silver Star, the Legion of Merit, the Purple Heart, and the Distinguished Flying Cross. His status as a retired service member has earned him respect from many as well a strained relationship with President Donald Trump, who has mocked his status as a prisoner of war and questioned the legitimacy of his capture. In an interview during his presidential campaign, Trump went on to state, "I like people who weren't captured."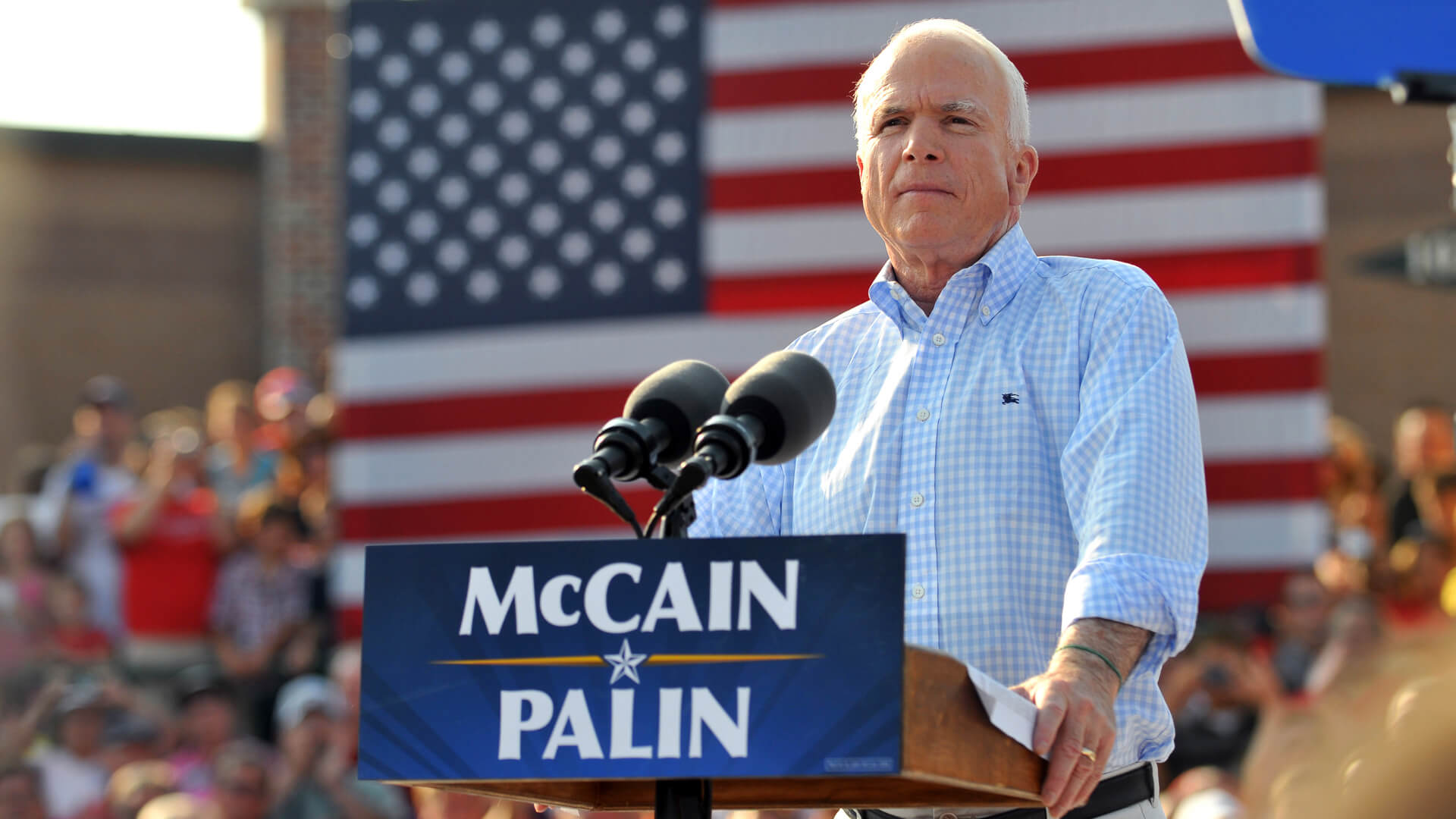 Check Out: 14 Billionaires Who Are Also Veterans
John McCain's Political Career and $16 Million Net Worth
After leaving the Navy, McCain immediately transitioned to a life in politics. In 1982, the Republican was elected to the U.S. House of Representatives from Arizona, and was re-elected in 1984. In 1986, he was elected to represent Arizona in the U.S. Senate, and he's been serving ever since. Now the Chairman of the Senate Committee on Armed Forces, his current term runs through Jan. 3, 2023.
As Senator, his key issues included cutting down on regulations placed on farmers, protecting the right to bear arms, reducing the federal debt and deficit, improving the Armed Forces, ensuring Americans have access to affordable healthcare, securing the nation's borders, supporting tribal sovereignty and self-governance for Native Americans, increasing the availability of communications services to all U.S. households and improving care for veterans.
The 2018 standard salary for a member of Congress — whether in the House or Senate — is $174,000. As McCain does not have any notable business ties, this is likely the largest driver of his net worth, which Celebrity Net Worth reports at $16 million. He did earn $1.7 million in book sales in 2007 according to TheRichest, however, all of that money was donated to charity. His other significant earnings have come from the sales of various properties.
McCain vied for the Republican presidential nomination in 2000, but was defeated by George W. Bush. He tried again in 2008 and became the Republican nominee — with running mate Sarah Palin by his side — but lost the presidency to Barack Obama.
Find Out: The 5 Highest- and Lowest-Paying Jobs in Government
John McCain's Battle Against Cancer
John McCain was diagnosed with brain cancer during the summer of 2017. The politician was seeing his doctor at the Mayo Clinic in Phoenix for a routine checkup when it was discovered that he had a blood clot over his left eye. Days after his operation, McCain was told he had glioblastoma, an aggressive form of brain cancer. Doctors told him the prognosis was not good.
"They said that the prognosis is very, very serious," he told "60 Minutes" in September 2017. "Some say 3 percent, some say 14 percent. You know, it's a very poor prognosis. So I just said, 'I understand. Now we're going to do what we can, get the best doctors we can find and do the best we can.' And at the same time celebrate with gratitude a life well lived."
Learn More: 19 Costliest Diseases in the US
McCain said he was inspired to continue working through his cancer treatments by the late Sen. Ted Kennedy, who had the same type of brain tumor.
"I think about Ted a lot," he said during the interview. "Ted stayed at his job, kept working, kept going, even when he was in a wheelchair."
He added: "I am more energetic and more engaged as a result of this because I know that I've got to do everything I can to serve this country while I can."
Though he persevered, after the prognosis, McCain eventually decided to take a step back from politics. On Aug. 3, 2018, the Washington Post reported that McCain had stepped down from his position as chairman of the International Republican Institute. Alaskan Sen. Dan Sullivan will be taking his place.
Serving as chairman of

@IRIglobal

for 25 years has been a great honor & I look forward to continuing to serve on its board & support its mission.

@SenDanSullivan

will be an excellent new leader as IRI continues to advocate for democracy & freedom worldwide.

https://t.co/cZ500OkXNL

— John McCain (@SenJohnMcCain)

August 3, 2018
Cindy McCain's Net Worth: $200 Million
Married to the senator since 1980, Cindy McCain — née Hensley — is heiress to a beer empire. As the recipient of her father's shares of Hensley Beverage Company, the leading distributor of Anheuser-Busch beverages in Arizona, she took over as chairman of the board upon his passing in 2000. Cindy McCain's net worth of $200 million makes her significantly wealthier than her husband.
Also a philanthropist, McCain dedicates her time to numerous charities. She's the co-chair of the Arizona Governor's Council on human trafficking and the McCain Institute's Human Trafficking Advisory Council.
Bush, Trump and More: The Wealthiest Presidential Families
John McCain's Children
A father first, the senator has seven children and five grandchildren. He adopted his oldest two children — Doug and Andy — with his first wife Carol. The couple also had daughter Sidney before they divorced in 1980.
McCain has four children with Cindy, who is 17 years his junior. The couple are parents to daughters, Meghan and Bridget, and sons, Jimmy and Jack.
Of all McCain's children, daughter Meghan has stolen the spotlight. The outspoken blonde is a co-host on "The View" and an ABC Politics analyst.
Click to keep reading about what's keeping past presidents and vice presidents wealthy.
More on Politicians and Net Worth
Gabrielle Olya and Lorina Morton contributed to the reporting for this article.