Who Qualifies for Borrower Defense: Could Your School Owe You Money for Misconduct?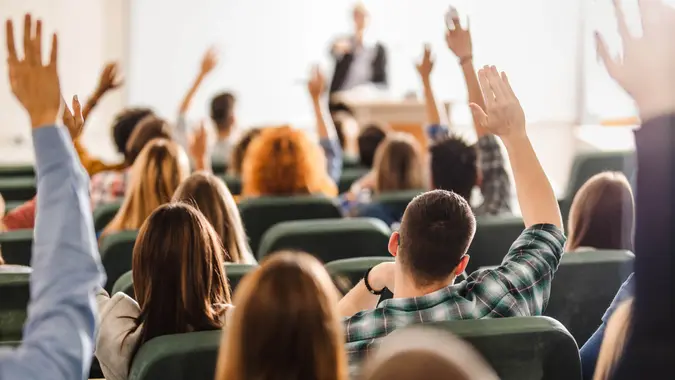 skynesher / Getty Images
With student loan payments for many borrowers set to start up again in October 2023, you may be wondering if you have any recourse. The SAVE Plan may help some borrowers reduce their payments down to zero. For others, it could save them $80 per month or more.
Read: How To Get Cash Back on Your Everyday Purchases
But you may have another option to have your student loan debt discharged entirely: borrower defense.
What Is Borrower Defense?
A borrower defense loan discharge occurs when a borrower can show that their college or university violated state law related to your student loan or related to the educational services provided which were paid for by the loan. Borrower defense discharges can apply to loans for schools that have since closed as well as those still in operation today.   
What Qualifies You for Borrower Defense?
If your borrower defense application shows that your school, either through an act or omission, misled students about loan terms or their education, the U.S. Education Department may approve a loan discharge for you and other students.
In 2023, the Education Department broke down claims into six distinct areas and revamped the borrower defense application. You may qualify if your claim falls into any of six categories:
Substantial misrepresentation
Substantial omission of fact
Breach of contract
Aggressive and deceptive recruitment
Judgements
Final secretarial actions
Some examples of eligible claims include false claims regarding program completion requirements, employment prospects or job placements after receiving a degree, or the transferability of credits. You may also qualify for a borrower defense discharge if the school provided misinformation about the school's accreditation or the accreditation of specific programs, or even shared misleading information about course content.
Make Your Money Work for You
You can only qualify if you have outstanding federal student loans. If your loans are paid off, you cannot apply for a borrower defense to have your money refunded.
Any federal student loans, including Parent PLUS Loans, opened after 2011 may qualify for a borrower defense loan discharge if the application meets the requirements.
How Does Borrower Defense to Repayment Work?
As of July 2023, the ED discharged more than $20.7 billion in debt across more than 1.3 million student loan borrowers. This includes a group of 264,000 borrowers who had their loans discharged as the result of the class action suit, Sweet v. Cardona.
In addition to having your student loan debt completely forgiven if your borrower defense application is approved, you may also be reimbursed the money you already paid toward the loan. Requests will be made to have any record of late payments removed from your credit report with all three credit bureaus — Equifax, TransUnion and Experian. This may boost your credit score and make it possible to obtain lower interest rates or higher credit limits next time you apply for a credit card or a loan.
Plus, if you lost federal student aid eligibility as a result of late or missed payments, the ED will reinstate your eligibility.
A successful borrower defense loan discharge can have broad, positive ramifications for your financial future.
How To Apply for Borrower Defense
You can apply for borrower defense relief online by downloading the application at StudentAid.gov by clicking here. The application is 21 pages long and requires extensive, detailed information about the school's misconduct or misinformation. The Education Department estimates it could take roughly three hours to complete an application.
The application must be "materially complete" in order to qualify. Just because your application is materially complete doesn't mean you will automatically qualify for a discharge. But if you do not supply all the information, it will be denied.
Make Your Money Work for You
The ED website outlines what's required to submit a materially complete borrower defense. It's a good idea to provide any supporting evidence, including emails, course catalogs, advertisements (print or digital), and a copy of your college transcripts and, if applicable, diploma.
Since a large portion of the application entails supplying supporting evidence and making a strong case in writing, you might wish to enlist the help of a lawyer who specializes in student loan forgiveness to help.
List of Schools Where Borrowers Qualified for a Group Discharge
Since 2021, many borrowers have already had their loans discharged under a group discharge, including those who haven't yet filed a claim. Some of the schools on the list, per the Education Department website, studentaid.gov, include some students who attended the following schools:
Westwood College (January 2002 – Nov. 17, 2015)
ITT Technical Institute (January 2005 – September 2016)
Kaplan Career institute (students enrolled in the Medical Assistant or Medical Billing and Coding Program at Kenmore Square Campus July 2011 – Feb. 16, 2012)
Corinthian College (1995 – April 2015)
Marinello School of Beauty (January 2009 – February 2016)
DeVry University
Phoenix University (Sept. 21, 2012 – December 2014)
Ashford University (March 2009 – April 2020)
CollegeAmerica Colorado (January 2006 – Jul. 1, 2020, brick-and-mortar campus students only)
If you attended one of these schools during this time period and qualified for a loan discharge, you should have already been notified. You did not need to submit an application.
Final Note
If you're struggling with student loan debt and wondering how you will make your payments, it's worth considering applying for borrowers defense. However, a borrowers defense only applies if your school is found guilty of misconduct, making false claims or misleading students  – through action or omission – in some way.
FAQ
Here are more answers to your frequently asked questions about borrower defense.
Can I still apply for borrower defense?

You can still apply for borrowers defense. However, as of Aug. 7, 2023, the Education Department is not adjudicating any new borrower defense applications until the new regulations are in effect. This won't be sooner than November 2023, and could be later. When required based on a court settlement, the ED will review applications under the previous regulations.

How long does borrowers defense take to get approved?

The ED has three years to approve or reject your borrowers defense application once it has determined that the application is materially complete. If your application becomes part of a group claim, that three-year time frame will pause during the class action suit.

What happens if borrower defense is denied?

If the ED denies your borrower defense claim, you will have to start making your federal student loan payments again. Your loan will not be discharged.
Our in-house research team and on-site financial experts work together to create content that's accurate, impartial, and up to date. We fact-check every single statistic, quote and fact using trusted primary resources to make sure the information we provide is correct. You can learn more about GOBankingRates' processes and standards in our editorial policy.