Life and Money
This Is Where Your Tax Dollars Actually Go
See how your money is being spent.
SSgt Bennie J. Davis III / Wikimedia Commons Public Domain
The U.S. is expected to bring in $3.5 trillion in tax revenue in 2018, according to Congressional Budget Office projections. About half of that comes from individual income taxes and one-third comes from payroll taxes, which include Social Security and Medicare taxes that workers pay.
That's right — the federal government relies heavily on your tax dollars. So you might be wondering, "Where does tax money go?" To find out, GOBankingRates looked over the Congressional Budget Office projections for 2018.
Click through to find out which items your tax dollars are funding.
The Federal Budget
The federal budget is projected to be $4.09 trillion for fiscal year 2018, which runs from October 2017 through September 2018, according to the Congressional Budget Office. With tax revenue expected to be $3.5 trillion, that means there will be a deficit of more than $560 billion.
Note that these figures are the latest available from the CBO but are from a June 2017 report — which was released before the tax cut that was enacted in December 2017 and a budget deal that was reached in February 2018. The percentages for each category of budget spending are based on the CBO's 2017 projections.
Click to find out why you shouldn't assume you're getting a tax refund this year.
2/10
Tetra Images / Getty Images/Tetra images RF
Social Security
At 24 percent, Social Security benefits make up the largest share of the federal budget. The U.S. is expected to pay out $988 billion in Social Security old-age, survivors and disability benefits in 2018.
Social Security is funded through a 6.2 percent payroll tax that workers pay and another 6.2 percent that employers pay. Self-employed people have to pay the full 12.4 percent. However, because of the number of adults 65 and older is expected to increase dramatically by 2035, Social Security tax revenues will cover only about 75 percent of benefits, according to the Social Security Administration.
3/10
didesign021 / Getty Images/iStockphoto
Medicare
Medicare spending is expected to be $711 billion in 2018, which makes this outlay 17 percent of the federal budget. This federal program provides health insurance coverage for adults 65 and older.
Medicare is funded by a payroll tax of 2.9 percent paid by employees and employers. Each pays 1.45 percent of an employee's income. It's also funded by general revenues and premiums paid by Medicare recipients.
Get Informed: 2018 Medicare Changes You Need to Know About
4/10
Staff Sgt. Marc I. Lane / U.S. Air Force
Defense
The Congressional Budget Office's 2017 report shows that the federal government is projected to spend $634 billion on national defense in 2018. That's 15 percent of the federal budget.
President Trump's proposed budget for 2019 calls for increasing defense spending to $686 billion. That is equal to 15.5 percent of the proposed $4.40 trillion budget.
5/10
FatCamera / Getty Images
Medicaid
About 10 percent of the federal budget goes toward Medicaid. In 2018, spending on this joint federal and state health insurance program for low-income people is expected to be $410 billion in 2018. However, Trump's 2019 budget proposal seeks cuts in this government safety net, USA Today reports.
In addition to Medicare and Medicaid, the federal government also funds the Children's Health Insurance Program (CHIP) for children of low-income families and health insurance premium subsidies for the Affordable Care Act. Combined, funding for these two health programs is $74 billion, or 1.8 percent of the budget.
With potentially big changes coming, be sure to take advantage of this safety net while you can.
6/10
WillSelarep / Getty Images
Income Security Programs
About 7 percent of the federal budget will be spent on income security programs in 2018. These programs include unemployment compensation, earned income tax credits, child nutrition programs and the supplemental nutrition assistance program (SNAP). The government is expected to spend $292 billion on these programs — which is a decrease from previous years, according to the Congressional Budget Office.
Federal Civilian and Military Retirement
Funding for retirement benefits for federal civilian workers and military members makes up almost 4 percent of the budget. The Congressional Budget Office projects that the federal government will spend $160 billion on these retirement benefits.
Tax Help: Take Advantage of These 16 Commonly Missed Tax Deductions
8/10
Mie Ahmt / Getty Images
Veterans Programs
Veterans programs get just 2 percent of the federal budget. The government is expected to spend $101 billion in 2018 on compensation, pension, life insurance and other programs for veterans.
Don't Miss the Date: These Are the Penalties for Filing Taxes Late
9/10
George Thomas / Flickr.com
Agriculture and Other Programs
Another 1.7 percent of the budget — $84 billion — goes to agriculture programs, Fannie Mae, Freddie Mac and other services. Fannie Mae and Freddie Mac help provide financing for mortgage lenders.
10/10
Winslow Productions / Getty Images/Tetra images RF
Interest on Debt
Last but not least, the U.S. has a lot of debt — more than $14 trillion, according to the Congressional Budget Office. And, yes, your tax dollars are going toward the repayment of this debt.
In 2018, interest payments on that debt are expected to be $310 billion — which is 7.4 percent of the budget, according to the Office of Management and Budget. That's an increase from 2017, when interest payments claimed $262.5 billion of the budget, or 6.6 percent.
Click through to read about the ways your sales tax gets used.
More on Taxes
We make money easy. Get weekly email updates, including expert advice to help you Live Richer™.
About the Author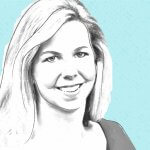 Cameron Huddleston is an award-winning journalist with more than 18 years of experience writing about personal finance. Her work has appeared in Kiplinger's Personal Finance, Business Insider, Chicago Tribune, Fortune, MSN, USA Today and many more print and online publications. She also is the author of Mom and Dad, We Need to Talk: How to Have Essential Conversations With Your Parents About Their Finances.
U.S. News & World Report named her one of the top personal finance experts to follow on Twitter, and AOL Daily Finance named her one of the top 20 personal finance influencers to follow on Twitter. She has appeared on CNBC, CNN, MSNBC and "Fox & Friends" and has been a guest on ABC News Radio, Wall Street Journal Radio, NPR, WTOP in Washington, D.C., KGO in San Francisco and other personal finance radio shows nationwide. She also has been interviewed and quoted as an expert in The New York Times, Chicago Tribune, Forbes, MarketWatch and more.
She has an MA in economic journalism from American University and BA in journalism and Russian studies from Washington & Lee University.