Trump's Trade War Will Make Your Holidays This Much More Expensive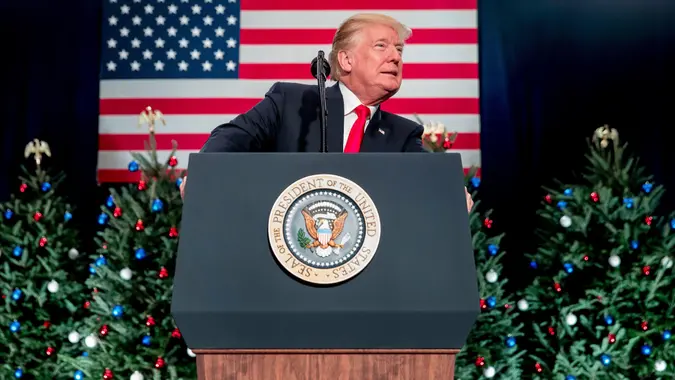 Andrew Harnik/AP/REX / Shutterstock.com
President Donald Trump has imposed tariffs on Chinese imports and is proposing additional taxes on nearly everything brought into the U.S. from China. Trump first announced tariffs on $50 billion of Chinese goods in 2018. When China retaliated with tariffs of its own, Trump upped the ante by saying he will tax $200 billion more in imports. The goods will first be taxed at 10 percent but will rise to 25 percent by the end of the year. With China refusing to back down, Trump has threatened to impose duties on an additional $267 billion worth of goods, which would effectively tax all Chinese imports.
With the year-end holidays fast approaching, these tariffs could jack up the prices Americans will pay for their celebratory purchases. Here's how much more your holiday spending could set you back this year.
Click to see how Trump's trade war with China is hitting you hardest.
How Much Thanksgiving Dinner Costs Will Go Up
The average cost of a Thanksgiving meal for 10 in 2017 was $49.12, or just under $5 per person, according to the American Farm Bureau Federation. This includes a 16-pound turkey, stuffing, sweet potatoes, rolls and butter, green peas, cranberries, a veggie tray, pumpkin pie with whipped cream, and coffee and milk. Nearly all of the traditional Thanksgiving foods are produced in the U.S.
Make Your Money Work for You
But if you apply the tariffs to the meal, your Thanksgiving feast could cost around $54.03 to $61.04.
See Why: Majority of Americans Will Blow at Least 1 Full Paycheck on the Holidays
Adjust Your Holiday Shopping Budget as Gifts Get More Expensive
The year-end holidays of Christmas, Hanukkah and even New Year's can make or break a retailer or manufacturer's year. The National Retail Federation estimated that Americans spent an average of almost $970 on holiday shopping in 2017. Here are some sample price hikes you might see this year:
A 65″ Sharp LED TV is on sale at Best Buy for $599.99 as of Sept. 19, 2018. Sharp products are made in China, so if the 25 percent tariff is implemented before you make your purchase, you're likely to pay $749.99 for that TV.
A silk chiffon scarf imported from China that retails for $98 at Bloomingdale's before the tariffs hit could cost $122.50 with that extra 25 percent tariff.
See How: Amazon Wants to Own Christmas — Including Your 7-Foot Live Tree
Kids' toys could make a bigger dent in your holiday budget if they're made in China, too. Here are some potential price increases you could see this holiday on some of the must-have toys this year:
Fingerlings could be a hot gift this year, and tariffs could cause their price to rise from Amazon's current $14.84 to $18.55 with a 25 percent tariff.
Lego toys are made in several locations around the world, including China, so a Lego set that now retails for $99.99, like the Harry Potter Hogwarts Great Hall Building Kit, could be priced at $124.98 by the time the holidays roll around.
Click to keep reading about Trump's tariffs and what they mean for you.
Make Your Money Work for You
More on the Economy