Majority of Americans Will Blow at Least 1 Paycheck on the Holidays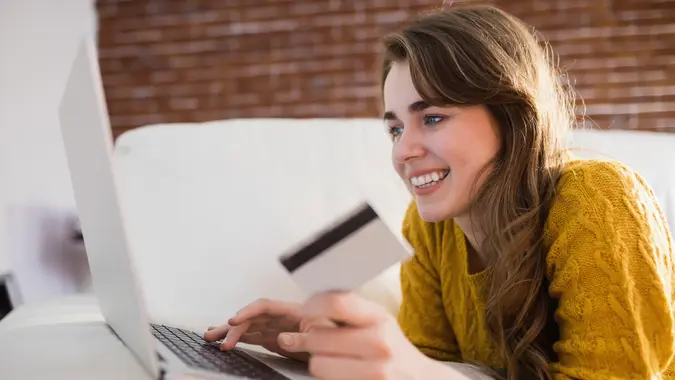 wavebreakmedia / Shutterstock.com
It's easy to get carried away with spending during the holidays. From buying gifts and decorating your home to preparing big meals and hosting parties, you can quickly burn through a paycheck — or two or three.
To find out how much Americans actually plan to spend on the holidays, GOBankingRates surveyed more than 2,000 adults across the U.S. We asked, "How much do you plan to spend for the Thanksgiving and Christmas holidays (i.e. on gifts, travel, food, decorations, etc.)?" Respondents were given the following choices, including "none of the above":
1 full paycheck
2 full paychecks (1 month's pay)
3 full paychecks
4 full paychecks (2 months' pay)
5 full paychecks
6 full paychecks (3 months' pay)
The results show that many Americans have a pretty big holiday budget. Keep reading to find out how much Americans expect to spend on gifts, food, travel and more for Thanksgiving and Christmas.
Majority of Americans Plan to Spend at Least One Paycheck
Nearly 57 percent of the survey respondents who are spending money on the holidays (i.e. those who did not choose "None of the above") said they plan to spend one full paycheck.
The average annual wage in the U.S. is $49,630, according to the Bureau of Labor Statistics. So weekly earnings are $954 on average, and the average pay for those who get paid every two weeks is $1,908.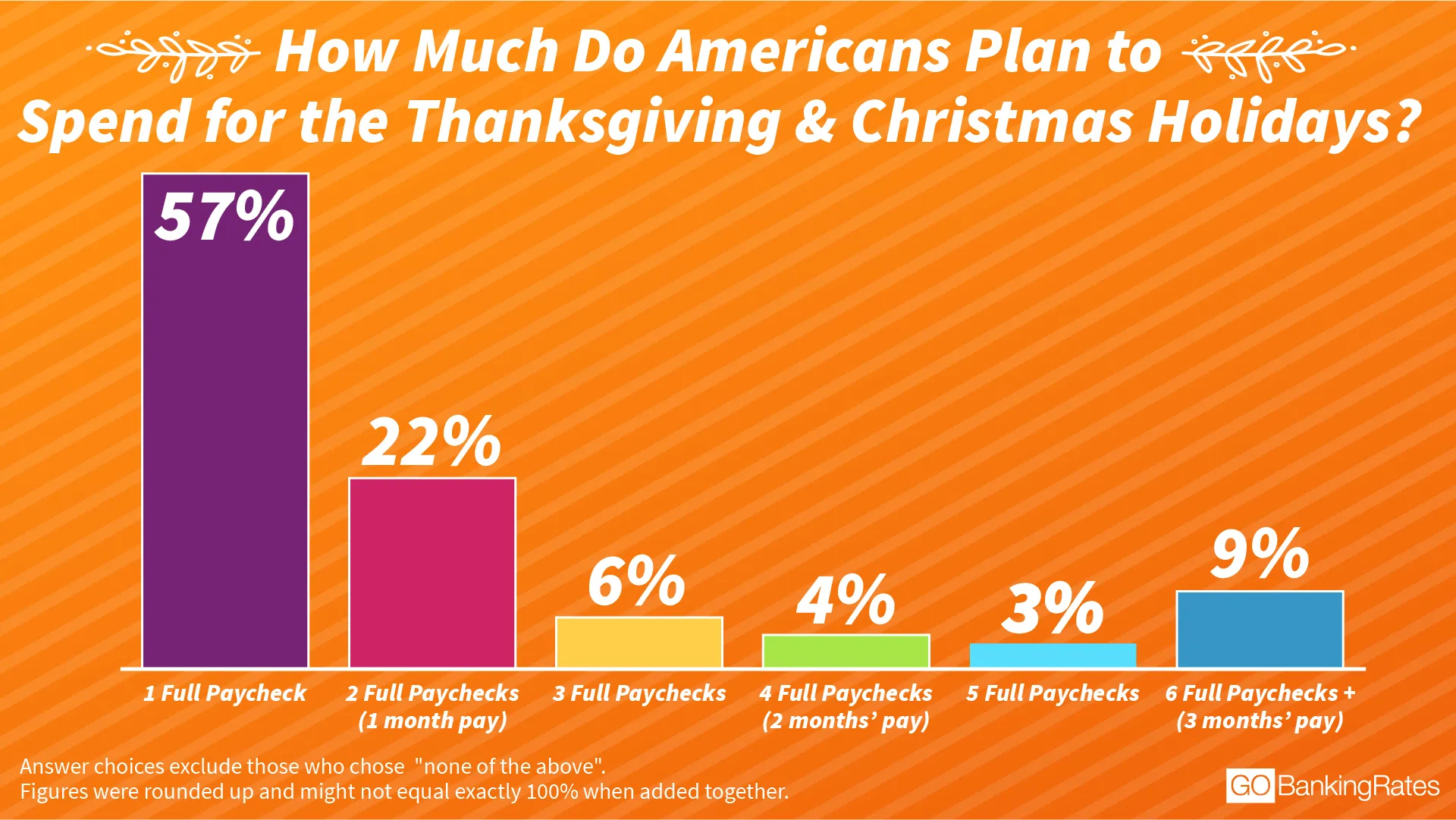 "With all our monthly financial obligations, like mortgages, food and health insurance, I am troubled that more than half of respondents plan to spend at least one full paycheck on the holidays," said smart shopping expert Trae Bodge. "This feels disproportionate to me and indicates that holiday spending needs to be pulled back."
Make Your Money Work for You
What's more troubling is that 44 percent of respondents expect to spend more than one paycheck on Thanksgiving and Christmas. Among them, 9 percent plan to devote six full paychecks — or three months' pay — toward the holidays.
"Just think, this could be an entire family's emergency reserve gone in a matter of minutes on purchasing unnecessary items," said Brandon Hayes, a certified financial planner with oXYGen Financial in Atlanta. It's not surprising, though, that people are planning to spend so much, he said.
"It seems that quite a few Americans lack self-control when budgeting and planning for these one-time expenditures, and the holidays are no exception," Hayes said. "It's one thing if people save all year for these added expenses, but this has not been my experience with clients mostly funding these with credit cards rather than earmarked savings."
Prepare for the Holidays: CVS' Holiday Hours for Christmas and New Year's
Women More Likely to Spend More Than One Paycheck on the Holidays
For both men and women, the most common amount they plan to spend on the holidays is one paycheck. However, a higher percentage of women than men plan to use more than one paycheck to cover holiday spending — 46 percent versus 39 percent.
"I think this is mostly an indicator that women are doing the bulk of the shopping," Bodge said.
However, men might have a bigger Christmas budget than women. The survey found that nearly 12 percent of male respondents said they expect to spend six paychecks on Thanksgiving and Christmas versus just 6 percent of female respondents who said they plan to spend this much.
Make Your Money Work for You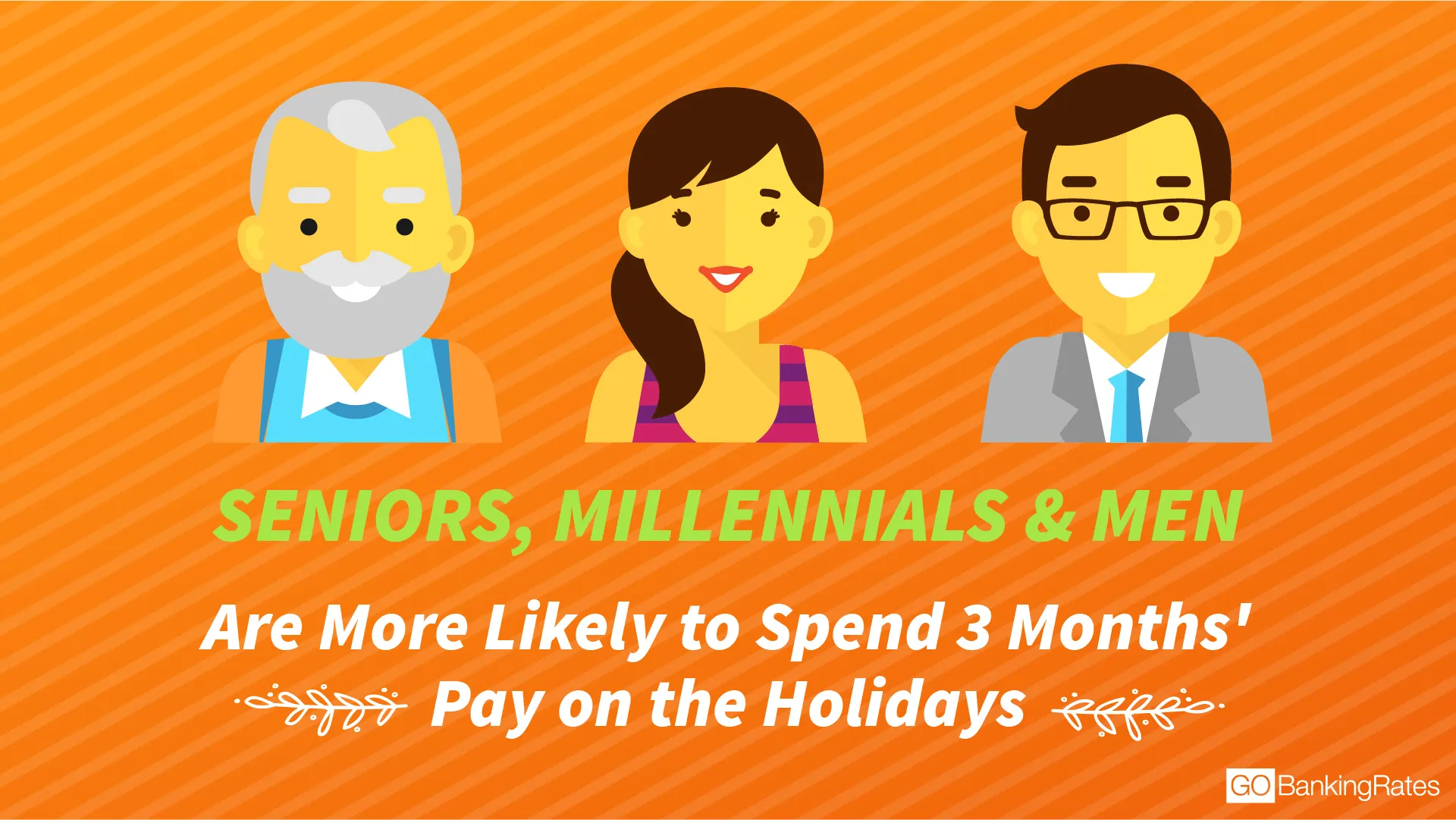 Generation X Most Likely to Spend Two Paychecks or More
The survey found that older Gen Xers ages 45 to 54 had the highest percentage of respondents who expect to spend two paychecks or more for the holidays at 49 percent. Adults 65 and older had the second highest percentage — 44 percent.
Millennials, ages 25 to 35 had the smallest percentage of respondents — 40 percent — who said they plan to spend more than one paycheck. However, among those respondents, nearly 12 percent said they expect to spend six full paychecks on the holidays. An almost equal percentage — 11 percent — of adults 65 and older are willing to spend as much.
"Older generations want to spend to provide the very best for their grandchildren," Hayes said. Younger adults, on the other hand, are more likely to want to keep up with their friends, which Hayes said might explain why some in that age group expect to spend more.
Across all age groups, though, Hayes said holiday spending often is triggered by emotions. "Once emotion takes over, it doesn't matter how old you are — you have already lost the battle," he said.
How to Keep Holiday Spending Under Control
If you're wondering how much to spend on Christmas gifts, keep in mind that your holiday budget should be based on what you can afford — not what the average American is spending.
"Sadly, most people don't have a solid understanding of their financial goals and priorities," said Douglas Boneparth, co-author of the "Millennial Money Fix" and president of Bone Fide Wealth in New York. "So they are more inclined to spend more than they probably should during this time of year."
If you've overspent during the past, you might need to adjust the way you celebrate the holidays this year. Create a budget for Thanksgiving and Christmas that won't force you to rely heavily on debt or put your finances at risk. And, be willing to make some changes to your approach to gift giving.
"My advice to consumers is to revisit their gift lists, and plan to spend less on those on whom you spend extravagantly," Bodge said. "I would also suggest that if your gift list includes a large group of friends or family members, that you try something different this year — like a Secret Santa gift exchange, just buying gifts for the kids or donating time as a group to a charity to celebrate the holiday."
Better yet, ask yourself whether buying more "stuff" is the best use of your money or the best way to celebrate the holidays, Hayes said.
Instead, "focus on things that are free like spending time with your family, reading a book at your local library, or creating life-changing experiences without having to break the bank for your loved ones," Hayes said.
Up Next: 36 Stores Open on New Year's Eve and New Year's Day 2020
Methodology: This GOBankingRates.com survey posed the question, "How much do you plan to spend for the Thanksgiving and Christmas holidays (i.e. on gifts, travel, decorations, food, etc.)?" to 2,010 people among all 50 states and Washington, D.C. Responses were collected through a Google Consumer Survey conducted from Oct. 9, 2017, to Oct. 12, 2017, and responses are representative of the U.S. online population. The survey has a 3.10 percent margin of error. The analysis in this survey focuses on respondents who did not choose "none of the above."