What Does the US Defense Budget Actually Pay For?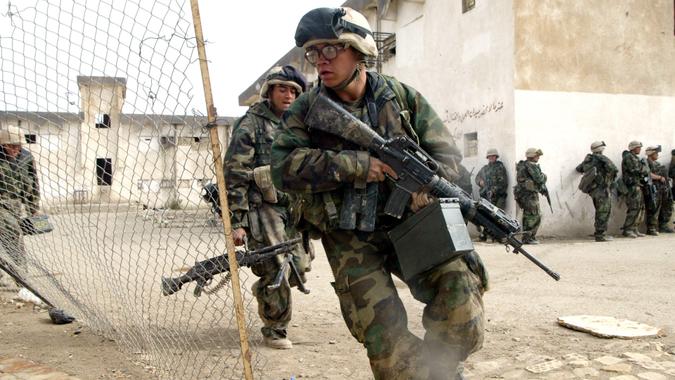 Joe Raedle / Getty Images
The United States spends more on defense than the next 10 highest-spending countries combined. Defense accounts for half of America's discretionary spending and 15% of total federal spending.
Support Your Community: Don't Miss Out on Nominating Your Favorite Small Business To Be Featured on GOBankingRates — Ends May 31
That's a whole lot of defending. But what do all those taxpayer dollars actually pay for? 
There Are Lots of Budgets Within the Budget
Military and defense are counted as discretionary spending in the federal budget, as opposed to mandatory spending, which covers programs like Social Security, Medicare and Medicaid.
The national security budget for the fiscal year 2021 is $740.5 billion. It breaks down like this: 
The vast majority, $705.4 billion, goes to the Department of Defense.

The DOD's base budget is $636.4 billion, but that doesn't include the money the country spends to actually fight the ongoing wars it has waged since 9/11.

That's called Overseas Contingency Operations (OCO), which is $69 billion in 2021, the same as 2020. It's essentially a separate Pentagon fund for America's wars that were never authorized or paid for by Congress.

The remaining $35.1 billion — the $740.5 billion national security budget minus the DOD's combined $705.4 billion — goes to defense-related spending that falls outside of the DOD's wheelhouse, like the FBI and the Department of Energy, the latter of which is responsible for maintaining and securing America's nuclear arsenal.
Make Your Money Work for You
Read: All About the Federal Budget and Its Role in Your Life
The U.S. also spends hundreds of billions of dollars to fund other agencies that contribute to America's defense and national security, including: 
Department of Veterans Affairs:

$105 billion

Homeland Security:

$49.7 billion excluding the Secret Service or $52.1 billion including the Secret Service

State Department:

$40.8 billion
See: This Is Where Your Tax Dollars Actually Go
A Look at How That Money Is Spread Around
The breakdown of defense spending changes over time as circumstances evolve. A half-century ago at the height of the Vietnam War, for example, the U.S. dedicated far more of its military budget to personnel and the procurement of weapons. Today, DOD spending breaks down like this:
Operation and Maintenance: 43%
The biggest chunk of DOD spending — nearly half — goes to operation and maintenance, which includes things like planning, training, equipment maintenance and non-VA military healthcare. In 1969, it was just 29%.
Military Personnel: 24%
This category pays for military pay and retirement benefits. It represents less than one-quarter of DOD spending today, but in 1969, personnel spending accounted for 33% — one dollar in three — of the defense budget. 
Make Your Money Work for You
Find Out: Here's What Men and Women in Uniform Earn
All the Rest
With more than 60% of the budget accounted for, the rest is divided up among smaller obligations, including: 
Procurement of weapons and systems:

This accounts for 19% of the defense budget, way down from 30% in 1969. 

Research, development, testing and evaluation (RDT&E):

13%

Military construction and family housing:

1%
So, Where Do All the Dollars Go?
The U.S. war machine is in a constant state of evolution. It's always upgrading its systems, platforms, hardware, software, weapons, vehicles, surveillance capacity, cybersecurity and intelligence capabilities. None of that is cheap. The 2021 defense budget allocates billions of dollars toward these kinds of improvements.
More: All You Need To Know About the Economy and Your Money
Advanced Capabilities Enablers (ACEs): $106.6 Billion
The 2021 budget includes the biggest-ever allocation for RDT&E. The technologies that those kinds of efforts produce are called advanced capabilities enablers (ACEs). They include things like hypersonics, AI, autonomy and microelectronics. 
Air Domain: $56.9 Billion
This part of the budget makes investments in platforms, planes and weapons like F-35 Joint Strike fighters, F/A-18 E/F Super Hornets, VH-92 presidential helicopters and KC-46 tanker replacements.
Make Your Money Work for You
Maritime Domain: $32.3 Billion
A Columbia-class ballistic missile submarine is just one of the pricey expenditures in the maritime budget. There's also an order for a Virginia-class submarine, a CVN-78 Ford-class aircraft carrier, unmanned surface vessels and a frigate. 
Read: 10 Jobs That Grant You These Unique Tax Deductions
Nuclear Modernization: $29 Billion
This includes money for platforms like the B-21 Long-Range Strike Bomber, a Columbia-class ballistic missile submarine and Long-Range Stand-off (LRSO) missiles. 
Munitions: $21.3 Billion
This includes purchases of weapons platforms like hundreds of Joint Air-to-Surface Standoff missiles, thousands of Hellfire missiles, dozens of long-range anti-ship missiles and tens of thousands of Joint Direct Attack Munitions (JDAM). 
Missile Defeat and Defense: $20.3 Billion
This pays for things like Patriot Advanced Capability Missile segment enhancement, AEGIS Ballistic Missile Defense System and Sea-Based Interceptors (SM-3 IIA and IB). 
See: The Most Expensive US Conflicts From 1950-2020
Space Domain Investments: $18 Billion
This includes funding for the brand new Space Force, including U.S. Space Command and Space Development Agency. 
Land Domain: $13 Billion
This part of the budget includes orders for thousands of joint light tactical vehicles, dozens of M-1 Abrams Tank modifications and upgrades, as well as dozens of amphibious combat vehicles and armored multipurpose vehicles. 
Cyberspace: $9.8 Billion
Cyberspace spending funds both cyber defense and offense, as well as things like AI and cloud infrastructure.
More From GOBankingRates
Last updated: May 12, 2021
Make Your Money Work for You