Why Some Believe Universal Basic Income Will Help Us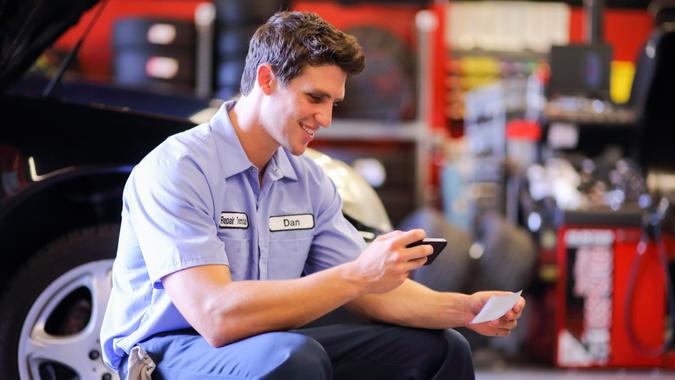 PhotoInc / Getty Images/iStockphoto
What do Kenya, Iran and Alaska have in common? Virtually everyone who lives in those places gets a regular cash payment that they don't have to work for and that isn't part of a government assistance program. It's called universal basic income (UBI), and until recently in the non-Alaska United States, it was written off as a something-for-nothing pipe dream that never had a prayer of becoming actual policy. But the COVID-19 crisis changed attitudes toward income inequality, federal assistance and the degree of responsibility a government has to take care of its citizens. 
The Other Side: Why Some Believe Universal Basic Income Will Hurt Us
What Is Universal Basic Income?
According to the Stanford Basic Income Lab, UBI is "a periodic cash allowance given to all citizens, without means test to provide them with a standard of living above the poverty line."
Read: States Whose Economies Are Failing vs. States Whose Economies Are Thriving
Make Your Money Work for You
In other words, it's free money paid in installments to everyone in the country with no strings attached. Billionaires like Mark Zuckerberg, politicians like former Democratic presidential candidate Andrew Yang and economists like libertarian Milton Friedman have all come out in support of the idea, which, according to Stanford, has five characteristics. Universal basic income is: 
Universal:

It's paid to everyone, as opposed to a targeted population.

Unconditional:

It doesn't come with work requirements or other stipulations.

Periodic:

It's paid on a schedule.

Individual:

It's paid to each person, not to families.

Paid in cash:

Recipients must be able to use it for whatever they want.
See: What Financial Help Countries Around the World Gave To Their Citizens During the Pandemic
Proponents support UBI primarily as a remedy for two challenging social and economic dilemmas: income inequality and the loss of jobs to automation. 
The Wealth Gap Is at the Heart of the Movement
America has the highest rate of income inequality among all G7 nations, according to the Pew Research Center. Over the last 50 years, middle-class wages have stagnated while the salaries earned by the wealthiest Americans have soared. The top 20% now take home more than half the country's income. 
Make Your Money Work for You
Discover: 30 Places in America That Are Getting Poorer
Outrage over the ever-widening gap between the richest Americans and everybody else was already simmering — then came COVID-19. In 2020, while average Americans fretted and struggled and died in the hundreds of thousands, the country's 664 billionaires got 44% richer, according to U.S. News & World Report. Their combined wealth grew by $1.3 trillion in that single year. They now have $4.3 trillion between them.
UBI Could Reduce Income Inequality
While Jeff Bezos' net worth was climbing even higher, it's likely that you were spending your $1,400 stimulus check on badly needed necessities as soon as you received it. UBI was designed to bridge that gap. 
"Universal basic income can help reduce income equality and poverty by providing people with the minimum funds needed to meet their basic needs," said Nishank Khanna, CFO of the lending company Clarify Capital. "It helps address the issues the working poor face, which are largely impacted by a lack of resources."
More: These 15 Billionaires Got Richer During The Pandemic
UBI might allow people to hold out for a better job instead of settling out of necessity, to stay in school or to make themselves more marketable by continuing their education. It could eliminate traditional welfare and improve access to healthcare. Perhaps most importantly, it could give people the opportunity to start families without living in a constant state of financial survival mode.
Make Your Money Work for You
"Universal basic income would be extremely beneficial, especially to families with children," said Jaquetta T Ragland, a licensed realtor, mother of three and the owner of Stay at Home Mom Community and Young and Finance. "A lot of moms desire to stay at home with their children but are unable to do so due to their finances," Ragland said. 
There Are Also Those Pesky Robots
Contract work, temporary work, gig work and part-time work are more common today than ever before. Much of the reason that so many people are cobbling together insecure livelihoods is that more and more jobs are being lost to automation. In many cases, the workers being replaced by robots are already the most vulnerable.
Read: How Each Generation Has Been Affected Financially By the Pandemic
"UBI helps address the issue of automation replacing low-skill workers," Khanna said. "By providing basic income, it helps ensure that individuals who are replaced by automation and technology can meet their basic needs. Since their basic needs are met and they will have financial stability, they will have more opportunities to retrain for a new role and reenter the workforce."
Automated factories have long been familiar, but soon, everyone from truck drivers to law clerks could face the same fate as assembly line workers in the 1970s and '80s, according to Medium. UBI could ease some of the pain of widespread tech-induced layoffs.
"With this type of policy, families will have more income and we will immediately see a positive impact to the economy," Ragland said.
More From GOBankingRates
Last updated: April 13, 2021
Make Your Money Work for You