I'm an Entrepreneur: Here's How Starting a Business Made Me Richer Than a 9 to 5 Job Ever Could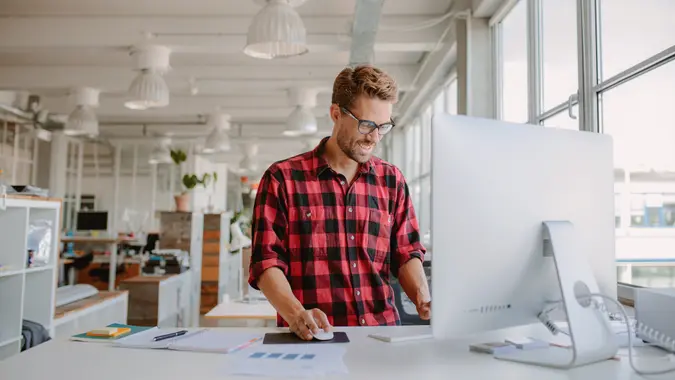 Jacob Ammentorp Lund / Getty Images/iStockphoto
Some people know they are destined for entrepreneurship at an early age. Others find themselves becoming entrepreneurs out of necessity, or to explore an offering or service that can make customers' lives easier. Still others may find over time they are able to become serial entrepreneurs and start or operate several successful businesses.
GOBankingRates spoke to Adam Nager, CEO of Quest National Services, who has been in business for over 15 years after making the decision to start his own company at age 23. Today, Nager owns nine companies and fully embraces the ride of being an entrepreneur. Here's how starting a business made him richer than a 9 to 5 job ever could.
When did you decide to start your own business? What was your reason for choosing this path? 
I chose to start my own business when I was 23 in 2008. I formed the company when I was 24 and by the age of 25, one day prior to turning 26, I left W-2 employment for good. 
I decided to go down this path because of the ceiling and uncertainty I always seemed to find working for someone else. I knew I deserved more freedom and financial outcomes based on the value I brought to the organizations I served while employed. I've been in business now for just over 15 years and I celebrated my 15th anniversary on May 13, 2023.
Make Your Money Work Better for You
What does your business do or provide for consumers?
The business is a large medical billing company serving healthcare providers throughout the United States.
What were some of the challenges in shifting from a traditional workplace role to an entrepreneurial role?
Some of the biggest challenges were fear of the unknown. Without much support, I reached out to SCORE in the early stages which assisted me in making early decisions.
When did you start breaking even financially with your business?
I started breaking even 18 months after starting the business. However, I continued to invest all profits back into the business to accelerate growth.
If you had to do it all over again, would you still choose entrepreneurship?
Yes! 100%. Today I own a total of nine companies, supporting thousands of people across the world. I have the time and financial freedom to go where I want to go, when I want to and how I want to. The freedom I've created for myself and my family is unbelievable. The ability to provide guidance as well as time to those in need of guidance as I once was is the biggest blessing.
Beyond money, what other ways has starting a small business made you rich?
My ability to provide not only financial stability and security but also time to my family is something that has made me rich beyond my years.
I'm able to travel back and forth to Boston (I live full time in Orlando) every other week to spend four to five days each time with my son who lives in Boston. I'm able to leave for family emergencies on the same day. If there's not a flight that works with the timing I'm looking to depart, I hire a plane to take me.
The ability to make decisions that make my life easier and allow me to focus on my vision for my businesses is truly a dream come true.
Make Your Money Work Better for You
More From GOBankingRates