I'm a Successful Small Business Owner: Here's How I Made My First Million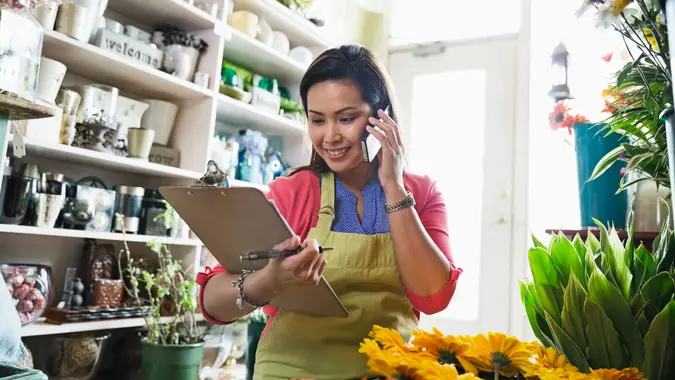 Hero Images / Getty Images
Most people who start a small business hope their company will be successful enough to do more than break even. Their hope is their business, an idea they truly believe in, will make millions.
Reaching the first million in revenue, however, usually doesn't happen overnight although there are some success stories where it can happen sooner than later. GOBankingRates spoke to two entrepreneurs who shared the reality behind making a million in revenue. Here's how these small business owners made their first million. 
"We reached our first million in revenue in our second year."
Dave Carr is the founder and CEO of Progressive Label Manufacturing, a high-quality label producer headquartered in Orange County, California. The company produces prime labels for well-known and prestigious brands in the food, beverage, pharmaceutical and consumer goods industries.
In 2023, Progressive Label Manufacturing will celebrate 30 years of being in business. The company hit a milestone in reaching its first million in revenue in its second year. 
How did this happen? Carr said it was all thanks to a large customer who said yes to both Carr and the company's product. "It was a leap of faith based on performance and trust," said Carr.
After making the first million, Carr, who had been managing several roles including sales, accounting and customer satisfaction, said he was able to begin delegating these tasks to a competent team. It was crucial since the business was scaling up and signified the shift from a shopkeeper to a thriving business owner operating on a larger scale. There was now much-needed space for the team to make mistakes, learn and grow.
Make Your Money Work Better for You
For business owners who want to earn their first million within the first few years of being in business, Carr suggests setting ambitious goals. These goals may appear unattainable, but they should be worth striving for. When possible, business owners should visualize themselves already operating in this space and fully believe it is possible to reach this milestone. 
"Treat each day as if you were starting a new job, embracing the opportunity to make mistakes and learn from them," said Carr. "With success comes greater responsibility and the need for swift decision-making. It's essential to view mistakes as valuable learning experiences and use them to propel your growth. Never give up on your dreams; persistence is critical to achieving remarkable results."
"We reached a million dollars in revenue in our first year."
Amber Lee launched Select Date Society, a high-end matchmaking firm, alongside her co-founder Sandra Myers on June 1, 2020. Despite the challenges of launching a business during the COVID-19 pandemic, the company is now celebrating three years in business. Better yet, Lee and Myers reached a million dollars in revenue in their first year in business — and have continued to double their revenue year over year. 
According to Lee, no one thing tipped the scale for them. Rather, it was a combination of things that allowed the co-founders to reach this million-dollar milestone. 
Make Your Money Work Better for You
"We stayed laser focused on reaching our goals. We got great press in our first year of business, including a feature in 'The New York Post,'" said Lee. "We also made really great hiring decisions, bringing on experienced matchmakers who shared our vision."
Hiring the right team and looking for opportunities to market the business without spending any money, including asking customers to leave online reviews and actively reaching out to local media with valuable story ideas, are two pieces of advice Lee would give any business owner who wants to make their first million. 
The final key ingredient to cracking the first million in revenue comes with knowing your value and setting your prices accordingly. 
Lee knows the business she runs with Myers is not the cheapest matchmaking option. However, she doesn't recommend getting caught in the race to the bottom by pricing yourself cheaper than your competitors. 
"Raise your prices and provide a higher level of service than what your competitors provide," said Lee. "Our clients hire us because they feel we are the best option for them. We learned that when you provide a solution for a problem that people have and you are able to deliver results, people will happily pay you to solve their problems."
More From GOBankingRates
Make Your Money Work Better for You