How to Make Money With Google AdSense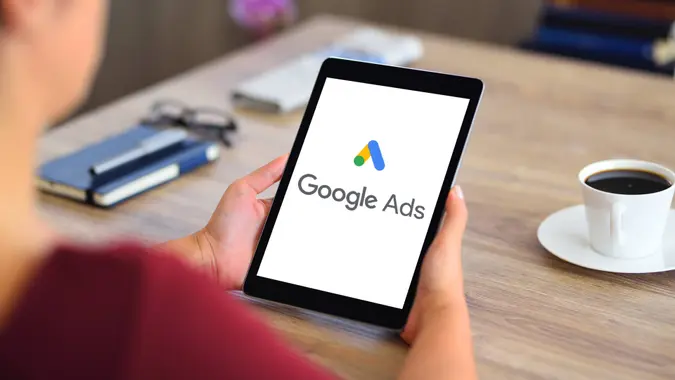 hocus-focus / Getty Images/iStockphoto
Advertisers will be spending $227 billion on online advertising in 2018 — and that number is growing each year. Google AdSense provides a great opportunity for you to make money with your online content. There is a fair amount of money to be made if you know what you're doing and your online content has a big and engaged audience. Here is a breakdown of how you can make money online.
How Google AdSense Works
Before understanding how to make money with Google AdSense, you need to understand the difference between Google Ads and Google AdSense — they aren't the same thing.
Both are making Google money — find out how much the company is worth.
About Google AdSense
Through Google AdSense, Google brings you a selection of advertisers who want to display their products and services on your website. Google strategically chooses these advertisers based on your content and visitor demographics and presents them to you. You then can select the ads based on price and relevance and choose how the ads display on your site.
Once all those steps are said and done, Google bills the advertisers and networks involved and gives you money from all the ads seen and clicked on your website. According to Google, publishers take home 68 percent of the revenue made from using AdSense.
About Google Ads
Through Google Ads, formerly AdWords, you, the publisher, make advertisements that will display on relevant Google search results pages and Google's network of partner sites. If you're looking to attract more customers and grow sales, then Google Ads is the avenue in which you can make that happen.
How Much Money Can You Make?
It depends on traffic, traffic, traffic and a few other things. Even though you might have an engaged audience, if that audience is not big enough to drive many clicks and the ad itself is not placed well, then your chances of making money aren't as good. At the end of the day, you make money based on how many people click on the advertiser's ad in the cost-per-click (CPC) market. Some publishers can make thousands of dollars a month from AdSense, while others can make as little as $10 a month, according to Market Interactive.
Make Your Money Work Better for You
A Different Advertising Market: These TV Shows Can Charge the Most for Commercial Time
Tips to Earn More Money With Google AdSense
Not everyone makes money with Google AdSense, but here are some of the best tips to consider to make the most revenue from Google AdSense. One benefit of making money from AdSense: It's a way to make money without a 9-to-5 job.
Mobile Optimization
Make sure that your content is optimized on all fronts, including your website and how ads display on desktop and mobile. More and more people are consuming information through their phones. A 2016 report from Smart Insights found that 67 percent of the time, people use their phones to look at retail items; however, 80 percent of the time, people use a desktop computer to actually spend money.
Engaging Content
Make great content. That's easier said than done, but it's a crucial factor not only in drawing audiences to your page, but also in attracting advertisers to your website. Websites that are usually successful and ideal for AdSense can be blogs, forums and certain social networks. Traffic is king in the world of making money with AdSense, so as long as you have traffic and an engaged and loyal audience, then this translates to more page views and your shot of making money is more likely.
Ad Format
Another thing to consider is using different types of ads to display on your website. It literally pays to change up the ad format. You can pick ads that are text-based, an image or a video. Ultimately, it's important to think about the way your audience likes to consume content and the user experience on your site. Whether you make the ad appear right at the top of the page or as a video above some copy, it's key to be thoughtful about where you place any ad.
Make Your Money Work Better for You
Click through to learn how to make money on YouTube.
More on Entrepreneurs and Making Money