You Don't Have to Have Millions to Invest in a Hedge Fund, Thanks to This Founder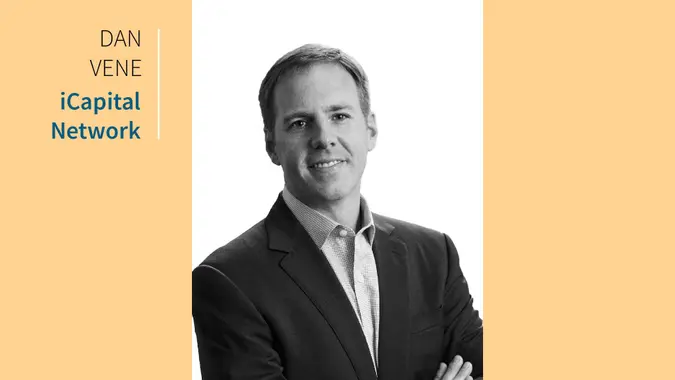 Dan Vene is the co-founder and one of the managing partners of iCapital Network — a financial technology platform that aims to democratize alternative investments like private equity and hedge funds. There, he leads enterprise-level platform integration with banks, asset managers, warehouses and other large-scale organizations. Prior to founding iCapital, Vene was head of private real estate capital raising at Fir Tree Partners, a partner at Eaton Partners and founder and CEO of Earnings.com, a leading financial database and aggregator of corporate events. ICapital was named one of Forbes' Fintech 50 in 2019, with $80 million in funding. 
Each week, GOBankingRates sets out to discover what makes the people behind top companies tick. We like to call this series "Best in Business" — and Vene really is one of the best. He told us why it's so important to not let your clients run your business, why startup life isn't for everyone and ways that you can find (or build) your own dream job, too. Below, find our favorite moments from the story of how Vene launched his business.
Read: 10 Secrets to Starting Your Own Small Business
He Was Frustrated With the Alternative Investment Business — and Saw Technology as the Solution
There were really two main catalysts [that inspired me to start my business]: frustration with the way the alternative investment business was being done and feeling as though I was simply a cog in that highly inefficient system, and knowing in my gut that technology could remove a tremendous amount of that frustration. I have always been fascinated with the potential impact of technology to drive the scale of a platform, and the ability of a computer network to process large-scale complex data with incredible speed — all while introducing a new level of efficiency and accuracy. Working in the alternatives sector, I realized it was particularly archaic relative to other areas of financial services. I knew there was a great application for technology here.
Make Your Money Work Better for You
See: 50 Businesses That Are Changing the World Today
He Put a Lot on the Line To Start His Company
The truth is I had spent a good amount of time establishing a well-paying career and strong business relationships. I was concerned about taking time away from that and the challenges I might face in returning to it. That said, I do believe many of the best entrepreneurs are not overly successful in a large structured organization, and so they are drawn to taking the risk of a new or different path.
While I'm happiest in an entrepreneurial, startup environment, it's definitely not for everyone. It's challenging and takes more commitment than you can imagine. It's not for a person who has simply decided they don't want to have a boss anymore. I honestly believe most people will find it is materially harder to work for themselves than for someone else. That said, as with most things in life, the more you put in, the more you get out. There are few things more rewarding, emotionally or financially, than putting in the effort and seeing the results from starting a business.
Find Out: 7 Surprising Costs That Come With Starting a Business
ICapital was actually the second company I founded. I was in my early twenties when I established the first — I was single and my opportunity costs were quite low. This time around they were much higher, and I also had a family to support. So my conviction level had to be that much higher.
My wife was pregnant with our first child when we started the business, and she never questioned the decision. She has been unwavering in her support and an excellent sounding board throughout the entire process.
He Learned That Early Success Boils Down to 2 Factors
Having a clear objective and communicating really, really well with your initial team is often the key to early success or failure. The second is listening very carefully to clients, but not letting them run your business. That is a lot harder than it sounds, but it is absolutely critical. Founders need to separate the signal from the noise in market feedback and do what will deliver the most value for the broadest base of clients.
Make Your Money Work Better for You
The day I knew we were really onto something was the day we launched our first multi-hundred-million dollar fund for a top five global bank. I realized that, despite their huge resources, we were significantly better at doing that particular function than they were. But we never take a day or a business deal for granted. Seeing our clients' success and growing their business with us is tremendous validation, and keeps us motivated to do even better tomorrow.
Check Out: 20 Inspiring Entrepreneurs You Need to Follow on Social Media
He Believes Employee Happiness Is Essential
The number one thing I want is for everyone to feel as though the work they are doing actually matters. It matters to our clients and it matters to teammates, and we all get a very strong sense of drive with that deep sense of ownership and care. When challenged, a talented and dedicated team thrives because it knows each and everyone's effort is required to rise and meet the challenge.
Large companies that do not communicate well and recognize employee contributions can be very difficult places to operate and feel fulfilled. A team member can perform the exact same function in company A as company B, but be a much happier and productive team member at company A if they have a voice in the decisions a company makes, and a system to acknowledge and reward the right behaviors.
Learn: Why Happy People Earn More Money
He Figured Out What Really Matters
I think everyone has their own definition [of success], and it starts with truly understanding yourself — what drives you, what inspires you to be your best and what will ultimately give you fulfillment in your life. If you can achieve that and have a positive impact on your clients' lives and the overall economy through hiring other talented team members, along with enough financial freedom to support your family and the lifestyle you desire — that is my definition of success. Equally important is to not try to fit into someone else's definition of success — you will wind up working very hard and never achieving happiness because it was not your own definition. I believe success is incredibly personal. It is all about knowing yourself incredibly well, setting the right goals and achieving them for yourself, and by extension improving the lives of those around you.
Make Your Money Work Better for You
Keep reading to find out how Warren Buffett measures success.
More on Entrepreneurship
This interview has been edited and condensed.